/ Source: The Associated Press
Densil Sprinkle sat in a folding chair near the pond where his mother died, watching family members and friends search for memories amid the mud and rubble left by Indiana's deadliest tornado in 30 years.
He cried as workers found his mother's jewelry box, a wedding album with newspaper clippings still tucked in the pages, and a photo album with the word "Friends" on the cover.
"This picture right here means a million dollars to me," Sprinkle said as he opened the photo album to a soggy snapshot of Glenda Sprinkle, 67.
Sprinkle found all of it in the mud as families who left after last Sunday's twister returned to a ravaged mobile home park for the first time to begin gathering up the pieces of their lives.
Law officers had barred them from re-entering the Eastbrook Mobile Home Park while the search continued for the dead. The effort was called off Tuesday after police drained the pond, where five bodies in all were found.
22 died
The death toll from the twister stood at 22 — including 18 at the mobile home park.
Emergency officials are allowing residents to return to their homes through Saturday, when the area will be turned over to agencies that will lead the cleanup.
Residents arrived under clear blues skies and looked somberly at the heaps of debris. They wore gloves and carried trash bags in which they put their belongings.
Keegan Crabtree, 23, had fallen asleep watching a movie Saturday night and awoke in a nearby field after the tornado passed. His face and head were covered with cuts, yet he smiled as his girlfriend found CDs and a Sony PlayStation in a ditch 200 feet from his home.
Living room in a ditch
"The living room is right here," Crabtree said, laughing as he spotted some of his music and video collection in the ditch. "I don't know how I'm alive."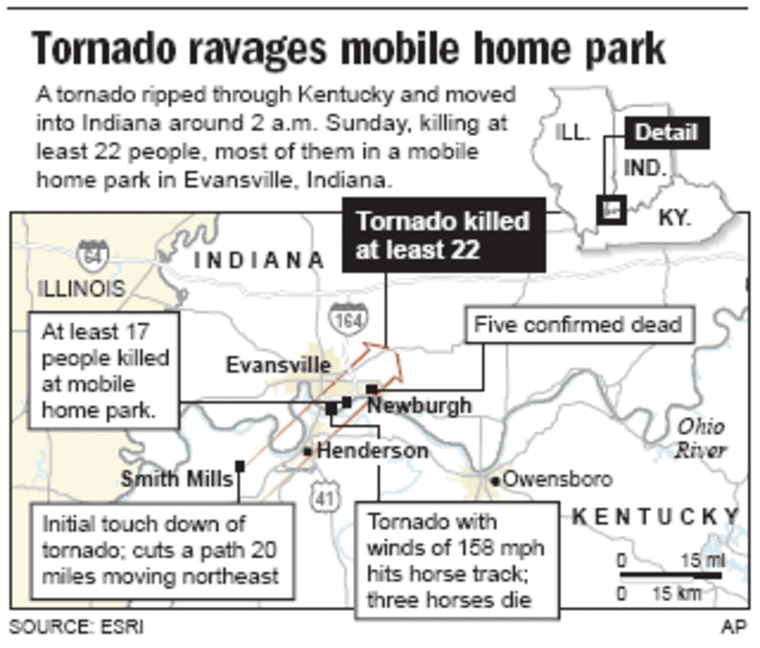 Bob Fulkerson found a quilt his sister, Sue Day, had helped make beneath a pile of shredded wood and insulation. Day was hospitalized with a ruptured spleen and collapsed lungs after storm.
"We're out here pulling through this rubble, and we don't even know if she's going to make it," Fulkerson said.
The twister destroyed or damaged more than 200 homes in the 350-unit neighborhood. Four other people were killed in neighboring Warrick County, where about 200 other homes were destroyed.
President Bush signed a disaster declaration Tuesday, clearing the way for federal assistance in both counties. R. David Paulison, acting director of the Federal Emergency Management Agency, toured the mobile home park on Wednesday.
Sheriff Brad Ellsworth, whose deputies helped pull the last body from the pond, watched from a distance as families picked through the ruins.
"You just want to throw it in rewind and put it all back. But you can't," Ellsworth said. "This part almost becomes as hard as the rescue."