The U.S. Supreme Court's 4-3 vote Thursday to uphold the affirmative action policy at the University of Texas at Austin generally received praise from Asian-American advocacy groups and elected officials. But one coalition called the ruling a "dark day for the hardworking children of Asian Americans," who it says encounter discrimination with race-conscious admissions.
Abigail Fisher, who is white, first sued the University of Texas at Austin in 2008, arguing that its holistic-review process, which considers race along with other factors, put her at a disadvantage to other applicants. Reviewing her case for a second time, the Supreme Court ruled, however, that the school's race-conscious admissions program in place when she was rejected in 2008 did not violate the Equal Protection Clause of the Constitution.
Justice Anthony M. Kennedy, who delivered the court's majority opinion, did say the University of Texas at Austin must regularly evaluate its data to ensure race "plays no greater role than necessary" in admissions.
"The Court's affirmance of the university's admissions policy today does not necessarily mean the university may rely on that same policy without refinement," Kennedy wrote.
RELATED: Supreme Court Upholds Affirmative Action in College Admissions
Justice Clarence Thomas and Chief Justice John Roberts joined Justice Samuel Alito, who wrote a 51-page dissent. In it, Alito said the university never showed that its race-conscious admissions plan helped make classrooms more diverse, nor did it explain "why the underrepresentation of Asian Americans students in many classes justifies its plan, which discriminates against those students."
Justice Elena Kagan sat out of the case, Fisher v. University of Texas, because she worked on it as solicitor general. Justice Antonin Scalia died in February.
Asian Americans Advancing Justice (Advancing Justice), the Asian American Legal Defense and Education Fund (AALDEF), and the National Asian Pacific American Bar Association (NAPABA) applauded Thursday's ruling in a joint statement.
"We are pleased that the U.S. Supreme Court acknowledges the continued need for affirmative action policies that make it possible for students of all backgrounds, including many historically disadvantaged Asian American and Pacific Islanders, to access higher education and create a stronger country through their contributions to a diverse society," said Mee Moua, president and executive director of Advancing Justice | AAJC.
Margaret Fung, executive director of AALDEF, said she's happy the Supreme Court recognized race as one of several relevant factors in college admissions.
"[The University of Texas'] individualized review of applicants will continue to benefit Asian Americans and avoid harmful stereotypes based on the 'model minority' myth," Fung said.
NAPABA president Jin Y. Hwang said the ruling Thursday affirms the importance of race-conscious admissions in ensuring diversity exists in U.S. colleges and universities.
"As lawyers of color, we see the beneficial impacts of these policies every day in the legal workforce, and we recognize that diversity in higher education is critical to ensuring we have a pipeline of talented lawyers and judges able to serve their communities," Hwang said.
National Council of Asian Pacific Americans national director Christopher Kang also praised the court's ruling.
"Affirmative action does not constitute quotas, limit students of any ethnic or racial backgrounds, or discriminate against Asian Americans," Kang said in a statement. "Rather, affirmative action promotes equal opportunity for all."
RELATED: As SCOTUS Hears Affirmative Action Arguments, Asian American Advocates Weigh In
And Nicole Gon Ochi, supervising attorney for impact litigation at Asian Americans Advancing Justice | Los Angeles, called it a victory, particularly for Asian Americans, that recognizes that race-conscious admissions benefits everyone.
"Increasingly, Asian Americans have been co-opted as a wedge in the debate on affirmative action, falsely characterized as victims of race conscious programs because their admission rates are not commensurate with their test scores," she told NBC News in an email.
"When access to college has such a profound effect on an individual's opportunities in life, it is our duty to ensure equitable access to all of our youth."
Some AAPI elected officials also weighed in on the decision. U.S. Rep. Judy Chu (D-CA), chairwoman of the Congressional Asian Pacific American Caucus, said in a statement she was pleased the Supreme Court found no evidence that Asian-American applicants for the University of Texas at Austin experienced discrimination.
"Admissions policies like the ones used by the University of Texas, in which race is one of many factors, help to level the playing field," she said.
U.S. Rep. Mike Honda (D-CA), also a caucus member, said race-conscious policies, when they are taken as one part of a holistic admissions process, help enrich the quality of colleges and universities.
"When access to college has such a profound effect on an individual's opportunities in life, it is our duty to ensure equitable access to all of our youth," he said in the statement.
RELATED: More than 160 Asian-American Groups File Briefs in Support of Affirmative Action
But Yukong Zhao, president of the Asian American Coalition for Education, criticized the Supreme Court's ruling.
"Today is a dark day for the hard-working children of Asian Americans and other Americans who are discriminated against by the race-based college admissions policies," Zhao told NBC News in an email. "Today's Supreme Court's ruling means that in the foreseeable future, they will continue to be treated as second-class citizens in college admissions."
In the past year, Zhao's group has filed complaints with the federal departments of Education and Justice, alleging that a number of Ivy League schools discriminate against Asian-American applicants. Most recently, the coalition of 132 Asian-American organizations last month accused Dartmouth College, Yale University, and Brown University of denying admission to Asian-American students.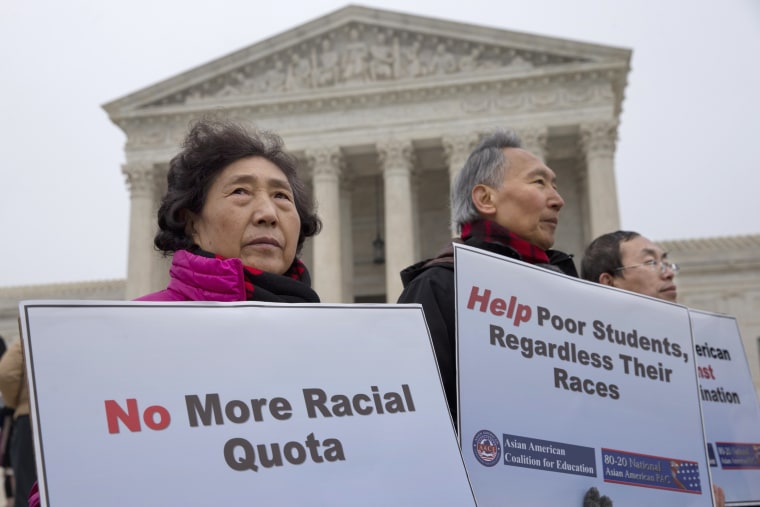 Those applicants had near-perfect SAT scores and GPAs in the top one percent, though the schools allegedly accepted applicants of other races with similar accolades, the coalition's complaint said.
In May, Dartmouth spokesman Justin Anderson told NBC News in an email that all its applicants are evaluated under the same criteria. Tom Conroy, a Yale spokesman, said Yale "seeks and nurtures diversity of all forms" and that scores, grade point averages and course selection, while very important, are not the only determining factors for admissions.
Brown University said it believes the complaint has no merit. "Our admissions practices are inclusive of diverse populations and do not discriminate against any racial or ethnic group," the statement reads.
RELATED: Complaint Filed Against Yale, Dartmouth, and Brown Alleging Discrimination
The Asian American Coalition for Education made a similar complaint against Harvard University, but the Education Department closed it last June because of an on-going lawsuit filed in November 2014 by Students for Fair Admissions, Inc., which levels the same accusations.
Students for Fair Admissions, Inc. also sued the University of North Carolina at Chapel Hill, arguing that the school violated the Equal Protection Clause of the Fourteenth Amendment by allegedly discriminating against applicants based on race or ethnicity.
"Asian American communities are extremely disappointed by today's Supreme Court ruling because it fails to reflect the equal protection and color-blind spirit of the U.S. Constitution," Zhao said.
Follow NBC Asian America on Facebook, Twitter, Instagram, and Tumblr.