Ben Chin, a Democrat running for mayor in Maine's second-largest city who was targeted in October with signs widely viewed as racist, was defeated in an election runoff Tuesday.
Two-term incumbent Lewiston Mayor Robert E. Macdonald won the race with 4,398 voters, or 53.4 percent, according to the City of Lewiston's website. Chin received 3,826 votes, or 46.4 percent.
A total of 8,229 votes were cast, with two blank and three over-voted ballots. Nearly 3,000 absentee ballots were submitted in the runoff, the Portland Press Herald reported.
"We knew from the beginning that if we did everything right, there was still a chance that we could come up short," Chin told NBC News. "That's why we committed ourselves to run the kind of campaign where the world would be a better place, whether we won or whether we lost. I think we were able to hold ourselves to that standard, and I'm just really proud of the work that we've done so far and definitely wish Mayor Macdonald all the best."
As required by Lewiston's city charter, a runoff was called between 30-year-old Chin, who is half Chinese, and 68-year-old Macdonald after none of the five original candidates garnered a majority of votes on Election Day. In November, Chin had received 3,673 votes, or 44 percent, and Macdonald had received 3,107, or 37 percent, according to the city's website. In all, 8,332 votes were cast.
An email sent to Macdonald Tuesday night seeking comment was not returned.
Macdonald, a Republican who is a retired police detective, told the Portland Press Herald Tuesday that this would be his last race. The Lewiston mayoralty is a part-time position that pays $4,200 annually.
Chin made national news in October when signs featuring a caricature of an Asian man, lined on top with the Communist hammer and sickle, went up on several buildings in Lewiston, a city of roughly 36,000. They read, "Don't vote for Ho Chi Chin. Vote for more jobs not more welfare."
RELATED: 'Ho Chi Chin' Signs Target Maine Mayoral Candidate Ben Chin
Joseph Dunne, the property manager of Sullivan Property Management, which owns the buildings, told the Portland Press Herald he put up the signs because Chin had labeled him a "slumlord." Chin serves as political director for Maine People's Alliance, which issued a report this summer calling Dunne and two others "three of the city's worst landlords."
After taking down the signs, Dunne later apologized in an advertisement in the Sun Journal, saying they were not meant to be racist but rather "critical of [Chin's] policies and tactics." Dunne also wrote he would "try to do a better job" as a landlord, adding, "I would never purposely make any tenant suffer to enrich myself or my family."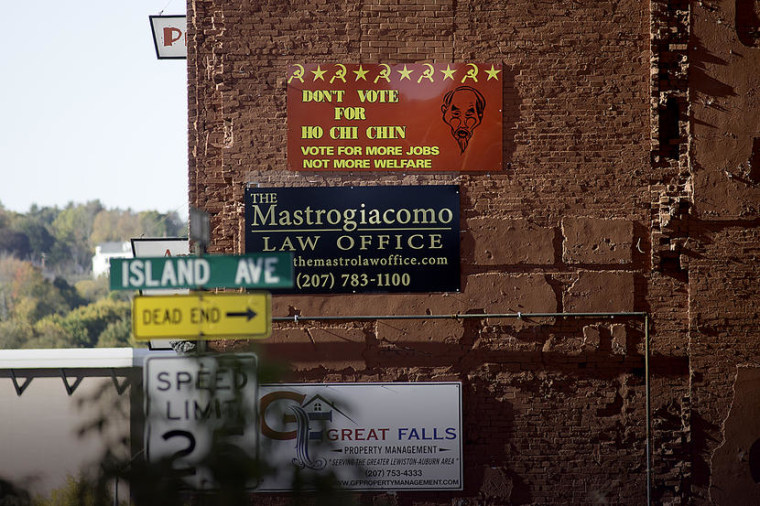 In October, Chin told NBC News that the signs made him think a lot about his grandfather, who emigrated from southern China at age 5, fought in World War II, and was later investigated for being a communist during the McCarthy era after a business he started grew successful.
Lewiston, in recent years, has seen a surge in its immigrant population, primarily Somalis who have made the city their home. According to the U.S. Census, 86.6 percent of Lewiston is white, compared with 95.5 percent for the rest of Maine, whose total population is around 1.3 million.
According to the Sun Journal, Macdonald made headlines in 2012 when he was quoted in a BBC documentary on America, which aired on Sept. 11, as saying, "You [immigrants] come here, you come and you accept our culture and you leave your culture at the door." Macdonald had said his comments were taken out of context, the Sun Journal reported.
"I think we were able to hold ourselves to that standard, and I'm just really proud of the work that we've done so far."
For this mayoral race, Chin said he believed it wasn't just the power of the incumbency that helped Macdonald win reelection.
"His supporters, by and large, consider him a guy who is pushing back on immigration," Chin said. "He's able to play on the fears people have of races that are different than their own, and that is a powerful political tool right now."
Chin said he's looking forward to getting back to community organizing but, more immediately, to taking four weeks of paternity leave to be with his daughter.
But, he tells NBC News, he isn't ruling out another run for mayor.
"Anything's possible," Chin said. "I mean, if you told me 18 months ago that I would run for mayor this year, I wouldn't have believed you. So life is long, it's very interesting, it's full of surprises, and I don't see myself going anywhere, so I certainly would consider that as an option."