It's been an interesting year for Asian Americans and poetry. A white male poet with the pen name "Yi-Fen Chou" was selected for the 2015 edition of "The Best American Poetry," to which Asian-American poets responded with the hashtag #ActualAsianPoet. Crass criticism of TS Eliot Prize Winner Sarah Howe sparked more angry responses from women, Asian, and Asian-American poets using the hashtag #derangedpoetess.
But it hasn't all been negative: Hmong-American poet Mai Der Vang, for instance, won the 2016 Walt Whitman Prize for emerging poets.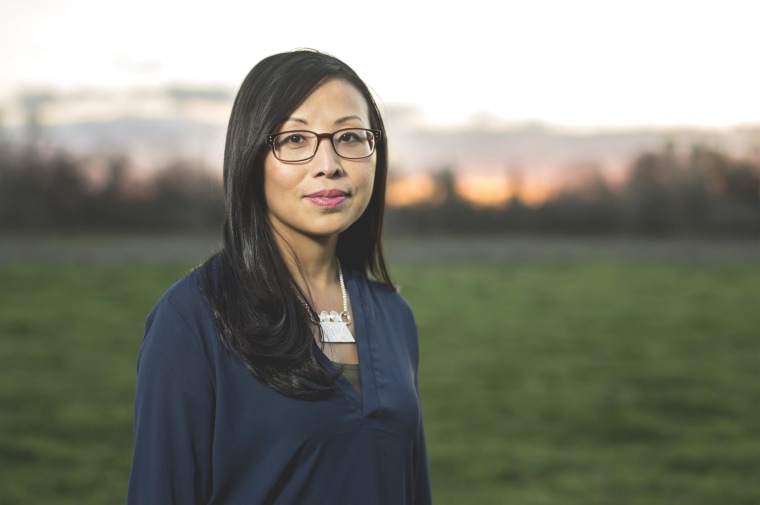 For Asian American and Pacific Islander Heritage Month, NBC Asian America is celebrating emerging Asian-American poets. According to Lee Herrick, Fresno Poet Laureate 2015-2017 and author of "Gardening Secrets of the Dead," several Asian-American poets who have just released their first book of poetry are forging "new territory in craft and risk, as they widen and deepen Asian American poetry for the twenty-first century."
Jenny Yang Cropp, String Theory (Mongrel Empire Press, 2015)
2016 Oklahoma Book Award Finalist in Poetry
Jenny Yang Cropp writes about growing up multiracial, overcoming abandonment and addiction, and surviving the enormity of grief. With supernovas and microscopic black holes, her poems wrestle with connections to others and multiplicity of identities.
"Even at their most harrowing, these are poems of open-eyed witness," writes poet Timothy Yu. "What comes through above all is Jenny Yang Cropp's clear, strong voice, as it 'leans in / to tell me the thing she's not supposed to talk about.'"
2014 Kundiman Poetry Prize
Janine Joseph was born and raised in the Philippines and Southern California. Her poems examine the hidden lives of undocumented immigrants living in plain sight, between cultures and countries, wrapped in the political, psychological, emotional, and compassionate aspects of immigration.
"With its ferocious formal range and deep compassion Joseph shows us the world we all live in but often choose to ignore," writes poet Gabrielle Calvocoressi. "Here are the lives of mothers and fathers, teenagers and grandparents, all living under the threat of deportation. Here are people making a new home while holding onto the dignity and beauty of the place that they were once from. Joseph is that rare poet who makes a poem that devastates a reader while being entirely free from judgment."
Kenji Liu, Map of an Onion, (Inlandia Institute, 2016)
Kenji Liu is an artist and poet, a 1.5-generation Asian American who grew up in New Jersey and now lives in Los Angeles. His poetry addresses themes of colonization, conquest, citizenship, language, and place, through the layers of power and culture, and the histories of Taiwan, China, Japan, and the United States.
Juan Felipe Herrera, poet laureate of the United States, writes, "Here, Kenji lays out the splicing of the 'onion,' these blistering, translucent stacks of report, bilingual document, letters, notes, 'found' materials and calcified fever-cells. These are investigations, surgeries, all crossing attempts to map some kind of in-between set of scars and wounds of 'advice and consolation.' Applaud it for its tough, serious, exacting pen and eye and mind, for its howl, its losses, findings and knife-thin metaphysical peeling gestures."
2014 Four Way Books Intro Prize in Poetry
Rajiv Mohabir's poetry speaks of the sexual awakening of a queer brown Indo-Caribbean youth caught in narratives of immigration, racism, violence, and love, wrestling with themes of discovery, preservation, and survival.
"Rajiv Mohabir's debut collection is electric with fierce love—animal, erotic, obliterating—the hard and soft always bruising and buffing each other," writes Brenda Shaughnessy, judge of the Four Way Books Intro Prize in Poetry. "The ways we hurt each other are similar to the ways we hurt ourselves: precisely, with a steadiness learned in the murk and danger of childhood. The cornfields of adolescence and the observation of animals teach us how to not only love each other and tear each other apart but also how to meticulously put what we love, what we destroy, back together again."
Hannah Sanghee Park, The Same-Different (LSU Press, 2015)
2014 Walt Whitman Award from the Academy of American Poets
Hannah Sanghee Park was born in Tacoma, Washington, received an MFA from the Iowa Writers' Workshop, and is currently in Los Angeles attending the Writing for Screen & Television Program at USC. Her poetry is marked by wordplay, puns, and semantic challenges that dissect meaning.
When she won the 2014 Walt Whitman Award from the Academy of American Poets, Rae Armantrout wrote, "The poems in 'The Same-Different,' beginning with a set of gnomic sonnets, tell it slant, then slanter. They are so full of chiasmus, pun, and near-rhyme that their figures twist back on themselves like strands of DNA or a staircase by Escher. They are mirror-bright. This book is a literally dazzling debut."
2016 Whiting Award
Ocean Vuong was born in Saigon, Vietnam, and he currently resides in New York City. His poems take on themes of romance, family, memory, grief, war, and melancholia, with breath and cadence and heart. "What a treasure [Ocean Vuong] is to us," writes poet Li-Young Lee. "What a perfume he's crushed and rendered of his heart and soul. What a gift this book is."
Khaty Xiong, Poor Anima (Apogee Press, 2015)
First full-length collection of poetry published by a Hmong American woman in the United States
Khaty Xiong is a second-generation Hmong American from Fresno, California, now living in Ohio. She is the child of Hmong refugees from Laos and the seventh daughter of fifteen children. Poet Don Mee Choi writes, "Khaty Xiong sings hauntingly of war, violence, and dislocation. Her language, a traumatized body, traverses between welts and wounds, between home and exile."
2014 NOS Book Contest Editor's Selection
Timothy Yu is associate professor of English and Asian American Studies and director of the Asian American Studies Program at the University of Wisconsin-Madison. He writes that these poems began as a response to Billy Collins' poem, "Grave," "The speaker of the poem describes the 'one hundred kinds of silence / according to the Chinese belief,' but then admits at the end of the poem that these Chinese silences were something he had 'just made up.' I took it upon myself to write these 100 Chinese silences."
MORE READING:
WORKSHOPS:
Follow NBC Asian America on Facebook, Twitter, Instagram, and Tumblr.
RELATED:
Correction: An earlier version of this article misspelled Rajiv Mohabir's last name.