While counting customers' change last Sunday afternoon behind the counter of EG Homes on Eighth Avenue in Dyker Heights, Brooklyn, Kitty Dong issued a pronouncement: Peter Liang, the New York police officer indicted last week in the death of an unarmed black man, was a scapegoat.
"When a non-Chinese officer does something wrong, nothing ever comes of it," Dong said in Mandarin, referring to a Staten Island grand jury's decision in December not to indict a white NYPD officer accused of applying a fatal chokehold to Eric Garner, an unarmed black man. "Why, then, when a Chinese police officer [is involved] is it such a big crime?
Down the block at Y&L Gift Shop, the woman working that counter, Ping Lin, took a more measured approach as she talked about Liang.
"One side has its argument, the other side has theirs – so who knows?" Lin said in Mandarin, adding that Chinese-Americans shouldn't support Liang just because he's Chinese.
If one thing was clear this past week, it was that New York's Chinese community remains ambivalent over the indictment of Liang in the November 20 fatal shooting of Akai Gurley. There's the Chinese-American city councilmember in Chinatown who praised the grand jury's decision, saying it did "the right thing." There's the city-metro editor of the World Journal, a daily Chinese-language newspaper, who called the indictment "politics." And then there are the Chinese shopkeepers, employees and customers along Eighth Avenue, a bustling thoroughfare in Brooklyn's Chinatown about two miles away from where Liang and his family lives, who expressed opinions that fell somewhere in between.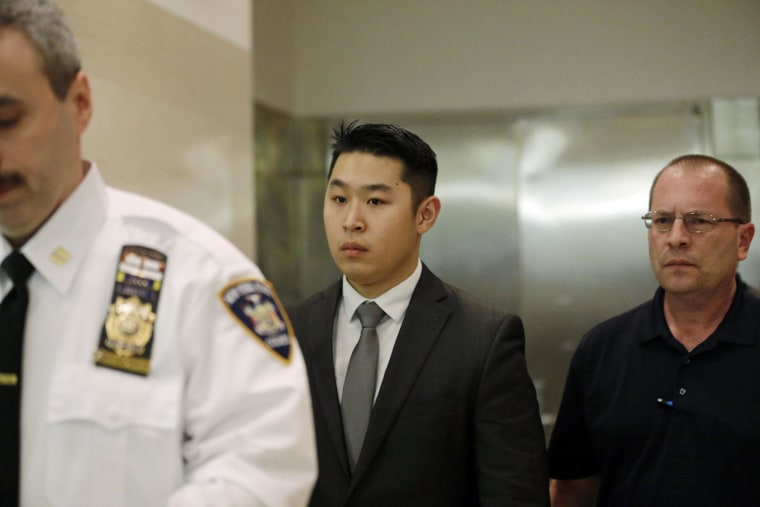 Liang, who has been with the NYPD for less than two years, is accused of discharging his weapon and fatally wounding Gurley, 28, when he entered a dark stairwell in an East New York housing project that Liang and his partner were patrolling. New York Police Commissioner William Bratton has said that the shooting "appears to be an accidental discharge" of Liang's gun.
Two weeks ago, Liang, 27, pleaded not guilty to manslaughter and official misconduct, among other charges. He was released without bail after the arraignment.
"If Peter Liang is a white police officer, there probably would be no indictment"
For months, Councilmember Margaret Chin, whose lower Manhattan district includes Chinatown, and Cathy Dang, the executive director of the Committee Against Anti-Asian Violence, a Chinatown organization that addresses police and hate violence toward Asian immigrants, have both been vocal in their support of an indictment.
But not everyone in New York's Chinese community shares the same view.
"If Peter Liang is a white police officer, there probably would be no indictment," said Joe Wei, the World Journal's city-metro editor, in a telephone interview with NBC News.
For its part, the World Journal appears to have mounted something of a defense for Liang by attempting to paint a more complete portrait of the officer through its news coverage. As of Thursday, the newspaper had published more than a dozen articles in Chinese since the indictment was announced last week, including one on February 12 that begins with a quote from a neighbor, surnamed Chen.
Liang "really is a good person who is polite, has a good character, and cares for others," the opening line reads. "It honestly is such a pity."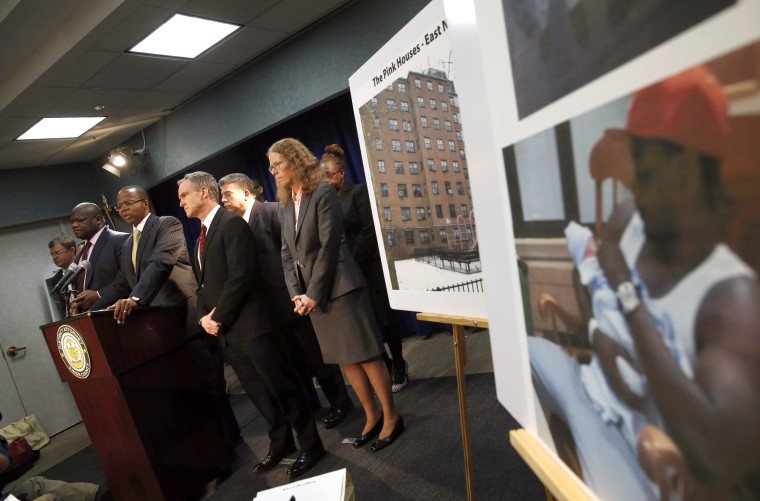 Another article, published on February 14, quotes friends of Liang, who were unwilling to give their names, as saying the officer "has many black friends," and that he "often played ball with a group of black classmates when he attended middle school."
But this aspect of the story, Wei said, has largely been absent in the mainstream media. Many news articles in English have instead focused on how Liang allegedly went back and forth with his partner for four minutes about whether to notify a supervisor that his weapon had fired a shot, as Gurley lay wounded in the stairwell.
"I think it's lazy on their part," Wei said. "All the English media can call our reporters to find out the details of the situation. But in this case, they didn't really call us."
"We don't have a bias just because we're Chinese...We respect the legal system."
Chinese Americans interviewed this month said they've been following coverage about Liang in both English and Chinese-language media, including the World Journal and the Sing Tao Daily, another newspaper popular with Cantonese speakers. One article that appeared in the Sing Tao on February 12 reported that the Chinese community "sympathizes" with Liang and argued that sending two new, inexperienced officers into a dangerous housing project led to this "tragedy."
The manager of a store called $1 Up, a man surnamed Chen, echoed these sentiments.
"He's a good person," Chen said in Mandarin, adding that the World Journal articles, including the one that said Liang has many black friends, gave him a favorable impression of the officer.
But Angel Ha, the manager of Tailong, a store near $1 Up that sells electronics and gifts, stopped short of passing judgment on Liang's character. Ha did say that contrary to claims she said she heard on Chinese-language radio, she doesn't believe Liang was being used as a scapegoat to make up for a grand jury's refusal to indict Daniel Pantaleo, the NYPD officer accused of applying the illegal chokehold to Garner.
"This was an accident, this wasn't deliberate," Ha said in Mandarin.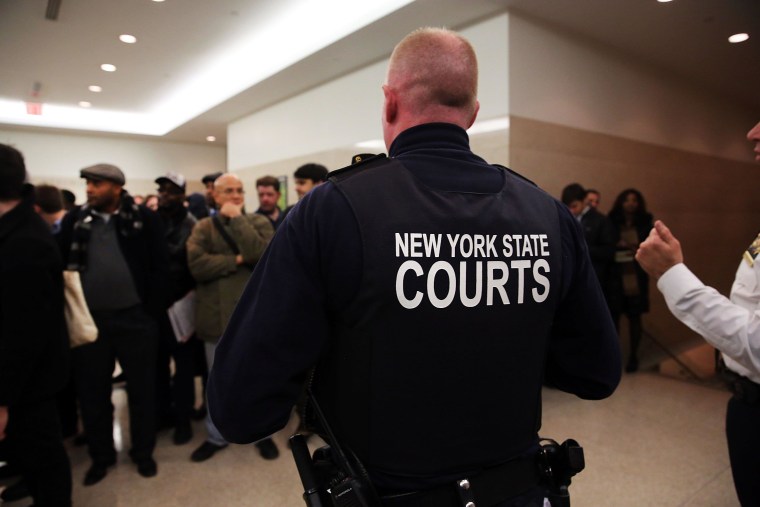 Still, some Chinese said they would wait until after the trial before judging Liang's role in the shooting.
"We don't have a bias just because we're Chinese," a man surnamed Lin, who works with his wife, Ping, at Y&L Gift Shop, explained in Mandarin. "We've lived in the United States for 30 years. We respect the legal system."
On February 17, some who support Liang started an online White House petition, demanding that the Brooklyn DA "withdraw" the indictment. For the White House to respond, the petition needs 100,000 signatures by March 19. As this week, over 116,000 people had signed the petition. But in law enforcement cases, the White House "might not address the facts of a particular matter to avoid exercising improper influence."
For Dong, the clerk at EG Homes, the Brooklyn grand jury indicted Liang to compensate for grand juries that did not indict white police officers involved in other incidents last summer, she said, including the death of Garner and the fatal shooting of Michael Brown, an unarmed black teenager in Ferguson, Missouri.
"This time, they needed to come up with a new and different decision," Dong said. "Otherwise, [people] would say they are covering up for the police."