LADAKH, India — On portable foam mats on a northern Indian plateau in view of the Himalayas, rows of girls and young women kick their legs in the air simultaneously. One. Two. Three.
Nuns walk throughout the rows, eyeing the girls' form and offering constructive criticism on their newly learned skills.
The girls are taking part in a self-defense workshop, the first such training put on by the Drukpa Kung Fu Nuns. Since mastering the martial art, the nuns are now teaching a generation of girls and young women how to defend themselves.
"It's the first time they heard having confidence can save your life. Even getting used to screaming is empowering."
"Self-defense is very important because of rape cases and other bad news," 26-year-old nun Jigme Migyur Palmo told NBC News. "They have to have confidence."
According to India's National Crime Record Bureau, there were approximately 34,000 rapes reported in the country in 2015 — the latest year data is available — up from approximately 25,000 in 2012.
The five-day workshop for beginners was held in India's Ladakh region in early August and was sponsored by the U.S.-based Live to Love International, a nonprofit that focuses on serving the people of the Himalayas.
Live to Love was founded by the Gyalwang Drukpa — the head of a branch of Tibetan Buddhism — and in 2009, he introduced kung fu to the branch's nuns as a way to improve health and self-defense.
Before the nuns were shy, said Palmo, but now they have more confidence.
"I, myself, can say I have lots more confidence than before," she said.
Palmo, who used to watch Jackie Chan movies as a young girl, became a nun when her father told her about the Gyalwang Drukpa and the focus on women's empowerment.
"If I became a nun it would benefit other girls," she said, later adding: "Before I was thinking kung fu was just for fun."
The kung fu workshop, which catered to nearly 100 girls ages 13 to 28, included those from nearby villages and even some Muslim girls and young women, said Carrie Lee, a former president of Live to Love, which has 13 chapters around the world.
"It's our first time," she said. "We had no idea what the reception would be."
Posters and signs were displayed throughout Ladakh, inviting girls and young women to take part.
Tsering Yang Chen, 23, said the training was tough but worthwhile. Chen was recently at a shop and the shopkeeper touched her inappropriately, she said.
"I did nothing, but after some time I felt very dirty," she said. Once she heard about the workshop to learn self-defense skills, she joined.
"When someone touches me, I want to punch him," she said, noting that men also whistle at girls at the market.
During the training, the girls and young women woke early each morning and practiced their skills throughout the day. They slept in tents and in between sessions played games and listened to music.
Many of the participants said they hoped to meet new friends.
Stanzin Norzin, 16, said her favorite part of the training was learning about punching. She said many girls must travel alone at night and there's no guarantee about their safety.
"I think I'll be stronger and more confident after this workshop," she said.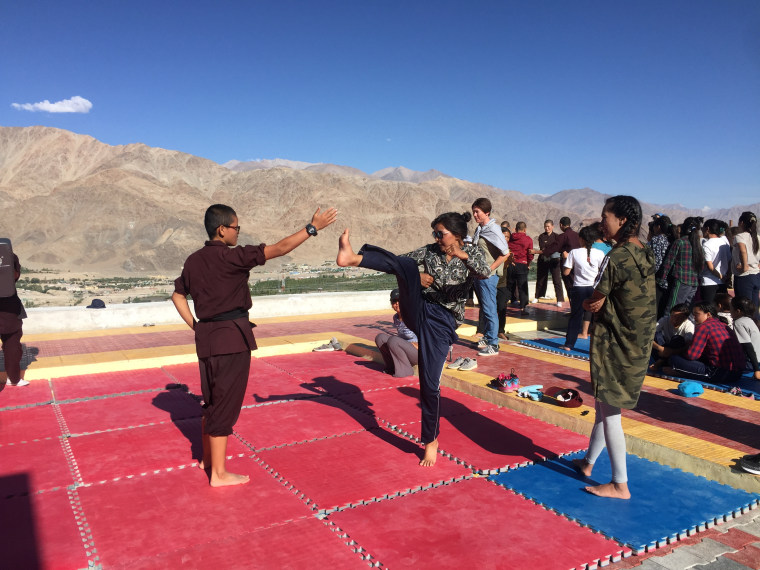 Lee said the organization hopes to hold more workshops in the future.
During one afternoon session, the participants listened as Lee talked about her time as a lawyer in the U.S. and how she fell in love with Ladakh when she first visited 13 years ago.
"I was so inspired by Ladakhi girls in particular," Lee said as she went around the room asking the girls what they wanted to be when they got older.
"Before I was thinking kung fu was just for fun."
Jigmet Skitzom, 17, said the training was both tiring and exciting.
"It's difficult, but we can do it if we try," she said.
Skitzom said the self-defense training will come in handy when she and others must leave Ladakh to further their studies after grade 12.
The training broke barriers both for the participants and the nuns, according to Lee.
"Nuns have traditionally been second-class citizens in the Himalayas," she said, adding that there are some people who believe nuns shouldn't be teaching kung fu.
But the nuns have thrived with their newfound skills, she said.
"It's the first time they heard having confidence can save your life," Lee said. "Even getting used to screaming is empowering."
Follow NBC Asian America on Facebook, Twitter, Instagram and Tumblr.