LOS ANGELES — A visit to India's Golden Temple in 2008 inspired Los Angeles residents Ravi and Jacquie Singh to take a Sikh tradition literally on the road.
The couple, who had been volunteering at Ravi's local gurdwara, were used to serving free vegetarian meals to those in the community who needed them as part of a religious tradition known as "langar" that dates back to the 1500s. But after seeing the 80,000 people being served langar each day at the Golden Temple — and twice that number on holidays and weekends — they realized they could do more back home.
So they came up with the concept of a mobile langar in order to bring food to a larger number of people in Los Angeles.
"The langar system at the gurdwaras is meant to teach us sharing," Ravi Singh said. "But the real sharing happens when we go out into the community and go where the need is."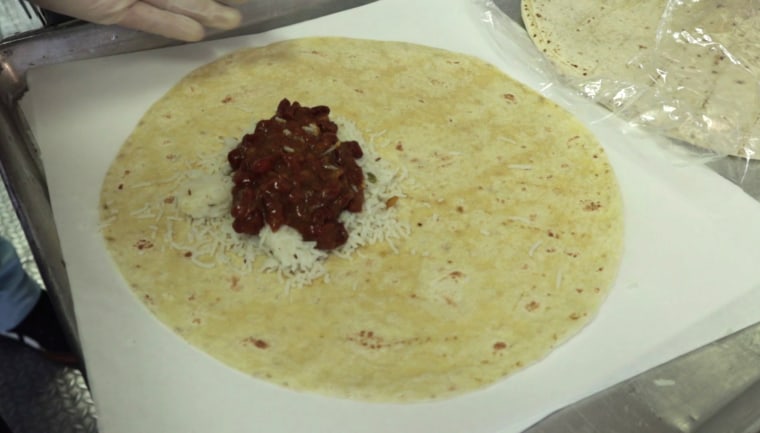 The Singhs launched Share A Meal — known within the Sikh community as "langar on wheels" — which organizes dozens of volunteers to make 1,000 Indian-style curry burritos every week and distribute them on food trucks to the homeless.
"Instead of making people come to us in a brick and mortar building, which is hard for many, we should be able to get to where the people are," said Jacquie Singh.
The burrito filling is what Ravi Singh called traditional langar food — vegetarian rice, beans, vegetables and a curry paste made of fresh onion, garlic, ginger and spices. When they first started the program, they hired a woman who prepared langar at one of the local gurdwaras to teach them how to cook. Now Jacquie makes the curry paste from scratch.
Recipients of the burritos can choose between mild or spicy.
"The food is like what you'd find at a gurdwara," said Ravi Singh, who grew up in the Indian state of Punjab and immigrated to the United States in 1987. He and Jacquie now work in construction management and real estate.
When the couple started Share A Meal, they initially used a trailer to transport food. But as the operation grew, they invested in a food truck in 2013 and received a second as a donation two years later. Now, the program — which is funded through grants, public donations and the Singhs' personal money — includes a chapter at the University of Southern California (USC), where students work as "humanitarian aid interns" while receiving federal work-study funds.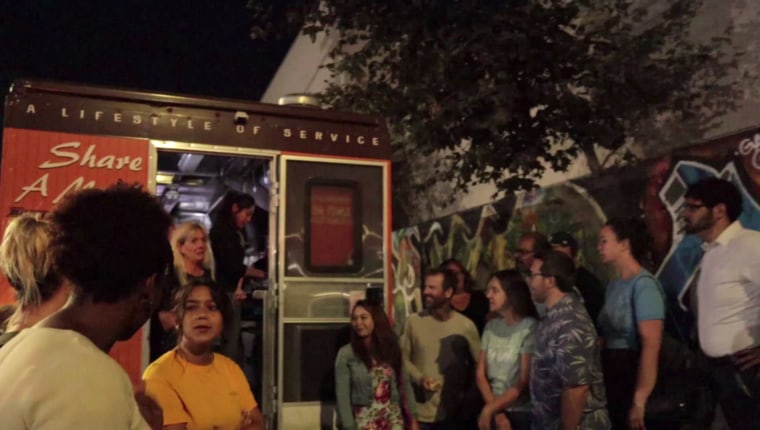 While the origins of Share A Meal are in the Sikh religion — it's also housed in the Singhs' nonprofit Khalsa Peace Corps, named after an historical group of Sikh warriors whom Singh called "the first Red Cross" — nearly all volunteers and recipients of the program are now from outside the Sikh community, according to Singh.
"Our volunteers are from all faiths, all races, all ethnicities, you name it," he said. "That shows the compassion that's common to all of us."
Felipe Hernandez, who has volunteered for four years and helped establish the USC chapter, said the program has given him a deeper understanding of Los Angeles's homelessness crisis, and also an opportunity to serve the neighborhood he grew up in.
One evening, Hernandez said, he handed a burrito to someone he recognized as a former classmate from the college he attended before transferring to USC.
"It made me feel like I'm more at the center of this than I thought," he said. "This could be anyone. The person we sit next to in class might not have a bed to sleep in."
Share A Meal also invites other religious groups to work alongside it.
Nayyer Alam, a member of the Islamic Society of Orange County in Garden Grove, California, said that he and a group of 10 Muslims from his mosque helped Share A Meal prepare and distribute food on Skid Row during Ramadan this year.
"It made the point that we have a lot of things in common, and one of those things is caring for the poor," he said. "This is the most common factor in all religions."
While he draws his inspiration from religion, Singh said he has no interest in preaching his faith or trying to get others to convert. Instead, he said that feeding the poor is about seeing the humanity that all people have in common.
"It's a platform to teach compassion," he said.
Follow NBC Asian America on Facebook, Twitter, Instagram and Tumblr.