In 2012, 23-year-old Jyoti Singh Pandey was violently and fatally gang-raped and beaten on a Delhi bus, leaving India and the world stunned and outraged. Years after her death, British documentary filmmaker Leslee Udwin's film, "India's Daughter" which follows Pandey's case and was preparing to release this Sunday, March 8th, on International Women's Day, was banned by the Indian Parliament. The BBC released the documentary anyway and uploaded it onto YouTube. It immediately went viral.
Pre-released clips of Udwin's film feature interview footage with one of the rapists on death row, Mukesh Singh. "A decent girl won't roam around at nine o'clock at night. A girl is far more responsible for rape than a boy," Mukesh tells Udwin in the film. Singh's statements have caused a global uproar.
Ram Devineni, an Indian-American filmmaker and creator of 'Priya's Shakti', a free-to-download comic book that tells the story of an Indian gang- rape victim turned superhero, may be one of the few people not surprised by Singh's views on rape. Last September, while conducting research for his comic, he met many men in Delhi that shared Singh's opinion.
"Priya is influenced by Jyoti Singh Pandey (Nirbhaya). She is the reason why I wrote this comic book," said Devineni.
Singh's views are far from the exception in India. In a 2012 survery by Hindustan times, ninety-two out of 100 Delhi men, ages 18-25, said some or all of their friends have made passes at women in public places, while more than 78% of the women surveyed had been sexually harassed.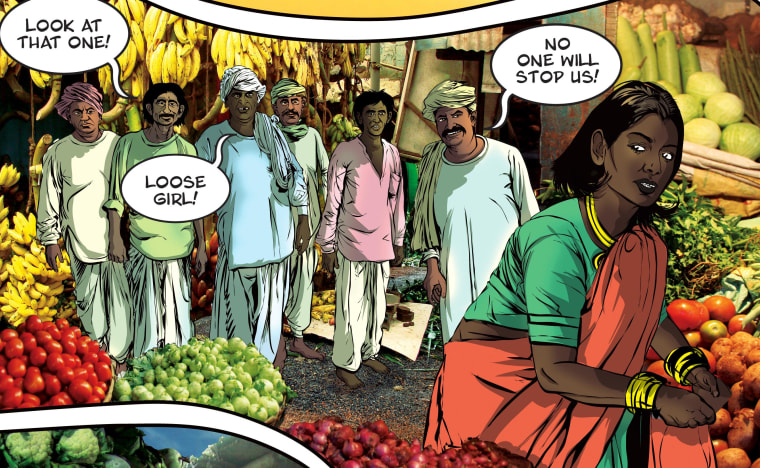 The Priya's Shakti team has released footage from their man-on-street interviews with young men in Delhi as well as a gang rape survivor, to NBC News. These videos are only otherwise accessible through the comic book, itself, by scanning the comic book with the AR app, using augmented reality technology.
"The reason I created the videos is to put a real face and voices to the comic book and Priya. Comic books have a tendency to remove the reader from reality, but by adding the videos into the comic book I was able to show that there is a real human face and story behind the characters," explained Devineni.
In this first video, the Priya's Shakti team speaks to young working class men between the ages of 21-25 at a street market in South New Delhi. One of the men explains that he thinks rape is 50 percent the man's fault, 50 percent the woman's fault. A few others say provocative clothing invites rape and harassment.
"I never got the impression that they were violent or would misbehave in anyway," said Devineni. "But they all shared the same patriarchal views towards women. They believed that women should be conservative and only 'bad' girls get raped."
Devineni tells NBC News that he also encountered men who defended female rape victims. "I don't want to paint a picture that all Delhi men are like this. But of course, its still scary to think that half the men feel that a woman is equally at fault."
In this second video, the Priya's Shakti team speaks to 19-year-old Jyoti (a pseudonym used to protect her identity) who was gang-raped by a group of young local men, three years ago, in a village on the outskirts of Haryana. Despite facing grave threats, she took legal action against her rapists and was able to get them sentenced.
"Jyoti was completely open and honest with us because she felt her story would help others. I was very inspired by her motivations and determination. What happened to her has become her life's mission," said Devineni.
Jyoti is currently pursuing a degree in social work and volunteers with a local NGO in Haryana which advices and counsels rape survivors. But her struggle is far from over. She's received multiple death threats and is under constant police protection.
"Her story and the stories of other rape survivors directly influenced in the creation of my character in the comic book. Priya is a compilation of them," said Devineni.