Soni Satpathy-Singh recently launched a bold new website, Sketchy Desi, featuring bright pop art style comics celebrating the South Asian American experience. She describes it as her "quirky valentine to the second generation experience of navigating two cultures."
After years of working as a professional recipe developer, tester, and writer in New York City, Satpathy-Singh wanted to expand her creative reach. She began sketching her stories of finger-wagging Aunties and sketchy South Asian Americans in comic form. With humor, spunk, and a sassy cast of characters who do not use Fair and Lovely (because they are "dark and fabulous" the way they are, according to the artist), Sathpathy-Singh addresses the everyday frustrations of the Desi American: dealing with nosy Aunties asking (again) why one is not married yet, skin color preferences, model minority parental pressure, and how to put on a sari without an Aunty in sight.
In between drawing and creating her line of "MIRCHandise," Satpathy-Singh talked to NBC Asian America about her family, her work, and what's next.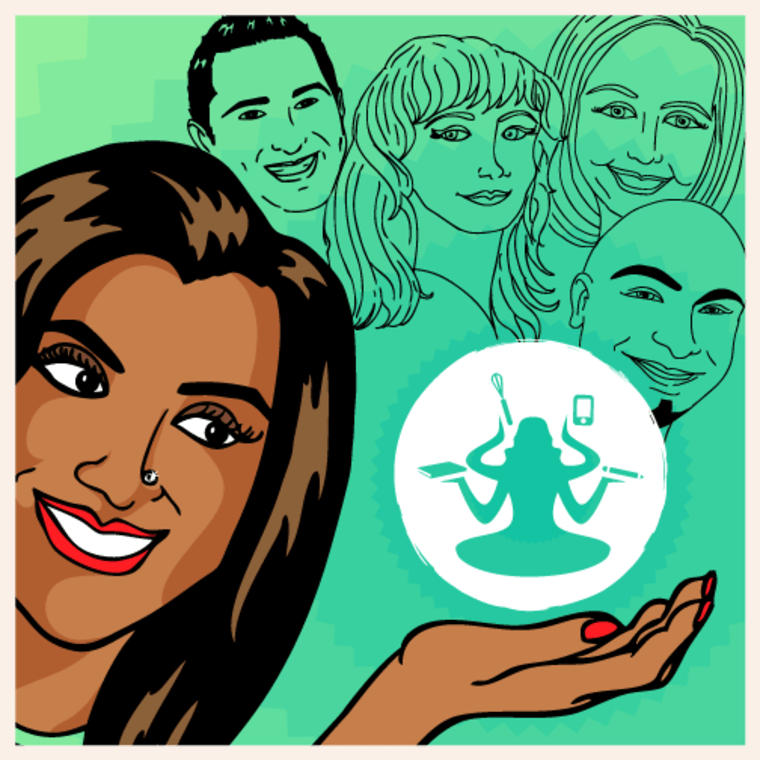 Tell us a little about yourself and your family background - the usual (or not so usual) biodata stuff.
Although I consider myself a die-hard New Yorker, I was actually born and bred in Nashville, Tennessee. I grew up in a traditional Odia-Hindu family in the Bible Belt. Fun times! We met our fair share of racism there, which made me learn early on that humor has the power to diffuse ignorance while simultaneously helping me feel more comfortable in my skin. I would say all of *this* has served as fodder and material for Sketchy Desi, although this approach to life—edification of identity by humor—was at odds with how I was raised.
Good Indian girls do not laugh too loudly or too much. That was the take-away from my formative years into, well, now! To this day, I do not understand what my elders worried would happen if a girl/woman whole-heartedly laughs. Convulse into tiny, little, unmarriable particles? Do too many belly laughs make a gal barren? I dunno. Sketchy Desi is my way of laughing out loud, unabashedly, and not very ladylike.
It is one big, fat, inside joke that we regale one another with but seldom see in popular culture.
Growing up in the diaspora was not without its challenges and was not always funny. It is only as an adult that I learned how to be truly comfortable and even have fun with my ABCD-ness (American Born Confused Desi).
I remember the disdain I would hear in relatives' voices when they would call me ABCD and pass it off as a harmless jab or slighted affection. Yet it always felt so charged – not quite derogatory, yet certainly not admirable. It was patronizing at best. I resented the label then. It seemed I was too ethnic and too "other" to be deemed American in Tennessee. Yet when I would travel back to see my family in Odisha, India, my Southern drawl was too slow and twangy to roll the "ou's" needed to sound authentically Odia. I would never say I was confused. I always considered my identity as confusing others more than it confused me.
I think we are finally in a time when we do not have to choose to be either American or Indian. We are collectively coming to terms with the very real and growing presence of hyphenated identities. We are not Franken-Indians! Or Franken-Americans! At least that is what I want Sketchy Desi to relay, that we are our own very real sub-culture. This so-called ABCD life is a cultural phenomenon. There are expressions, mannerisms, ways of being that this hyphenated identity attaches itself to. It is one big, fat, inside joke that we regale one another with but seldom see in popular culture.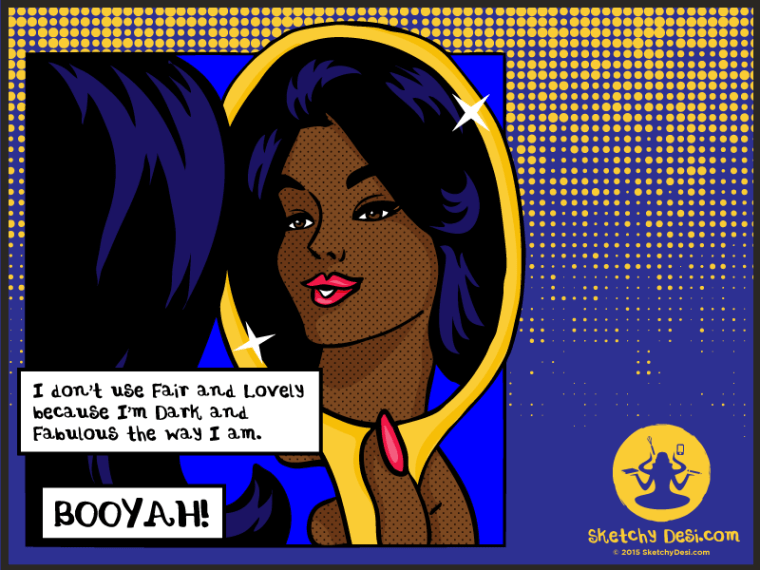 You have also worked as a recipe developer and private chef. How does food come into all this?
Living, thinking, acting out within the diaspora space extended well into my passion for food and cooking. Food — what you eat and how you cook — is inseparable from culture for me. I attended culinary school, and as part of my thesis, I set out to write a cookbook and chronicle the culinary customs and nuances of my community through interviews and group cooking sessions.
It was here that I stumbled upon a goldmine of, well, everything! The stories I heard, the cooking parties that I set up, proved to be comical and insightful as the chasm between generations and cultures spoke to me. There was just so much THERE that I knew I wanted to create more than a cookbook. I wanted to create something that spoke to my experience, an experience that I felt many could relate to.
There was a self-produced reel that replayed in my head where I envisioned my parents or in-laws (or both!) saying something like, "You want to make comics? What about babies, why don't you want to make grandbabies instead?!"
How did you decide to start Sketchy Desi? What are some of your favorite themes to address?
I had never considered myself a comic or an artist outside of the realm of the culinary arts, so when I decided to converge drawings with my stories and recipes, I set out to find an artist and graphic designer. I was going to put my drawings out there by way of showing someone what I was envisioning, but have them redraw it. However, through this process of vetting artists, I learned that I enjoy the process of drawing, and that I wanted to use my own drawings, not someone else's!
I linked up with Vee Ladwa, a seasoned artist and graphic designer, and he really encouraged me to use my own drawings and really helped me gain confidence in that space. So now I draw and write, and Vee colors, refines, and digitizes my work! Since then, though, the project has taken on a life of its own. The more I draw and write, the more inspiration I get to create more, whether that be total goof-wad pieces or heavier social pieces. It's all there, inside me, itching to get out. I would say some of my favorite things to sketch about are sexism, shadism, and so-bad-they're-good puns, especially Indian food puns.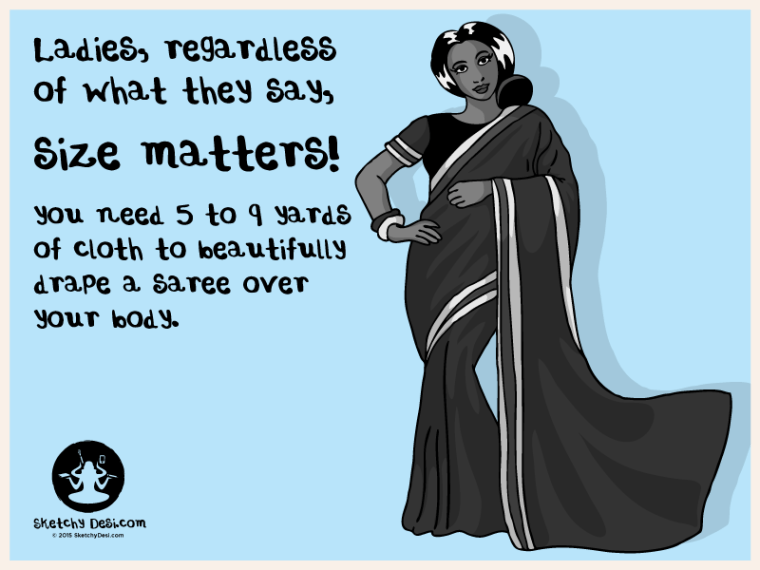 What has been the response to your work been like? From your family? From the Aunties and Uncles? From other desis?
My husband has been my number one supporter and in a very real way. He has played a vital role in getting my website up. My late nights are his as I have endeavored to make Sketchy Desi real. There were times when I questioned if I was funny enough or relevant enough, but he never hedged in his belief that Sketchy Desi may just be on to something, and his confidence in what I do is very infectious.
The rest of my family? They have provided unflagging support, and seem legitimately impressed, which, I have to tell you, surprises me! For all my big talk and swagger, I must confess, I was nervous about how my parents and in-laws might react. There was a self-produced reel that replayed in my head where I envisioned my parents or in-laws (or both!) saying something like, "You want to make comics? What about babies, why don't you want to make grandbabies instead?!"
Other Aunties and Uncles, well, (literally laughing out loud) – I have gotten mixed reviews. I have had a handful say that if I can draw so well, why don't I draw a "nice" picture of this Hindu God or Goddess sans text or humor (you know, the very backbone of Sketchy Desi). Still others have actually verbalized that reel I mentioned earlier.
Overall, I have received tons of positivity, especially from desis of my generation and younger, who are asking for more content, which is so encouraging!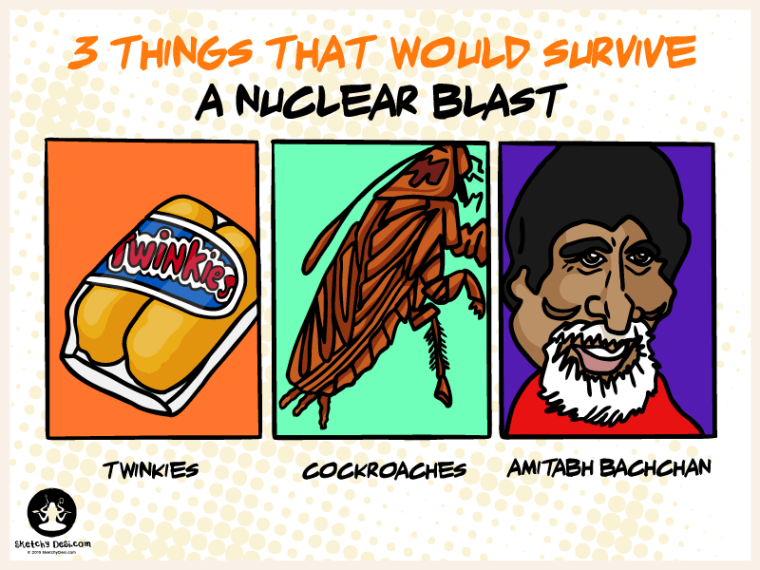 Do you have a message for young (or not so young) girls and boys facing too much Aunty/Uncle pressure?
I think I am supposed to give some badass message about following your passion and saying, "Screw you, society!" But I am not so evolved yet myself that I can claim said pressure does not still irk me from time to time.
I will tell you what has worked for me – it helps me to check in with myself and sit with my own thoughts. Particularly as a woman, I feel my community has this list of shoulds in terms of paths to follow in career, marriage, motherhood, etc, while simultaneously looking like a Bollywood vixen and serving chai while patting my head and rubbing my belly, or what have you. So I always check in with myself and ask do I really want this? Is this for me, or is this to appease the notion of what I think I should be/do?
What's next? (And do tell us more about Vee Ladwa, the "awesome, brown, single, AND he has a British accent" fellow on your team you are trying to "Aunty" on your website.)
I will have a full-fledged greeting card line coming soon! I came out with Diwali, Halloween, and Christmas cards last year as a soft opening, so now I am poised to make/offer year-round and holiday cards. You will also see more content on the site that exceeds the current one-panel module.
As for Vee, well, I had to "Aunty" him up out of guilt! He has given so much time and energy to getting Sketchy Desi off the ground. I feared I was cutting into his dating life, so I promised him I would play matchmaker when the site went live so as to assuage my guilt. Interestingly enough, we have had inquiries! I am still taking applications, Ladies, so send over that biodata. Biodatas with comics move to the front of line.
Interview was edited for clarity and length.
Like NBC Asian America on Facebook and follow us on Twitter.