World-renowned Chinese artist, Liu Bolin—also known as "The Invisible Man" for his performance-art-cum-portraits in which he paints his body to camouflage into city backgrounds—unveiled his new solo exhibition, "A Colorful World?" this month at the Klein Sun Gallery in New York. Before the showing, Bolin invited 78 people to the gallery and painted them in his signature style for two new works of art that he says examine the relationship between human spirituality with money and land. "A Colorful World?" also features new pieces from several ongoing series including "Hiding in the City," "In Junk Food" and "Security Check."
Liu Bolin and his translator sat down with NBC News to talk about Liu's life, his work, and what it means to be hiding in plain sight.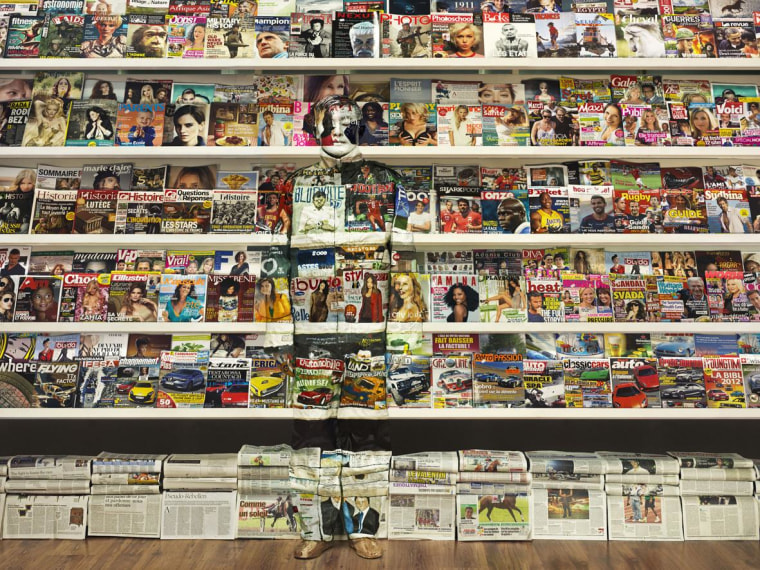 How did growing up in China influence your path to becoming an artist?
All my works are highly influenced by two major events in China: The Cultural Revolution and rapid economic development. The Cultural Revolution ended before I was ten years old, but it left a huge lingering influence on our culture that has never left. Many people no longer desired to speak. Lots of families and individuals were broken. They don't like talking about what happened. That's one aspect of it, another is how the overall relationship between one person and another has changed.
The Cultural Revolution's impact on how people feel about life and how they care for others has had a huge influence on China. Today, for example, there is no sympathy. If a senior citizen was to fall down, no one would help. The Cultural Revolution left people feeling indifferent to one another, without sympathy or care.
What is the message behind your new series, Security Check?
Security Check is an extension of my philosophy on society where I address the dangers humanity faces in the modern world, such as loss of individuality and commercial modes of oppression. When you go through the security check at an airport, the use of full-body scanners requires body language that mimics surrender, which then requires citizens to surrender their right to privacy for the illusion of safety.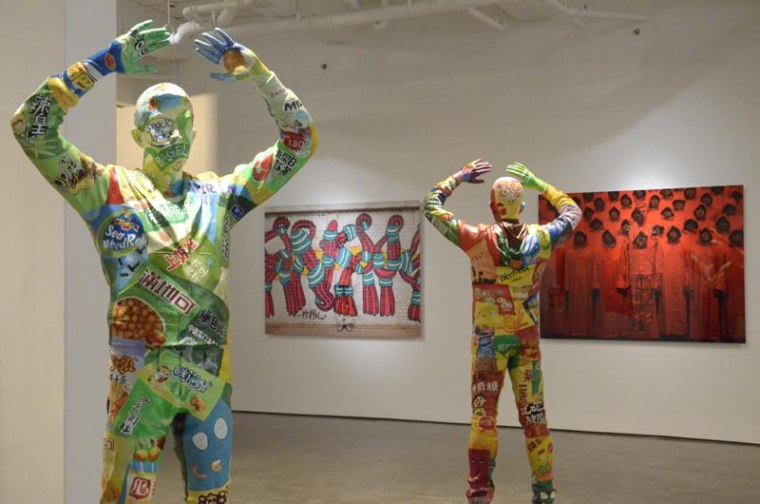 Your light box series features a portrait that fades into junk food in a similar fashion to your Hiding in the City series rendering people invisible. Can you talk about the relationship between people and your chosen backgrounds in which they disappear?
In this light box piece, the background is comprised of snacks and junk foods that are all packaged and commonly consumed throughout China. When the work lights up, the person disappears into the background of these consumer items—foods, products and advertisements. This loss of individuality through extreme consumption of commercial goods reflects my view on society and the state of China.
Twenty years ago, I felt similar to this person who disappears into something (a sea of commercial goods). I'm constantly thinking about how to actively step out of this and maintain my individuality.
Tell me about your family. What kind of career expectations did your parents have for you?
My mother wanted me to become a leader, someone who could make a lot of money and hold a lot of power.
When I was younger, I had a teacher who inspired me to question the path my mother wanted me to pursue. I knew full well that a teacher encouraging a student to think critically like this is a rarity in China. I also feel it is an innate part of my personality to be an artist—I'm introverted and naturally like thinking about things.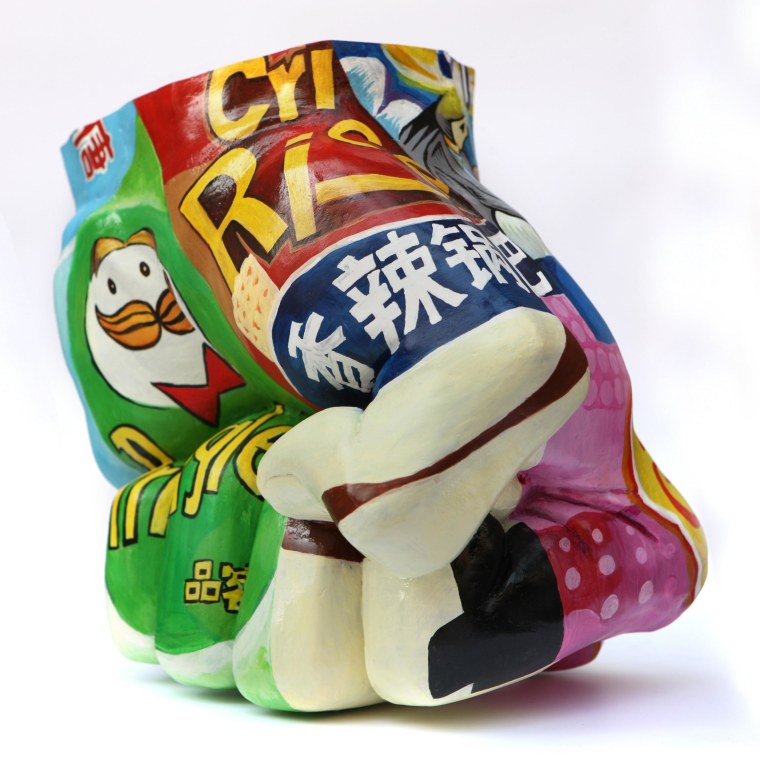 How did your parents react when you told them you wanted to be an artist?
They weren't happy. Not only that, they were passionate about protesting the decision. One day, my dad picked up my paint palette and smashed it on the ground, splashing paint as high as the ceiling. I was about fifteen or sixteen when that happened. In China, a career in art is very difficult and not encouraged.
What did your parents do for work?
The Yellow River—the entirety of their life's work was spent working along the Yellow River. Silt would build up every year and the river would get higher until it overflowed. Their career was building a levee and boundary as the river kept rising to stop it from flooding the villages.
After working on the Yellow River his whole life, my father became a leader in a small neighboring village. My mom wanted me to become a leader like him.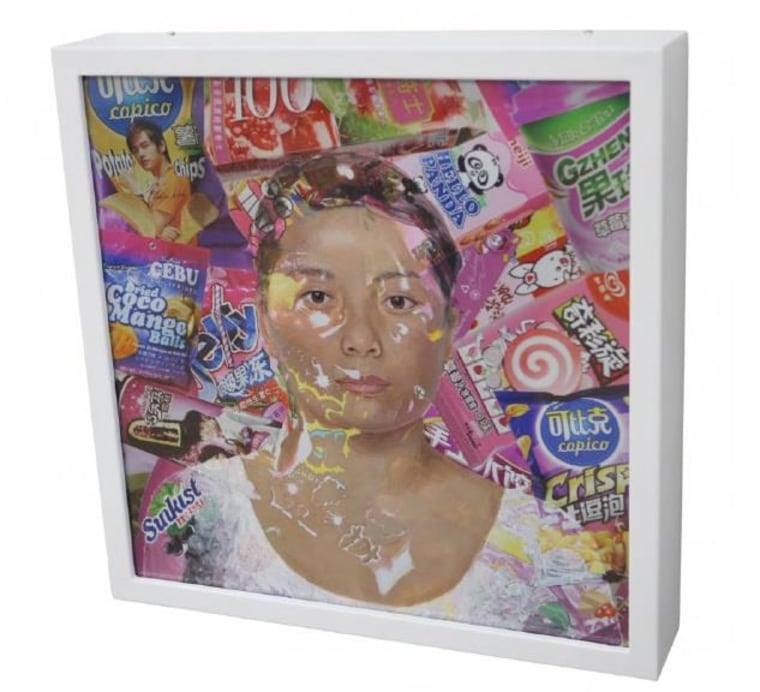 You earned a Bachelor of Fine Arts from the Shandong College of Arts and Master of Fine Arts from the Central Academy of Arts in Beijing. Did your parents go to college?
My parents are extraordinarily smart and gifted, my talents are a direct result of their own. My mom is currently teaching traditional ink painting, there are few who can do it better than her. But my parents are part of the generation that did not go to college—the, "Lost Generation." After the war with Japan, the Communists took power and the only thing that mattered was surviving, so education was not a priority.
Through their lack of education, my parents developed a "make do" mentality where they could "make do" with almost anything. My own talents and abilities come from things they had learned naturally on their own, such as how to carve a knife from a piece of wood. Growing up with the hands-on experience that I could create anything entirely on my own also inspires my work as an artist.
What advice would you give to other aspiring artists?
Well, regardless of whether you want to be an artist or not, it's important for you to follow your own dreams. That's most important—that you have your dreams and once you have that, you can do anything.
As for aspiring artists, everybody has their own unique characteristics and personality traits—some people like spicy food, others don't, etc. You need to know yourself in order to create. You need to know what you like and what you believe in if you want to create your artwork.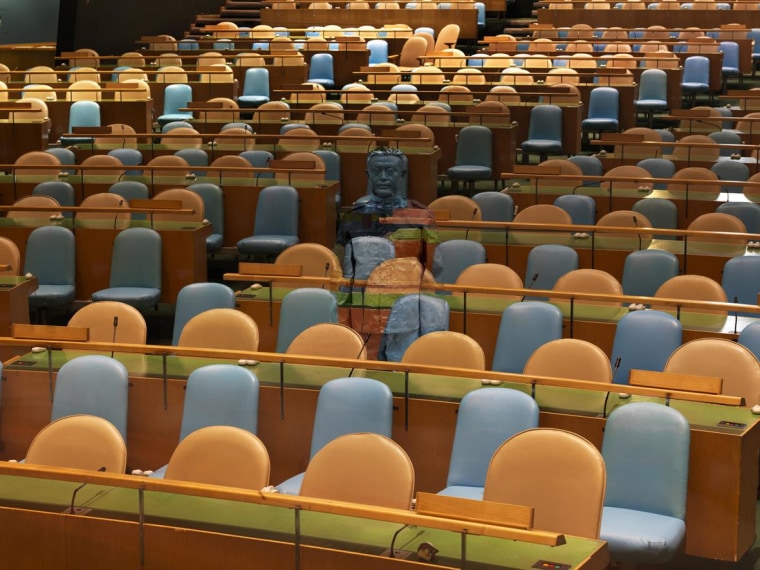 --Interview was edited for clarity and length.