In the closing weeks of an overall disappointing NBA season, Jeremy Lin sat down for an in-depth interview with ESPN. The probing, sprawling piece, by Pablo S. Torre, explores Lin's journey, starting with his incredible rise during the heady days of "Linsanity" with the New York Knicks, and continuing to his current post in the relative obscurity of the LA Lakers' bench.
Lin, who attended Harvard and started his NBA career with the Golden State Warriors, discusses the role that race has played in peoples' perceptions of him, especially on the court.
"There's this whole thing where it's OK to make fun of certain guys more than it is other guys," Lin told Torre. "And Asians are very easy to make fun of. We're the model minority. So everyone can joke about Asians: They're nice people, respectful people; they won't do anything."
"People look at me, and they've always jumped to conclusions," Lin said. "They don't see toughness."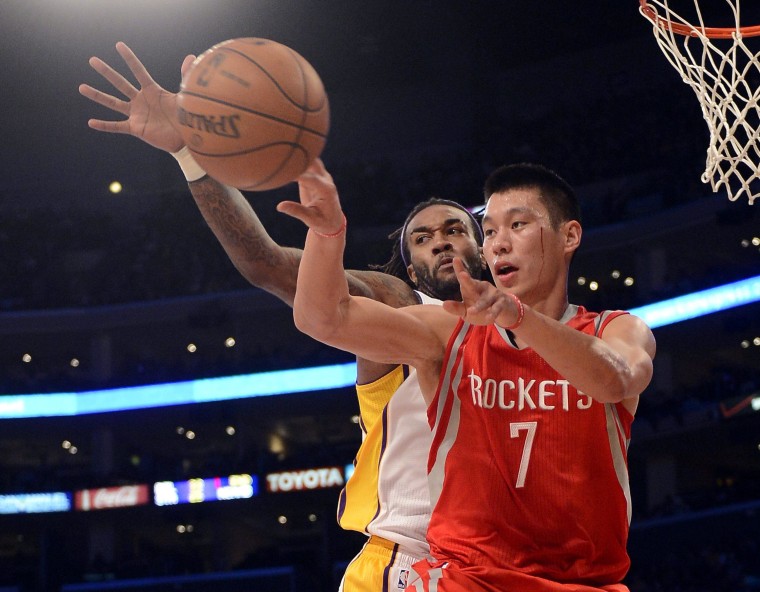 Lin, whose scoring average of 11.4 for this season is his lowest since he rocketed to fame with the Knicks, has had some embarrassing moments with his teammate Kobe Bryant, moments captured and disseminated widely on the internet.
In one episode, Bryant is seen lambasting his teammates for being "soft", and taunting Lin for not shooting enough during a scrimmage. In another widely viewed Vine, Bryant dramatically yells at Lin to foul an opponent in order to stop the game clock, only to run across the court to do it himself.
Lin claims to ignore negativity, whether online or otherwise, saying paying it any mind would affect him on the court.
Lin, however, does acknowledge that his race could contribute to longstanding beliefs about his weaknesses — for example, that he's prone to turnovers and lacks speed.
"People just aren't used to seeing Asians do certain things," he said,"so it creates a very polarizing effect."
The Lakers are 20 and 53 as of Monday. They play the Pelicans on Wednesday.