In the new debaucherous comedy "Joy Ride," its four main characters split off into their own wild escapades for the night with members of a Chinese basketball team. There's a threesome, a workout that gets down and dirty, a passionate night in a hotel room with former NBA point guard Baron Davis, and one really intense dance battle. 
The film, which features an all-Asian cast, does not hold back on the vulgar and obscene. But while the crew's antics seem over-the-top, experts say that the film's raunchiness serves to profoundly shift power to Asian women and nonbinary characters in a way that the comedy genre has often failed to do. 
"We are usually the objects of raunchy sexual jokes that are directed at us. We're the butt of jokes," said Nancy Wang Yuen, author of "Reel Inequality: Hollywood Actors and Racism."
"In this movie, we're the ones that are telling the jokes," she said. "Asian women and nonbinary folks are telling the jokes. People are laughing with us, not at us." 
The film revolves around Audrey, an adoptee played by Ashley Park, who's known for her high achievements, quickly ascending the corporate ladder to become a powerful lawyer. Tasked with closing a deal in China, Audrey brings along her childhood best friend, Lolo, a sharp and free-spirited fellow Chinese American played by comedian Sherry Cola, to help on the business trip. The pair are joined by Lolo's eccentric, chronically online cousin Deadeye, played by Sabrina Wu, and Audrey's once-wild college friend Kat, played by Oscar nominee Stephanie Hsu. 
What begins as a professional mission shifts to a journey to find Audrey's birth parents. Along the way, the four wrestle with their own identities through a series of wild events that include a K-pop rendition of Cardi B's "WAP" and a plethora of vagina references.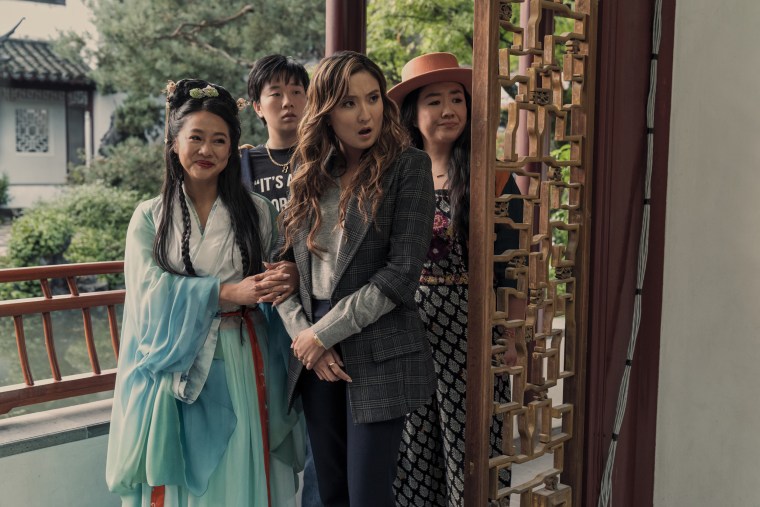 As haywire as the movie is, experts said that it's only shocking because it "explodes" the image of what many think Asian women should be. Rather than depicting them as the "delicate lotus blossom" that viewers have been accustomed to, or conforming to a "model minority" stereotype, the film puts the Asian American friend group's desires on display. And their sweaty, frazzled and, at-times, "ugly" states of messiness are exposed. Ultimately, it's authentic, Connie Wun, co-founder of nonprofit AAPI Women Lead, said. 
"It shows the different ways we assert our power," Wun said. "We have these experiences, as well. We're not pristine. We're ugly. We're dirty. We're messy. We're confused or conflicted. And we're much more robust than the mainstream world would like to pigeonhole us."
Yuen added that the very existence of an Asian American comedy is critical to the Hollywood landscape, as it's a genre that had previously not been accessible to Asian Americans, particularly women. 
"We probably associate raunchy humor with white men because they have the power to be anything. They can be proper, they can be raunchy, they can be anything," Yuen said.
But not everyone has regarded the film as powerful. Adele Lim, who directed the film, recently responded to a tweet from a critic who claimed the film "objectifies men, targets white people," joking that she needed the phrase "on a tshirt."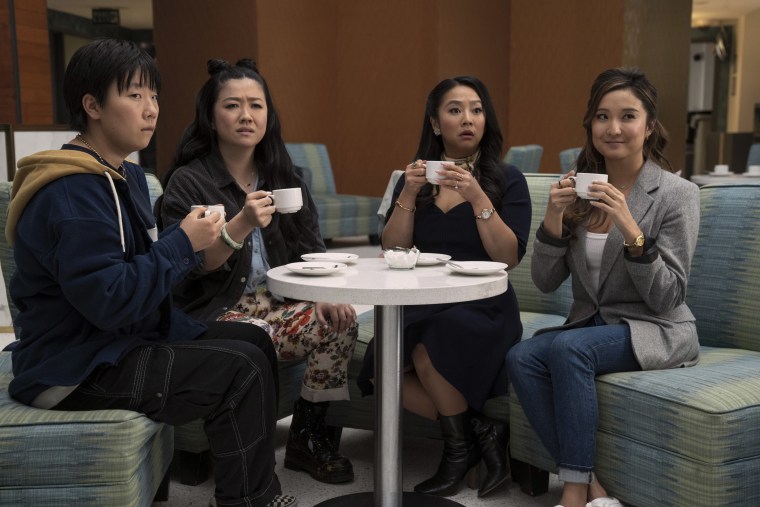 Yuen noted that such comments are unsurprising, citing the backlash that the 2022 film "Turning Red," which also featured an Asian female as the lead, received from many white male viewers. 
"Asian women having their own desires and expressing them in an open, free way is something that makes people uncomfortable because we should be only the objects of raunchy jokes, the objects of desire," she said. "We cannot be the subjects of our own wants." 
Wun similarly noted that when Asian women fight back against tropes that others have created for them, they are often met with anger. The jokes in the film aren't about whiteness, but about Asian female strength, she said. For example, in an early scene, a white boy on the playground announces that the "slide is off limits to ching chongs … " before a young Lolo delivers a punch to his face. 
"It's attempting to counter a patriarchy. It's attempting to counter sexism. And misogyny. It's not out here targeting white men. We don't have time for that," Wun said. 
With its sex jokes and all, Yuen said that the film could represent the beginning of a new phase in Asian American film. 
"We're in an era where Asian women are trying to show the world that they can be anything under the sun," Yuen said. "They just need the opportunity. I think 'Joy Ride' is another foray into a genre that we have been barred from. We're not within the Hollywood imagination that that could be us."