Meet Dev, "the modern man without a plan," played by actor and comedian Aziz Ansari in the upcoming Netflix original comedy series "Master of None," premiering Nov. 6.
Ansari, author of the New York Times best seller "Modern Romance," created the series along with screenwriter Alan Yang, who wrote for NBC's "Parks and Recreation," which Ansari starred in. The first season will be released at once, with 10 episodes total.
Ansari announced the project in April on Tumblr after he "got rejected to play a 'Bobby Jindal' type on House of Cards."
In "Master of None," Ansari takes on the role of 30-year-old Dev, an actor in New York who has "trouble deciding what he wants to eat, much less the pathway for the rest of his life."
The trailer for the show begins with Dev purchasing Plan B emergency contraception for his date after his condom breaks. Dev is later seen at an audition where he is asked to do an accent, but is quick to decline the offer.
The casting director proceeds to say, "You know Ben Kingsley did an accent in 'Gandhi' and won an Oscar for it, so…"
Dev's response: "But he didn't win the Oscar just for doing the accent. I mean, it wasn't an Oscar for 'Best Indian accent.'"
Dev's scenes are not far from Ansari's own experiences: last weekend in New York, while promoting the show, Ansari talked about declining a role in the film "Transformers" because it called for an accent.
"It was a role for, like, a call-center guy who has an accent," Ansari said, according to Vulture. "And I was like, 'No, I'm not doing it.' And then [friend and co-star] Ravi [Patel] was like, 'I'll do it.' And Ravi did it and made some decent money. And I don't have anything against someone who does the accent. I understand. You got to work, and some people don't think it's a problem."
Ravi Patel, whose recent documentary project "Meet the Patels" was picked up by Fox Searchlight for a remake, also appears in "Master of None."
When it came to casting for "Master of None," Ansari went straight to the source of the inspiration for Dev's parents: his own parents. "There's not a ton of older Indian people that are out there in the acting game, so I wrote these characters kind of based on my parents, and I couldn't find anyone who really felt like my parents, so I just got my parents to do it. They did a fantastic job," Ansari told People.
In a Twitter Q&A last week, Ansari revealed more details about the series, including what it was like working with his parents and how "Master of None" compares to popular shows like "Game of Thrones."
"Less dragons, more Indian people," he joked.
Ansari also said the show is not based on his own life. "Show is not autobiographical, but I do play an Indian guy who is an actor," he tweeted. "I know that's confusing."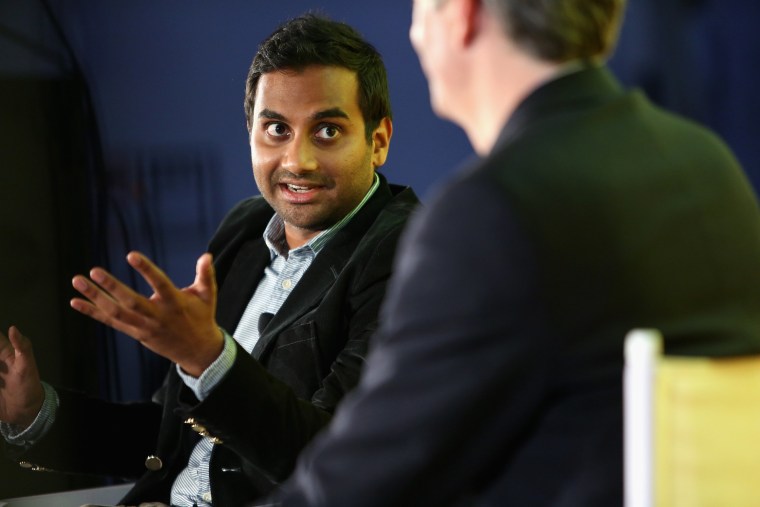 IN-DEPTH: