On Christmas Day, approximately 1,000 Muslims and Jews in Michigan will come together for a day of community service.
The Jewish Community Relations Council in Detroit has been organizing Mitzvah Day for over 20 years, and the Michigan Muslim Community Council (MMCC) has participated since 2007, recruiting under the banner of Muslim Volunteer Day. Volunteers work side by side on over 20 volunteer projects across the Metro Detroit area.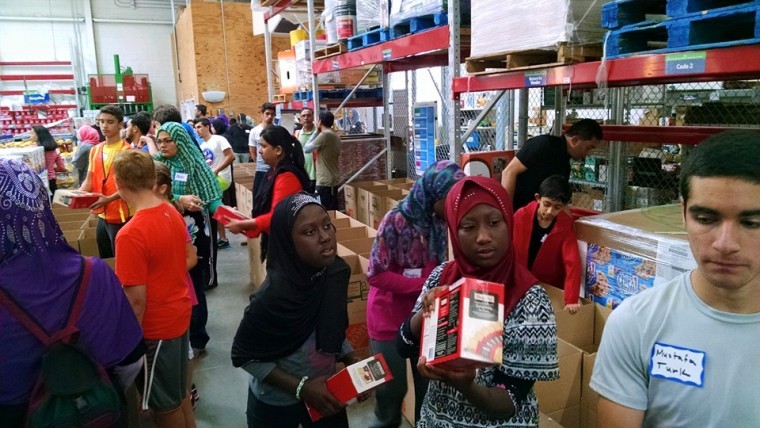 "This specific event helps our Christian neighbors facing hard times as they celebrate Christmas," Sumaiya Ahmed, communications director of the MMCC, told NBC News. "It shows the true intentions of the Muslim community. The media is turning our lives upside down; it gives a chance to regroup and refocus. It gives us a chance to step away from the negativity and support each other in good and bad times."
The volunteers deliver food to home-bound seniors, wrap and deliver gifts to families, work at animal shelters, entertain seniors in assisted-living facilities, serve hot meals at soup kitchens and food pantries, and more. By working alongside each other, Muslims and Jews can also get to know each other better, organizers say.
"This event reminds all of us about the common values and humanity that bring us together," Muzammil Ahmed, chairperson of the MMCC board of directors, told NBC News. "We hope to help our disadvantaged community members enjoy the holiday. We hope to encourage Muslims and Jews and Christians to work together the rest of the year to make our state a better place for all, and we hope the Muslim and Jewish volunteers who don't celebrate Christmas can have a meaningful experience on this day that brings them closer to each other."
Follow NBC Asian America on Facebook, Twitter, and Tumblr.
RELATED: