After an already impressive year, NewJeans is reflecting on being the first female group to be nominated for the "Top Billboard Global (Excl. U.S.) Artist" award. 
The group, which has experienced a swift rise since its debut in 2022, landed the spot in the category alongside artists Taylor Swift, The Weeknd, Bad Bunny and Ed Sheeran. NewJeans also earned the most nominations, spread across four different categories, among this year's K-pop acts.
The nomination factors in streaming and sales from countries and territories around the world from Canada to Japan but excludes U.S. audiences, according to Billboard. The category was introduced last year.
The teen quintet — whose members' stage names are Minji and Hanni, 19; Danielle, 18; Haerin, 17; and Hyein, 15 — became a fast fan favorite after they broke out largely unannounced in July of 2022 with their single "Attention." Now as they break global barriers, they say they aren't quite convinced about calling themselves K-pop idols or global pop stars — or whether there needs to be a distinction.
"Just the fact that we've been nominated in a category with artists that are greatly loved globally is still very surreal, hard to believe and an absolute honor," Hanni, who is Vietnamese Australian, told NBC News, referring to their nomination. "Rather than defining our music under a certain title or genre, we're more focused on strengthening a sound personal to NewJeans, and also music that the five of us truly love and enjoy."
Danielle, who is Korean Australian, also said she wasn't certain about whether they need to stay in any one lane.
"I believe there are no boundaries or genres in music," she said. "In the same context, I don't think there are distinct boundaries between K-pop artists and global pop stars. I believe that NewJeans is a group that strives to continuously present fresh and new music accessible to all listeners."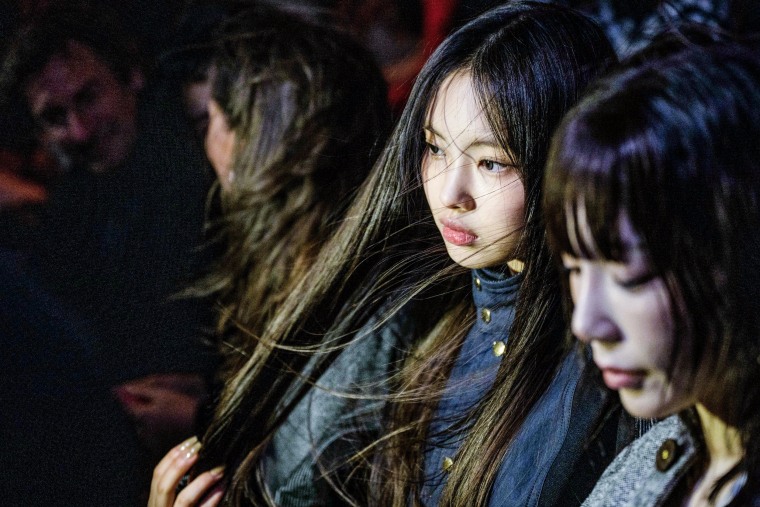 This year, the group became the first K-pop female act to sell more than 1 million copies of a debut album. In August, their sophomore extended play, "Get Up," hit No. 1 on the Billboard 200 chart, just two days after the teens made history as the first K-pop female group to perform at the Chicago-based Lollapalooza festival, which also served as their U.S. live debut. 
The young women also broke the Guinness World Record for the fastest K-pop act to reach 1 billion streams on Spotify, surpassing K-pop veterans BTS and Blackpink.  
Jung Min-jae, a South Korean music critic and Korean Music Awards selection committee member, said what makes the group distinct is that they fit the modern Y2K aesthetic — apt for their age group — while their music, choreography and vocals don't rely on maximalist hooks, which are standard in K-pop, but rather smoother flowy arrangements that seemed more organic.    
Korean music critics have said that NewJeans is everything contemporary K-pop was not, arriving fresh-faced in a "seemingly unchanging" industry. Jung added that their music was relatively easier for the public to grasp compared to other K-pop songs.
"After 2010, K-pop was largely produced in song camps that involved many domestic and foreign composers or songwriters. In turn, there were many songs with complicated and showy sound design, chord progression and organized melody," Jung explained. 
"Meanwhile, a lot of NewJeans' songs are similar to what Korean audiences have commonly heard in the '90s and '00s, with uncomplicated chords and melodies. … In this saturated K-pop market, I think choosing easy-listening was a smart approach," Jung said. 
The young women pointed out that most of them help write the songs, like "Super Shy," "Hype Boy," "Ditto" and many other titles that broke into massive hits. 
"I'm attached to all our songs, but with 'Attention,' it feels like there's almost a loving, nostalgic sensation stuck to my heart," said Danielle, who co-wrote their debut song, which brought the girls to recognition. She now has four songwriting credits under her belt and more recently co-composed "Cool With You." "It feels like the idea of first love. It was like confessing to your friend for the first time."
Jeff Benjamin, a K-pop columnist at Billboard, attributed their success to their "music-first" approach, meaning the group focused on the music rather than relying on manufactured hype, assigning each member a fixed position or generating buzzy teasers under a big label.   
"Their music is also influenced by trends that are popular online, with this Jersey club sound that's been going viral with different remixes. It's something that hasn't been seen in K-pop," Benjamin said of the electronic and dance-style club music that emerged in Newark in the early 2000s and is more rooted in Baltimore club and Chicago house music.  
Before their overnight success, the young women were largely just kids with big dreams, they said. 
"I was born in a beautiful, quiet place set a little aside from Sydney, Australia. It was a lovely place with a lake nearby where I have great memories of swimming as a young child," Danielle said. 
Music had always been a part of her household, she said. "I first came across K-pop when I stayed briefly in Korea with my family. It was eye-opening, and I fell in love with it."
While the group debuted a bit over a year ago, on July 22, 2022, Danielle pointed out that they have shared a house since they were K-pop trainees — a system consisting of practicing exhaustively in vocals, dance and a host of other lessons, often years before a debut. These days, the group practices for about four to five hours before a performance.
"The trainee years were so much fun, but also came with a lot of introspection," Danielle said. "It's a sort of process of finding who I am. Am I doing OK? Am I going in the right direction? As you go through these questions and put in consistent effort, there comes a moment where you realize you've grown a little."  
The group comes from diverse backgrounds, living apart from their families to follow their pursuits. "All my family are living in Australia, so I talk to them on the phone every day," Hanni said. "They're far away, but they often come to Korea, so I get to see them." 
The group faces an industry with pressures to keep up appearances and compete. Despite the demands, they say they try to remain close to their roots.  
"We have put in a lot of time and effort into practicing, but the music I grew up listening to and loving, I believe, does play a big role in how I perform and sing," Hanni said. "Especially with my family and how they loved music also drives me to keep my love for music always sincere and passionate."