For too long, the Asian American and Pacific Islander (AAPI) community has been rendered invisible and taken for granted. Under-representation and marginalization in social, cultural, and political spheres has become the norm for AAPIs throughout our nation's history.
But in this 2016 election cycle, this powerful community is mobilizing and letting its voices be heard.
While we know that Asian Americans and Pacific Islanders are the fastest growing populations in the United States, the AAPI community is also one of the fastest growing electorates — the AAPI electorate is on track to double by 2040. Even today, one in four U.S. Congressional districts have populations with more than 5 percent AAPIs, where AAPIs exceed 5 percent of the population in nearly 600 cities and municipalities.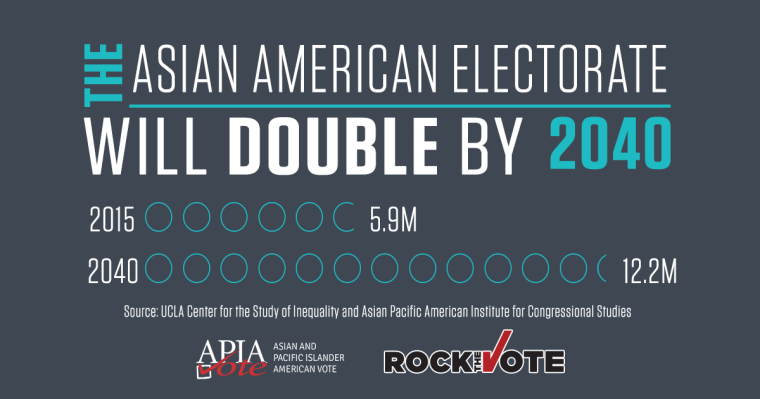 AAPI voters have already reached the threshold to yield significant influence over the outcome of elections across the country.
In Nevada, for example, President Barack Obama won the state by 6.7 percent in 2012. This year, an estimated 9 percent of eligible voters in Nevada will be from the AAPI community. In Virginia, there are an estimated 310,000 eligible AAPI voters, decidedly eclipsing the estimated 149,000 votes that decided the state in 2012.
On June 7, voters will go to the polls for the California presidential and state primaries. Making up more than 14 percent of the state's electorate, AAPIs are crucial to candidates up and down the ballot.
Additionally, the overall millennial generation is the largest and most diverse in our country's history. With millions of AAPIs turning 18, young AAPI voters have the capacity to heavily influence not only election results, but also the issues being considered around the country. According to a Rock the Vote/USA Today poll in March 2016, AAPI millennials ranked the economy, education, healthcare, gun laws/safety, and taxes as the top five most important issues this cycle. With such an influential electorate, young AAPI voters can shape our national priorities in a significant way.
RELATED: Courting the Youth Vote: How Both Parties Plan to Target Asian-American Millennials
According to the same poll, a majority of young AAPI voters also believe that Supreme Court decisions directly impact their lives. Given this year's Supreme Court vacancy, and the power of elected officials to appoint and confirm additional Supreme Court Justices, young AAPI voters know that their engagement will not only affect election results, but also the policies that impact Americans for generations to come.
This year is especially monumental for Asian Americans and Pacific Islanders because in addition to having the power to determine elections, AAPIs are demanding to being heard. According to a recent study conducted by APIAVote, Advancing Justice | AAJC, and AAPI Data, 51 percent of Asian-American voters say that they are more enthusiastic about this year's elections compared to past elections. Ninety-four percent of registered AAPI voters in the same study said they are at least planning to vote in November, and 85 percent of all respondents said that they are absolutely certain they will vote.
With growing political power and increasing conviction to impact election results, Asian Americans and Pacific Islanders can play a pivotal role in deciding our path forward together.
RELATED: New Super PAC Launches, Aims to Increase Asian-American Votes
Throughout this past May, various groups have united to celebrate Asian Pacific American Heritage Month, putting AAPIs on the agenda and elevating efforts throughout the country. With new audiences tuning in, stories from AAPI communities are being heard in venues and areas where they may not have been considered in the past. From Heritage Month initiatives at the White House to cultural influencers gathering to promote inclusion and empowerment, AAPI experiences and perspectives are resonating, empowering change makers. We must ensure that the momentum building this year only strengthens as November approaches, so that the Asian American and Pacific Islander communities are well positioned to increase representation and lower barriers to opportunity through civic engagement.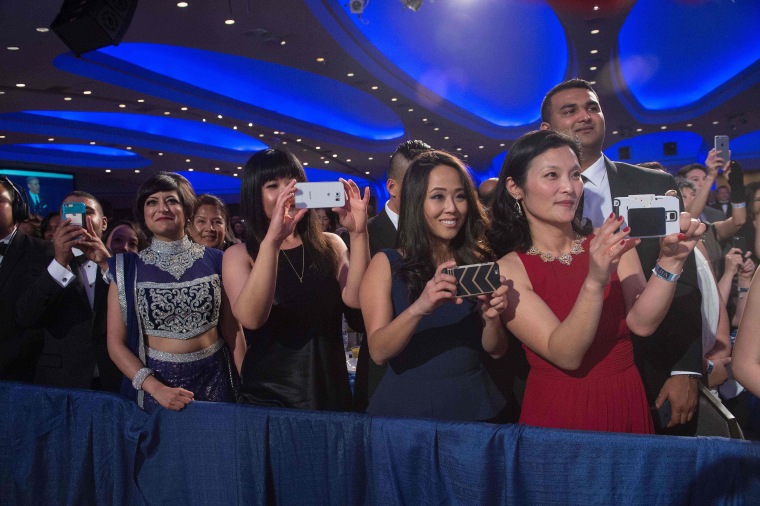 We then have a collective responsibility to rise to the occasion that this year's opportunities present.
Both Rock the Vote and APIAVote are committed to empowering AAPI voters this year. Through both individual efforts and working in partnership, it's more important than ever to mobilize and inspire a new generation of AAPI voters to get registered and get to the polls.
There's plenty of work to be done. New restrictive voting laws disproportionately affect Asian American and Pacific Islanders, and without the full protections of the Voting Rights Act, voters face discriminatory and deceptive practices at the polls. AAPIs continue to be viewed as the perpetual foreigner and are demanded to provide proof of citizenship. Limited English Proficient (LEP) community members are still challenged and prevented from getting language assistance. These barriers make it all the more urgent that we come together to register and provide voting information to AAPI communities today.
The 2016 election cycle will be the largest mobilization of AAPIs in civic engagement. An unprecedented number of AAPI organizations and community leaders are coming together to ensure we effectively register and engage AAPI voters. We look not to the distant future for this community to grow, but to today and tomorrow — AAPIs are taking action, are organizing, and are prepared for the now.
Christine Chen is the Executive Director of APIAVote and Carolyn DeWitt is COO of Rock the Vote.
Follow NBC Asian America on Facebook, Twitter, Instagram, and Tumblr.