South Asian Americans, particularly those of Indian origin, are frequently held up as examples of the 'immigrant success story' in this country. We boast Fortune 500 CEOs, tech entrepreneurs, prominent elected officials, and entertainers from our community. But the success of some, masks the enormous stake so many more have in just, inclusive, and permanent immigration reform.
Millions of young people can apply for President Obama's expanded Deferred Action for Childhood Arrivals Program (DACA), originally slated to begin accepting applications today. After a Texas federal judge put a temporary halt on implementation this week, it appears the program will be delayed.
DACA, first announced in 2012 by the President and expanded in November 2014, allows those who came to the US by age 16 before January 1, 2010 to obtain work authorization and protection from deportation for a renewable three-year period. A similar program for adults, the Deferred Action for Parental Accountability (DAPA) program, is expected to begin this year, with no start date yet.
Over 550,000 immigrant youth to date have already gained a concrete, if still temporary, path toward a life with dignity and basic security through DACA. Yet South Asians aren't applying for DACA. In fact, application rates for the program among South Asians have been among the lowest in the Asian American Pacific Islander community.
Immigration reform, even in its current temporary form, is incredibly relevant to the estimated 3.4 million South Asian Americans nationwide. Indian Americans are the fastest-growing major ethnic group in America, and India ranks as the fourth-highest country of birth for undocumented residents in the US - an estimated 450,000 people. They are likely joined by tens of thousands of others hailing from the rest of South Asia: Bangladesh, Pakistan, Nepal, Bhutan, Sri Lanka, Tibet, and Caribbean nations such as Guyana, Trinidad, Tobago, and Fiji (which have large Indo-Caribbean populations).
The opportunity is there. The benefits are clear. So why aren't South Asians applying?
States including New Hampshire, New Jersey, Indiana, Michigan, Minnesota, Ohio, Pennsylvania, Washington, Wisconsin, Alabama, Arizona, Delaware, Illinois, Kansas, Massachusetts, Missouri, and Oregon count India as one of the top three countries of birth for their undocumented population.
An estimated 40% of undocumented Indian Americans are eligible for temporary work authorization and relief from deportation under the Administration's current DACA and DAPA programs.
According to the National UnDACAmented Research Project, 60% of DACA beneficiaries were able to get new jobs after receiving their new status, 45% increased their wages, nearly 50% opened their first bank account, and 57% obtained their first driver's license after receiving DACA status. Studies have shown that undocumented immigrants' wages rise significantly, up to 25%, after they obtain legal status, as they're able to demand fair compensation.
The opportunity is there. The benefits are clear. So why aren't South Asians applying?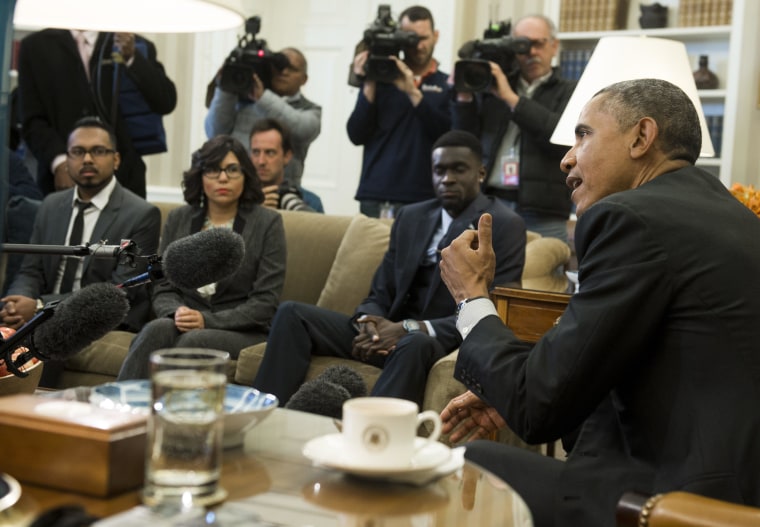 In part, convincing any eligible immigrants to suddenly invest in the system means asking them to shed the constant uncertainty, sense of exclusion, and fear that comes with living as an undocumented person in America today. Imagine not having to view law enforcement, emergency service personnel, or school officials with trepidation. Imagine being paid the same as your co-workers, because you don't have to be paid under the table. Imagine being eligible for in-state tuition rates in your home state, and being able to apply for the same scholarships as your classmates. Imagine the sense of security that comes with knowing you won't be separated from your family in a split second. These visions can become a reality for tens of thousands of South Asian youth nationwide with DACA status.
Undocumented South Asians who've benefited from DACA have spoken about the access and opportunity the program granted them. The program has kept hundreds of thousands of families together, and it can provide temporary relief to hundreds of thousands more South Asians now. Meanwhile, South Asian Americans Leading Together (SAALT) and others will continue to work toward permanent, common-sense immigration reform that puts immigrants on a roadmap to citizenship and allows as many of the nation's currently undocumented population to remain with their families here.
Everyone, including those without immigration status, U.S. citizenship, or even permanent residency, deserves a fair chance for even a slice of the proverbial American Dream. That dream is out of reach for many immigrants, including South Asians, who are undocumented or whose status is in limbo. The DACA program is a real, tangible, and important step that reopens a path toward that dream and sustains hope for an immigration system that rewards hard work and takes our nation into the future. South Asian Americans need to take that step.
Suman Raghunathan is the Executive Director of South Asian Americans Leading Together (SAALT), a group working to amplify diverse South Asian voices advocating for progressive change in the US. Prior to joining SAALT, she was an immigration policy consultant for the ACLU, the National Immigration Law Center, the Leadership Conference for Civil and Human Rights, Demos, and United Neighborhood Houses of New York. She has appeared on MSNBC and been quoted in The Washington Post, Miami Herald, New York Times, and The Hill. The daughter of Indian immigrants, Suman received her undergraduate degree in international relations from Brown University and has a Master's degree in Nonprofit Management from the Milano School of International Affairs, Management, and Urban Policy in New York City. She can be reached at suman@saalt.org.