Elected officials and community activists are lashing out at the makers of a video game that features a Chinese cook hunting for cats and dogs in a back alley, an immigration officer coming to deport employees, and a tax collector looking for cash hidden under the mattress.
It's all part of a simulation game called "Dirty Chinese Restaurant," created by Big-O-Tree Games, a company based in Ontario, Canada. The game puts players in the shoes of "Wong Fu," who inherits the business of his brother "Wang Fu," according to a description on the company's website.
"As Wong Fu, you must ensure your top-notch eatery is always fully stocked with fresh provisions, has its bills paid, equipped with the most dedicated and hardworking staff, and is on its way to making the family business a wholesome household name in the community," it says. "But how you pull off those feats, well that's your call!"
U.S. Rep. Grace Meng (D-N.Y.), whose congressional district is home to a large Asian-American community, said it matters how people are portrayed.
"This game uses every negative and demeaning stereotype that I have ever come across as a Chinese American," Meng said in a statement. "From the names used for the characters of the game, to the types of food they cook, to the disturbing depiction of their faces, this game epitomizes racism against Asian Americans."
Other elected officials in Queens, New York, where 1 in 4 residents is Asian, also weighed in:
It wasn't immediately clear if or when "Dirty Chinese Restaurant" was or will be released. A search Friday on the Apple iTunes App Store and the Google Play Store came up empty.
Apple guidelines say apps should not contain offensive or insensitive content, including material that discriminates against race or national and ethnic origin. Google Play has a similar policy.
In an emailed statement to NBC News, Big-O-Tree responded to criticism by explaining the intent behind "Dirty Chinese Restaurant."
"Our game is mainly satire and comedy influenced by the classic politically incorrect shows we grew up watching, such as: South Park, All in the Family, Sanford & Son, Family Guy, Simpsons, and Chappelle's Show," Big-O-Tree wrote. "We also listen to Jay-Z. Our game in no way is meant to be an accurate representation of Chinese culture."
The company did not address questions about if the game was released, through what outlets, and how much it costs.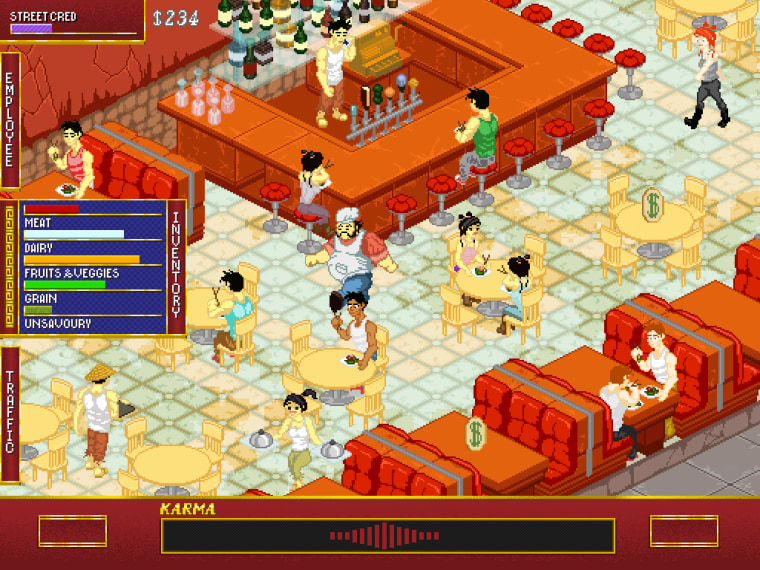 Karlin Chan, a community activist in New York, said he had accidentally stumbled upon a video trailer for "Dirty Chinese Restaurant" while searching for something else on YouTube.
The two trailers — which begin by displaying the message, "Because being politically correct is so…boring" — were published in October and November of 2016.
"I looked into it and said, 'What the hell?'" Chan told NBC News.
The videos, each between two and three minutes in length, show an overweight Wong Fu, clad in a chef's apron and hat, brandishing a meat cleaver as he scours a garbage-strewn back alley chasing down cats and dogs to cook up for patrons.
Another scene has Wong Fu looking on as one of his cooks is led out of the restaurant. "Oh no! The immigration officer has to come deport some of your workers!" a pop-up caption reads.
And in another scenario, a balding tax collector coming to raise rates yells at Wong Fu and another employee as the two stand quietly in front of mounds of cash piled on top of a restaurant table.
The pixel-animated game with eight chapters also features a "Karma Bar" that gauges the decisions players make, including whether to compliment or insult customers and how much to pay employees in wages, according to Big-O-Tree's website.
Chan, who said he launched a social media campaign against "Dirty Chinese Restaurant," believes it sends a message of hate.
"What is the end purpose of this game?" he said. "You score points by killing a rat? 50 points for a cat? 100 points for a dog?"
Follow NBC Asian America on Facebook, Twitter, Instagram and Tumblr.