The attorneys representing former New York Police Department (NYPD) Officer Peter Liang, who was convicted in February for fatally shooting an unarmed man in Brooklyn, filed a motion Tuesday asking for a retrial.
The motion, obtained by NBC News, alleges that Juror 9, 62-year-old Michael Vargas, lied in court during jury selection when he said no one in his close family had been accused of a crime. Vargas, according to the court document, told the New York Daily News during an interview last week that his father, convicted of manslaughter, had served more than seven years in prison for "accidentally shooting a friend."
"His misconduct denied Mr. Liang the right to an impartial jury and requires a new trial in this case," Liang's attorneys Paul Shechtman and Gabriel J. Chin wrote.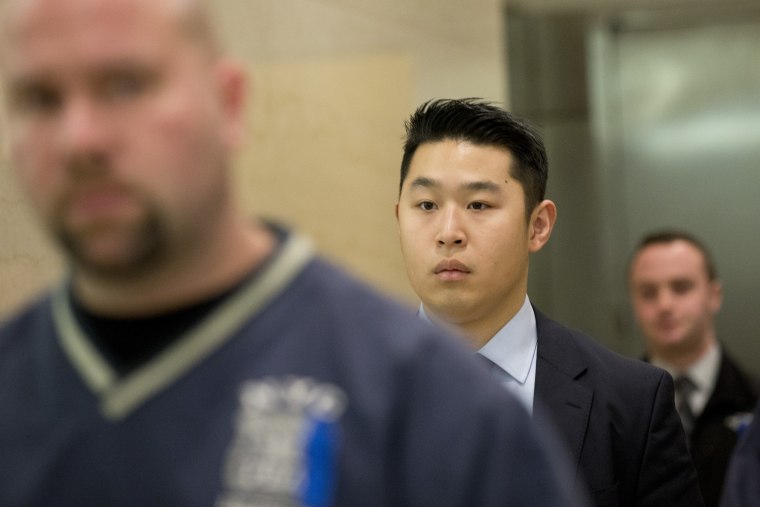 The motion noted, however, that Shechtman and Chin were unable to locate documents proving Vargas' father served time for manslaughter because records from the public database go back only to the early 1970s. They believe Vargas' father's conviction occurred before then.
In a statement Tuesday, a spokesperson for the Brooklyn District Attorney's Office said, "Peter Liang received a fair trial and we will respond to the motion in court."
Vargas' comments came from a Daily News interview during which three jurors, according to the newspaper, expressed their views about Brooklyn District Attorney Ken Thompson's recommendation that Liang receive no jail time for killing 28-year-old Akai Gurley during a vertical patrol at a Brooklyn housing project in November 2014.
RELATED: Brooklyn DA Won't Seek Prison For Peter Liang After Conviction in Akai Gurley Death
According to the Daily News, Vargas, however, told the newspaper that he was not close with his father. The Daily News also reported that Vargas said in an earlier interview he "was not aware that his estranged father was in prison and was told by relatives that he was in the army."
Shechtman and Chin argue, however, that Vargas was deliberately untruthful so that he could serve on the jury.
"Mr. Vargas, it seems, harbored doubts about the validity of his father's manslaughter conviction, which took his father from the family for seven years," the motion reads. "It appears that he wanted to make sure that a police officer did not get off easy for similar conduct."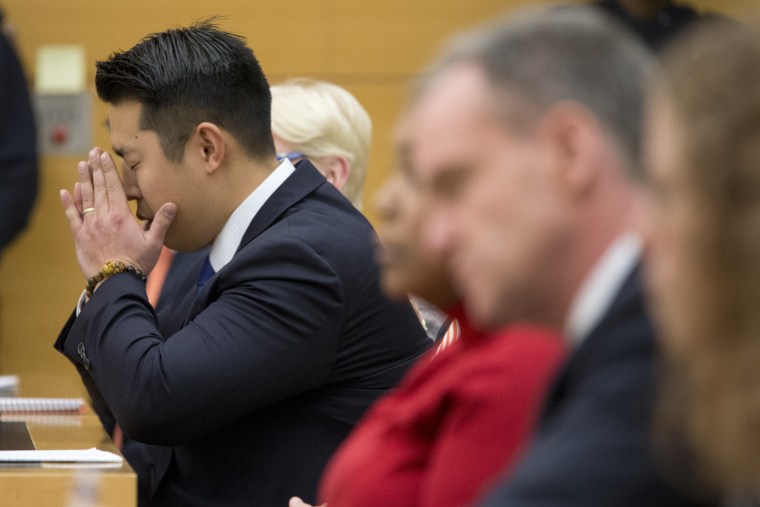 The motion also mentions that in 2014 Vargas had shared videos on his Facebook account of a police officer punching a woman and of officers tasing a man who came to help his autistic son. With those videos appeared captions that read "Are the police a legal gang?" and "What's wrong with some police?" according to the court document.
RELATED: Former NYPD Cop Peter Liang's Guilty Verdict Leaves a Community Divided
RELATED: Debate Over Police Accountability, After Peter Liang Conviction, Spans Generations
Liang's attorneys also filed a 21-page memorandum last month, asking State Supreme Court Justice Danny Chun to set aside Liang's guilty verdict on charges of second-degree manslaughter and official misconduct. Liang, who was fired from the NYPD shortly after his conviction, testified at trial that his gun, which was drawn, went off by accident. Prosecutors said Liang's actions on Nov. 20, 2014, were reckless and that he did not help Gurley as he lay dying. Liang's partner, Shaun Landau, was also dismissed from the force.
Liang is scheduled to be sentenced on April 14. He faces up to 15 years in prison.
Vargas told the Daily News he would like an opportunity to share his side of the story with the judge and prosecutors, adding that he did not lie.
"It's sad that they'll put me on trial for something Officer Liang did," Vargas said, according to the newspaper.
Follow NBC Asian America on Facebook, Twitter, Instagram, and Tumblr.