"I moved from music to coffee shop, which seems so random, and that makes me realize that my life can go anywhere."
As teenagers, Meg Frampton and her sister Dia were living every young musician's dream: the duo, known as Meg & Dia, went from self-releasing their debut album in 2005 to being selected as an official MySpace band on the Warped Tour 2006 to signing a major record deal with Warner Bros. Records in 2007.
"I feel like when you're that young as a teenager, you feel like the world is your oyster and you can do anything," Meg Frampton, now 31, told NBC News. "We just went after it — us believing we can get signed with a major label and tour the world didn't seem out of reach at all, even though we grew up in this tiny little town."
The Utah natives, who are half-Korean, saw their dreams take them around the world, releasing several albums and EPs, before the duo and their band called it quits in 2012.
"We fulfilled our dreams. We made our dreams come true. After we have reached that point, we started going in different directions," Frampton said. "Dia was doing 'The Voice,' [Dia Frampton was the runner-up in the first season of NBC's "The Voice"] and she was working on her solo album. We were all getting older, I think there was a sense that some of us wanted to settle down. Our guitar player got married. I think I was just looking for something different."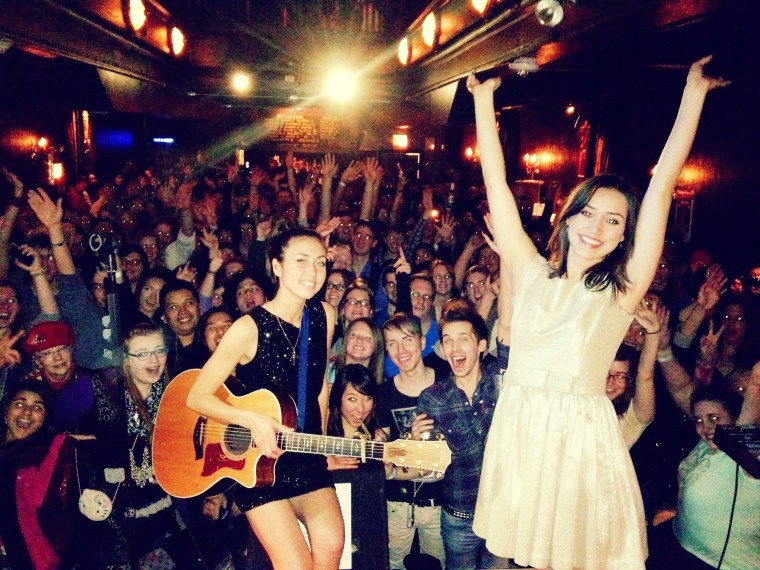 Frampton and the band's former drummer, Nick Price, decided to go into business together, falling in love with the coffee shop scene. Thanks to Frampton's experience of starting a band with her sister from scratch, learning new skills, and cultivating a fan base, she knew she wanted to use those skills to build a business.
"I always had an entrepreneurial tendency and I wanted to start a business that had all the same elements that music did, like connecting with people and giving them a service that makes them happy and creating art that I think is beautiful, or delicious in this case," she said.
In January, Frampton and Price opened Three Pines Coffee in Salt Lake City, Utah. The atmosphere and people coming together, she said, was always a feeling she admired while being in the coffee shop — an atmosphere that was different from the raw energy of performing on stage, but just as compelling.
"We're currently looking for a larger location right now," Frampton said. "We're going to be expanding. Also, I'm still writing music and I know that Nick would like to start performing again in the future too. I just want to keep looking for other things that inspire me. I realized I moved from music to coffee shop, which seems so random, and that makes me realize that my life can go anywhere. So I'm not quite sure where it's going to lead, but I'm just continuing and being thankful for what's going on now, and keeping on the lookout for what the future could be."
Follow NBC Asian America on Facebook, Twitter, Instagram, and Tumblr.