Sumeet Kaur Bal serves the Sikh American Legal Defense and Education Fund as its Communications Manager after more than 10 years of experience as a journalist. She lives in San Francisco with her husband and son. This is her Thanksgiving story.
Thanksgiving is one of my favorite holidays. Aside from being a day of both football and fowl, it's a holiday to celebrate overcoming challenges and American pride. Just like the Pilgrims, my Sikh-American family emigrated to the United States looking for religious and economic freedom, and a place to put to use their core Sikh values.
At the heart of our belief system are the ideas of optimism (chardi kala), the importance of honest living (kirat karni), doing community service (seva), and achieving justice for all (sarbat da bhalla). These held our family together as they overcame hurdles like xenophobia and discrimination in their new American life.
Thanksgiving is one day when my family takes time to reflect upon our blessings as Sikh Americans, while indulging in a festive and communal meal that reflects our American and ethnic heritage.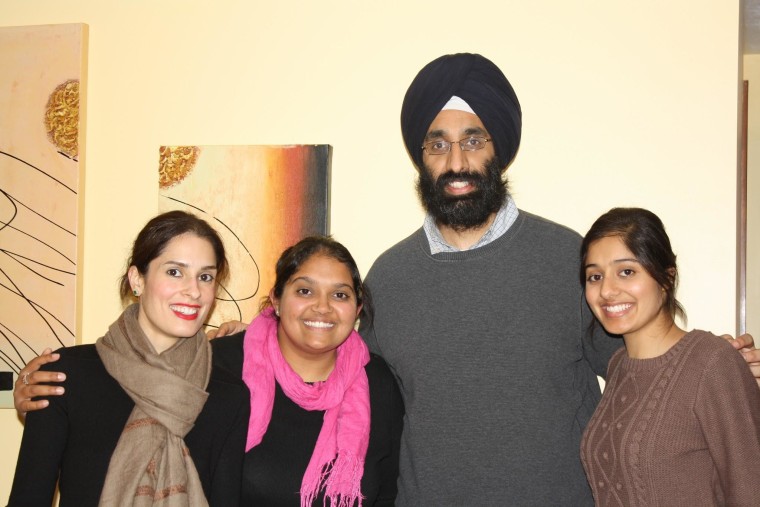 Even though the annual ritual begins in the afternoon like most of our neighbors, it is heavily influenced by our heritage. First, we know there will always be late-comers, so we send out an earlier "fake time" to the chronically time-challenged! As we comfortably convene at my Aunt's home, we quickly and efficiently get to work on our meal.
The heavy aromas of Punjabi masala mix with the equally scrumptious rich smells of turkey, casseroles, (aloo gobi stuffing anyone?) and baking pies quickly fill the space! As the meal is placed buffet style in her kitchen, we each fill our plates and then sit, communal kitchen style, wherever and with whomever we want, regardless of age, relation, or gender. We may be stuffed ourselves afterwards, but in our house no meal is complete without cha (the Punjabi word for tea steamed with milk) alongside barfi (a traditional South Asian milk-cake dessert) and pumpkin, pecan, or apple pie.
My family has celebrated Thanksgiving together for as long as I can remember, but after my uncle passed away a few years ago, it took on a deeper meaning. Now as we clear up our dinner and pack away the leftovers, we congregate in the den for a new tradition.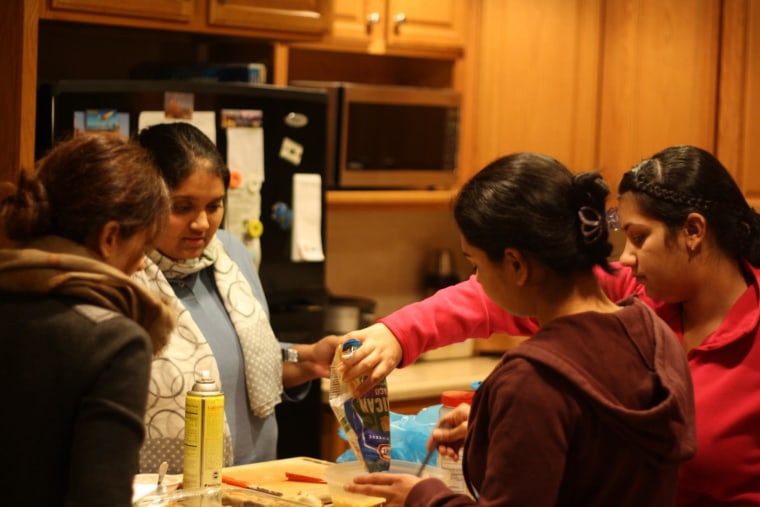 My aunt combs through articles, poems, or TED talks she's collected over the last year. We all sit together to read, listen, or watch. She counts us off into groups, and we break off into smaller discussions -- pulling from our experiences and values to talk about everything from identity, gratitude, or teachable moments.
The whole group then comes back together in what often becomes an emotional and cathartic exercise about the last year's challenges and moments of joy. For me, I've found significance in learning about faith from an evangelical Christian, or the moment when my son's handwritten card brought someone else so much joy.
Each year we come away rejuvenated. We're a little stronger, a little tighter, and much more grateful about what we have as individuals and together, as an American family.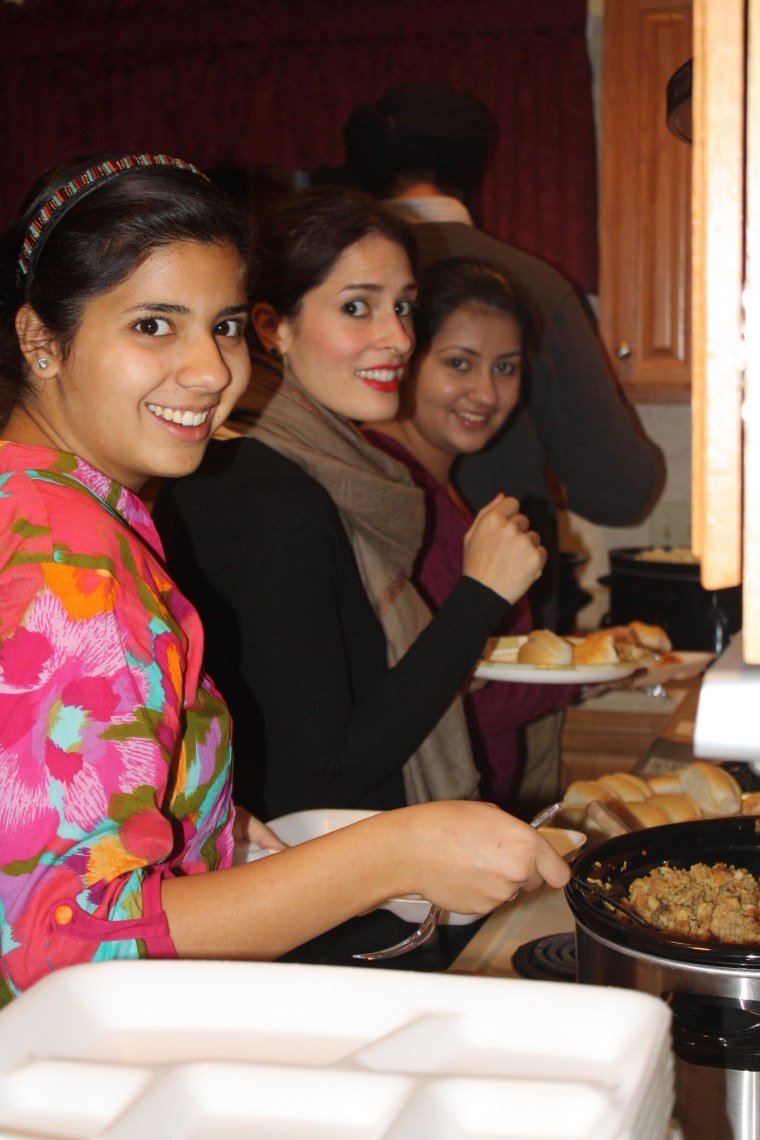 Aloo Gobi Stuffing (Potato Cauliflower Stuffing)
1 stick (1/2 cup) unsalted butter plus additional for buttering pan
1 (24-inch) baguette, cut into 3/4-inch cubes (8 cups)
3 medium onions, coarsely chopped
3 medium carrots, cut into 1/4-inch dice
3 celery ribs, cut into 1/4-inch dice
1 1/2 lb russet (baking) potatoes, peeled and cut into 1/2-inch dice
1 (2-lb) head cauliflower, trimmed and cut into 1/2-inch-wide florets and stem pieces
2 1/2 teaspoons curry powder (preferably Madras)
1 1/2 teaspoons sea salt
1 teaspoon black pepper
1 teaspoon cumin seeds
1/4 teaspoon cayenne
1 1/2 cups reduced-sodium chicken broth (12 fl oz)
1 1/2 cups unsalted roasted cashews (7 oz)
Put oven racks in upper and lower thirds of oven and preheat oven to 350°F. Butter a shallow 3-quart baking dish (13 by 9 inches).
Spread bread cubes in 1 layer in 2 large shallow baking pans and bake, switching position of pans halfway through baking, until dry, 20 to 25 minutes. Remove from oven.
Increase oven temperature to 450°F.
Cut 1 stick butter into pieces, then heat in a deep 12-inch nonstick skillet over moderate heat until foam subsides. Add onions, carrots, celery, and potatoes and cook, stirring occasionally, until vegetables are softened, about 8 minutes. Add cauliflower and cook, stirring, until cauliflower is crisp-tender, about 8 minutes.Stir in curry powder, salt, pepper, cumin, and cayenne and cook, stirring, 2 minutes. Transfer to a large bowl and toss with bread cubes. Add broth and 1 cup cashews, then toss to coat.
Spread stuffing in baking dish and cover tightly with buttered foil (buttered side down). Bake in upper third of oven until heated through, about 20 minutes. Remove foil and sprinkle remaining 1/2 cup cashews over top, then bake until top is browned, about 10 minutes more.
Cook's note: Stuffing can be assembled, but not baked, 1 day ahead and chilled, covered. Bring to room temperature before baking.