In a dim bar in Bushwick, Brooklyn, Shei Phan is the only one on the dance floor, swaying her hips to Kanye West's "Clique."
At 5'10", Phan, dressed in a green and blue bodycon dress and gold sneakers, towers over most of her friends, a group of guys in baggy t-shirts standing idly against a wall with a painting of two naked women butting unicorn heads.
"Sometimes I'm like, 'Well shit, what am I?' But a majority of times, it was cool because it allowed me to stand out, be my own person and create my own identity."
The painting, along with the rest of the room's art, is part of Phan's "Forget Me Not" series, debuting that night. Some of the depicted women grip rifles, others are drizzled in gold glitter, but all feature the same slender female figure and haunting unicorn skulls.
With stints modeling on "Project Runway" and Tyra Banks' "America's Next Top Model," Phan is a reality star. And like many reality stars, she is trying to recreate herself.
"Modeling was still a way for me to be creative but it's more contained," Phan told NBC News. "I'm the canvas and someone else is painting me, rather than the other way around."
Raised by a single mom in Oklahoma City, Oklahoma, Phan is the only girl among four older brothers. Her dad left when she was 3, prompting Phan to step up as early as 12, bussing tables and rolling silverware for $30 a day at a local diner her mom waitressed at, to help her family make rent. "With my mom being gone so much, I had to get my brothers up for school, even though they're older than me," Phan said. "I grew up a little bit faster."
Phan's mother is Irish and Native American; her father is Vietnamese. She grew up in a tight-knit Vietnamese community but always felt like an outcast. "I never fit in because I didn't speak the language and I didn't know the culture. I was more like a white girl that looked Asian," she said.
The last time Phan spoke to her father was when she was 10. A few years ago, after Phan appeared on "Top Model," she received a note from her father, telling her to call him, she said. The number was for a disconnected motel room. She didn't call again.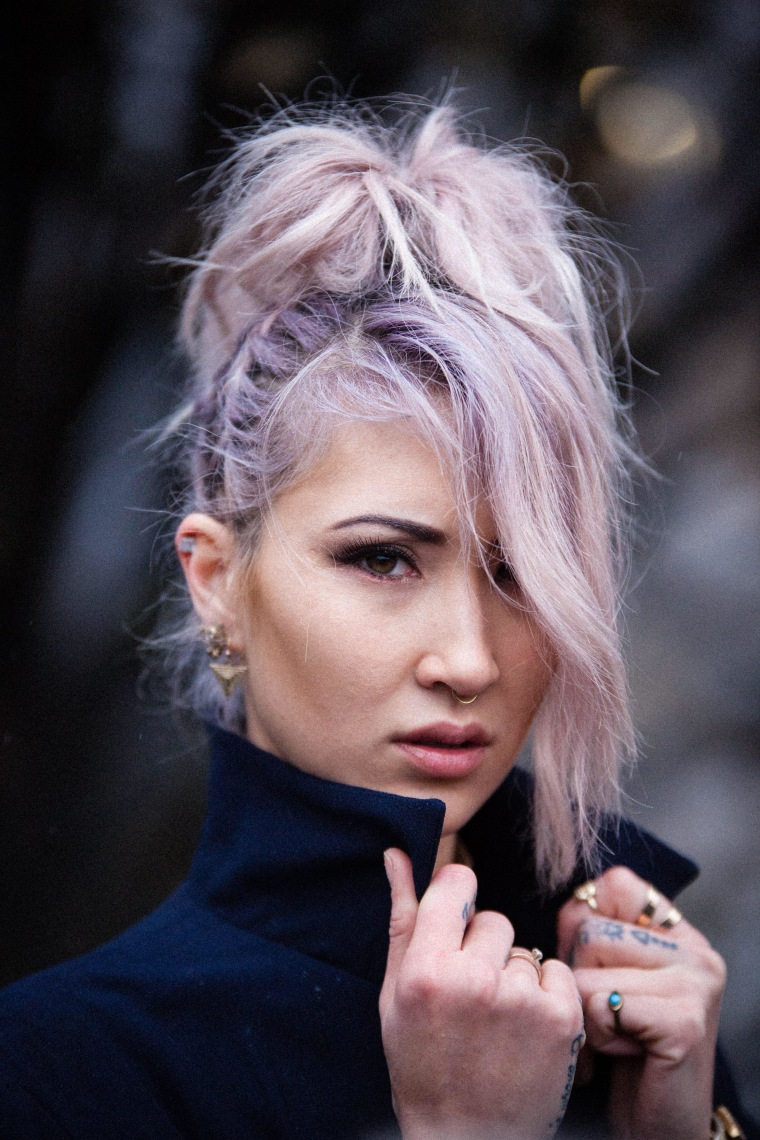 Phan began modeling at 19, as a sophomore at the University of Central Oklahoma studying art education, when she was discovered by "Project Runway" designer Johnathan Kayne. She was on the way to a friend's house when she heard on the radio that a local club was hosting a casting call for Kayne's new prom dress collection. "I was like, 'F**k it. I'll go,'" she said. "I told my friend, 'Yo, you can meet me here.' It was just random."
Wearing a dressy crop top, skinny jeans, and heels, she walked for Kayne and was cast immediately for a lookbook and runway show.
After two years of doing small gigs around Oklahoma, Phan dropped out of college, moved to New York, and signed with Fenton Models, a mid-size agency. But Phan, fed up by her lack of jobs as a multiracial model, left Fenton after just a few months. "I feel they didn't know what to do with me," she said.
The lack of belonging translated to modeling, where Phan would get mistaken for other races. "Sometimes I could look really Asian and sometimes I could look really white," she said. "I did this casting and they called me back and were like, 'We really like your look but you're not Asian enough.'"
After leaving Fenton, Phan spent a few months concentrating on her artwork, a passion she developed as a kid. Her mother and two brothers are also artists, Phan said, though she is the only one to do it professionally.
One night, Phan accompanied her friend, former "Top Model" finalist Renee Bhagwandeen, to the show's season 20 finale in New York. There, she met a producer who encouraged her to apply. "She was like, 'We're always looking for pretty Asian girls," Phan said. "She told me, 'Just watch your email. You might be hearing from me soon.'"
Having applied once when she was 18, Phan thought nothing of it. A couple months later, she found herself in Los Angeles, her hair and eyebrows dyed black and white, and eventually, in "Top Model's" final five.
But post-"Top Model," Phan found herself in the same rut as before. After sticking it out for a few months, nabbing campaigns with streetwear brand Control Sector (rapper Fetty Wap is also a model) and becoming the muse for avant-garde "Project Runway" winner Irina Shabayeva, Phan quit modeling to pursue art full time.
"It got to the point where I was just over modeling," Phan said. "I just wanted to do my art."
On a recent sunny afternoon in Brooklyn, Phan, dressed in paint-splattered sweats and a turtleneck crop top, lounges on the couch. Her gray cat named Brooklyn, strolls past an aisle of paintings, ready to be hung for next month's show.
Her apartment is cluttered with art: a half-naked unicorn dressed in a bloody wedding dress leans in her living room; two panda skulls drawn over vintage Chinese calligraphy paper hang in a narrow hallway; a handful of gold-stained books sit on her nightstand.
Phan's art is somewhat inspired by her Asian roots, something she longed to explore as a kid.
"It was subconscious thing. I want to tap into more of the Asian side of me and learn more about it," she said.
A couple years ago, Phan heard from her cousin that she might have biological sisters in Vietnam. "I would like to find them but there are so many Phans," she said. "I want to go out to Vietnam. I heard it's so beautiful."
Influenced by her background, she dedicated a landscape painting of a raging flood, which currently overlooks her kitchen, to the Vietnamese myth of two gods, one of the mountains and one of the water, who feud over a princess. "I started researching Vietnamese myths and Vietnamese culture. I wanted to involve that somehow," Phan said.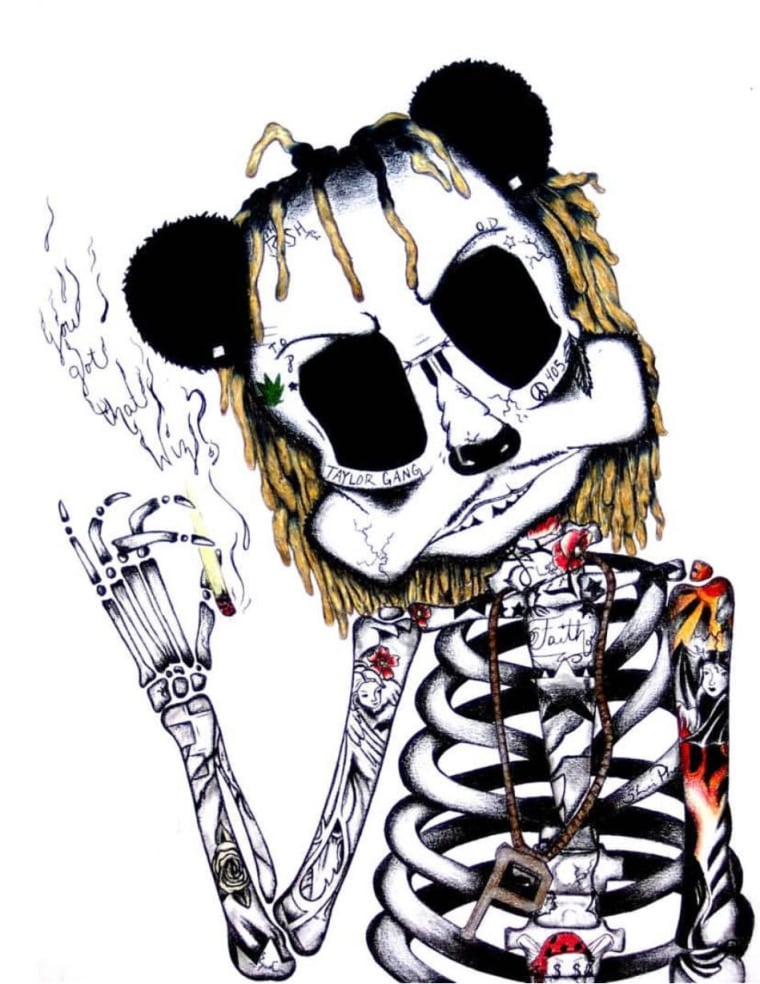 Also influenced are her signature hip-hop-inspired panda skull drawings, chosen to embody her half-white, half-Asian background. Some oh her pandas, which she collectively named the "Ying Dynasty," are named after Vietnamese words, like "bao" meaning "protection."
Since pursuing art, Phan has turned Miami Heats' Justise Winslow into a custom panda drawing and hand-painted leather jackets for James Johnson, another Heats player, she said. She has 10 pieces hanging in Miami's Riviera Hotel and next month, at a pop-up store in Williamsburg, Phan will debut four custom clothing pieces, ranging from crop top sweaters to hoodie dresses, all featuring her own art.
Her biggest success yet was when rapper Wiz Khalifa wore a custom t-shirt Phan designed for him, featuring the rapper as a marijuana-smoking, dread-wearing panda, at a September concert in Seattle. "I had a friend who was actually there at his concert and he was like, 'Yo. He put your shirt on. He wore your shirt around.' I was like, 'Wow! That's so dope," she said.
Her next goal is to create a piece for hip-hop artist Desiigner, whose debut single "Panda" topped Billboard's Hot 100 last summer.
"Modeling was still a way for me to be creative but it's more contained. I'm the canvas and someone else is painting me, rather than the other way around."
Back at the bar, Phan, her blonde hair held in a loose bun with a slim silver band, notices a crooked unicorn at the back of the room. She walks past an art video of her dancing in knee-high boots and a table of guys swigging Coronas to adjust it.
A guy in a crisp polo apologizes for bumping the painting. Phan tells him it's OK, skips back to the dance floor and resumes her dancing to Drake.
"Sometimes I'm like, "Well shit, what am I?" Phan said."But a majority of times, it was cool because it allowed me to stand out, be my own person and create my own identity. That's all I'm about now, to create my own image."
Follow NBC Asian America on Facebook, Twitter, Instagram and Tumblr.