Burmese American Ei Ei Khin and her husband Christopher Burley of Seedles were walking around their neighborhood in Oakland when they got the idea to fill vacant and unused lots with wildflowers in order to help struggling bee populations.
"We wondered if all the vacant or unused lots could become a buffet for the residents and for the bees with flowers and vegetables," Khin, who describes herself as a "tree-hugging mom" with over a decade of experience in environmental, outdoor, and social justice education, told NBC News. "We knew seed bombs were a great way to grow seeds easily. We developed Seedles to make it fun and easy for people to help plant wildflowers for the bees."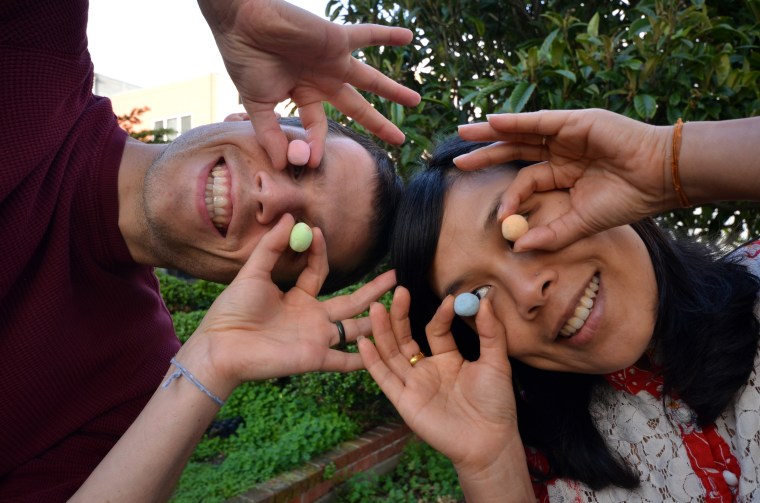 Seedles are rainbow-colored "seed bombs" made of a mixture of compost, clay, water, and wildflower seeds. They are color coded with non-toxic coloring and rolled by hand into a ball the diameter of a nickel. Each seed bomb can be tossed on the ground, as the seeds have all that they need. Each seed bomb can grow five to ten wildflowers, helping to create more habitat for bees and making agriculture more sustainable.
"We aim to inspire kids to grow one billion wildflowers to bring back the bees and ensure a sustainable food system for their future," Khin said. "We helped plant about 40 million wildflowers in 2015, our goal is to help plant over 100 million wildflowers for the bees in 2016. We [also] hope to release many new bee-friendly products."
According to the American Beekeeping Federation, bees are critical to American agriculture, with some crops 90 percent dependent on honey-bee pollination, and bees contributing over $14 billion to the value of U.S. crop production.
Follow NBC Asian America on Facebook, Twitter, and Tumblr.
RELATED
Correction: An earlier version of this article stated that Ei Ei Khin and Christopher Burley lived in San Francisco. They live in Oakland.