BEIJING — China will not start a war over disputed islands in the South China Sea amid recent muscle-flexing, experts with close links to the country's government told NBC News.
"We will not initiate military conflict to recover islands illegally occupied by other countries," said Wu Shicun, the former foreign affairs chief of Hainan province, an island in the South China Sea. "Our stand is to resort to negotiations [with] the countries directly involved, to resolve the territorial and maritime disputes."
Wu is the president of the National Institute of South China Sea Studies and acts as a sort of unofficial spokesman on the issue for the government of President Xi Jinping.
China claims almost all of the South China Sea, including reclaimed coral reefs known as the Spratly Islands that sit in an area thought to be rich in oil and gas reserves. Beijing has built runways, seaports and other facilities on the Spratlys.
Related: China Lands Plane on Artificial Island in Disputed Area
The U.S. — as well as Vietnam, the Philippines and Japan, which have overlapping claims with China — condemn Beijing's moves in the region. Washington has vowed to defend freedom of passage through the waters.
"Make no mistake, the United States will fly, sail and operate wherever international law allows, as we do around the world, and the South China Sea is not and will not be an exception," Defense Secretary Ash Carter said on October 13.
On Oct. 27, a U.S. destroyer sailed within 12 nautical miles of the Spratlys in an open challenge to Beijing.
Related: China Accuses U.S. of 'Serious Military Provocation'
Shi Yinhong, a senior foreign policy scholar at Renmin University of China and foreign policy adviser to the government, agreed with Wu that Beijing was unlikely to "launch unprovoked war."
"Other countries have also said the same, and this is all helpful for peace and stability in the South China Sea," he said. "There will be measures to slow things down. China will adopt a new diplomacy to try to lower tensions with the U.S. and other relevant countries."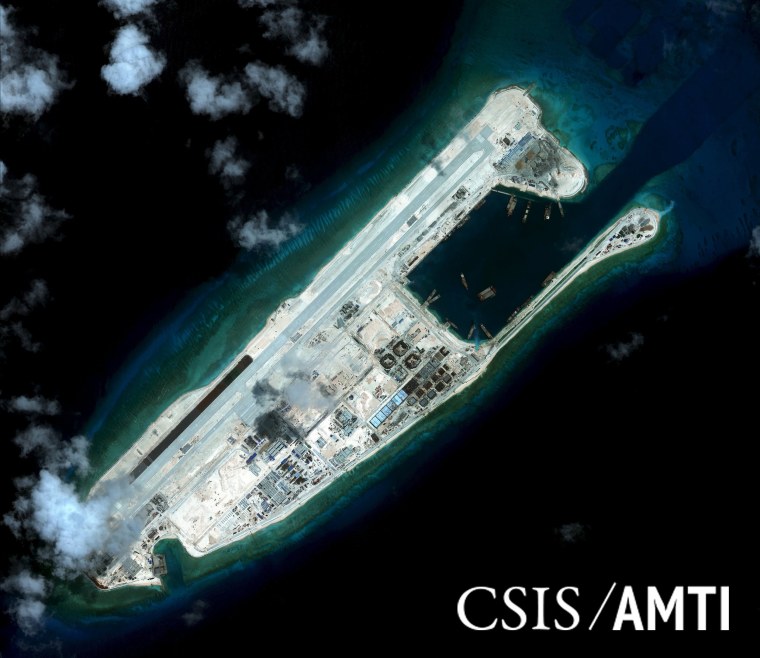 While insisting that China "will not initiate hostilities," Wu stuck by Beijing's line that building on the reclaimed Spratlys was "within China's sovereign rights," denying a Pentagon report that they could extend China's military reach.
"Any military facilities we build on them will be to secure the safety of Chinese personnel and installations involved," Wu said. "Any ordinary person can tell that these tiny outposts cannot play a major role in any military conflict."
Being would be open to sharing oil and gas resources under what he called "joint development" agreements in areas under Chinese control, he said.
Related: China 'Not Afraid' of War With U.S., State-Run Paper Says
According to Wu, a 1999 incident should be seen as a sign that China would not resort to violence over such disputes. That was when Philippines deliberately grounded a warship on the disputed Second Thomas Shoal in the Spratlys to claim the atoll. The Philippines keeps a handful of marines on the wrecked and rusting warship to this day.
"China has been exercising great restraint," Hong Lei, the spokesman for China's Foreign Ministry told NBC News when asked about the ongoing dispute on Second Thomas Shoal. "We maintain that relevant disputes should be resolved between parties directly concerned through dialogues and consultation on the basis of historical facts and international laws. China and other countries should work together to maintain peace and stability of the region."