A North Carolina man is facing a second-degree murder charge after shooting and killing a driver who struck and killed his son early Monday, authorities said.
Chad Woods, 41, was arrested at his home in Timberlake — a community about 21 miles north of Durham — after he allegedly shot and killed Jeffrey McKay, 39, after McKay allegedly struck and killed Woods' 17-year-old son, Sgt. Kevin Morris of the Person County Sheriff's Department told NBC News.
McKay struck the teen with his Ram pickup truck shortly after 6 a.m. on Dink Ashley Road, according to Morris. McKay then called 911 and told police he had struck the unidentified teenager, who emergency medical personnel later pronounced dead at the scene, Morris said.
More details on the circumstances of the collision were not immediately available.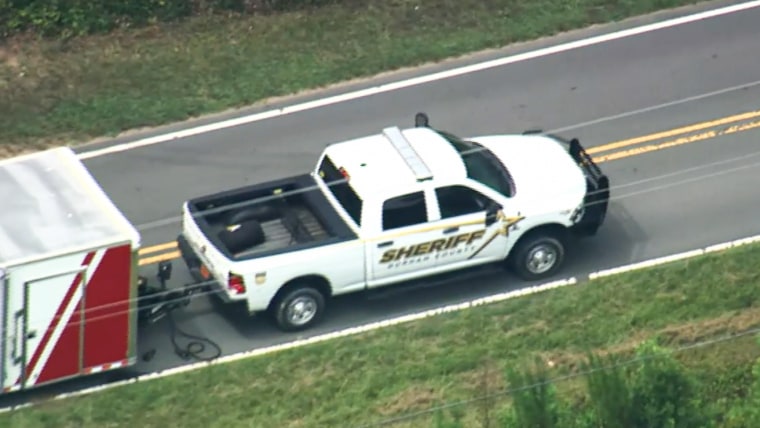 Soon after the fatal collision, Woods allegedly shot and killed McKay then took his truck and drove it to his residence less than a mile away, leaving his son's dead body on the road, according to Morris.
Woods is also facing a larceny of a motor vehicle charge for allegedly stealing McKay's truck, Morris said.
Morris said Woods had a criminal record but that he didn't immediately have more details to provide.
Authorities tracked Woods down at his home after identifying the minor, according to Morris. He added that authorities are also working to identify who they believe was an additional person at the scene based on another voice heard in the background of the 911 call.
It was not immediately clear whether Woods has a lawyer representing him or when he will make his first appearance in Person County Court, according to Morris.
Second-degree murder carries a maximum punishment of life in prison without the possibility of parole, according to North Carolina sentencing guidelines.
McKay was a maintenance worker in the North Carolina Department of Corrections, according to Morris. A spokesperson for the department could not immediately be reached Monday afternoon to confirm McKay's employment.
He lived in Youngsville, a town about 40 miles southeast of Timberlake, Morris said.