A Florida woman is facing two felony charges after allegedly leaving her two children in a car that caught fire while she was allegedly shoplifting, leaving one child with first-degree burns, court records show.
Police arrested Alicia Moore, 24, of Orlando on charges of aggravated child neglect and arson after flames engulfed her car, trapping her children inside, while she was allegedly shoplifting inside the Oviedo Mall on May 26, according to the arrest report obtained by NBC News.
Moore allegedly left her kids inside the 2016 Lincoln around noon that day, while she and an "unknown male" allegedly headed inside Dillard's department store and spent about an hour shoplifting, according to the arrest report. When she was leaving the store, she saw her car "engulfed in flames" and "dropped the stolen merchandise" and fled the store, the report states.
The car was "completely totaled" by the flames, the report states. One child tried to escape the car, and bystanders ultimately helped rescue them before they were rushed to Arnold Palmer Children's Hospital. One child suffered "several first degree burns," including on her face and ears, according to the arrest report. The children's ages are unknown.
When interviewed by police, Moore "stated only her biographical information" and requested an attorney, the report says.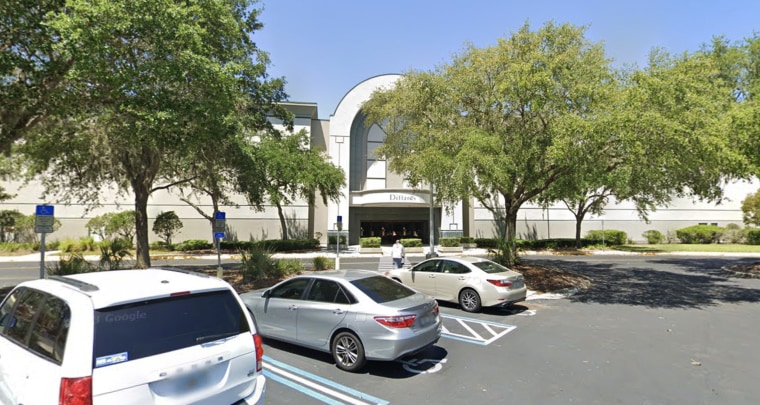 The Seminole County Sheriff's office arrested Moore on an unrelated outstanding warrant, and charged her with aggravated child neglect and arson related to the May 26 incident while she was in custody that same day. (She also faces charges of petty theft and assault and battery on a person over 65 years old in Sumter County, about 55 miles west of Orlando, according to the jail record.)
The arrest report states while the cause of the fire is unknown, Moore's neglect contributed to the children's injuries and "the fire occurred during the commission of a felony by Moore," hence the charges she is facing.
Moore's bond is set at $20,000 and her arraignment is set for June 27, court records show.
She entered a not guilty plea on Friday.
Michael Schoenberg, an assistant public defender representing Moore, said in a statement that "we are confident that the facts will show that she would never willfully harm her children."
It was not immediately clear how much prison time she could face if convicted. Representatives for the Seminole County Sheriff's Office and the Oviedo Police Department could not immediately be reached Saturday.