The vegetable revolution is alive and well in Latin kitchens. A daily trip to the "plaza del mercado" in search for the best ingredient is still part of daily living for many in our home countries; here we try to grow our own, go to farmers' markets and visit our supermarket displays. Latinos pride themselves of their flavorful cooking and much is based on vegetables.
Take a 'sofrito" for example, a pan-seared array of peppers, onions, garlic, fresh herbs, and depending where you are from, tomatoes. Bright ruby-red tomatoes continue its stardom in the Mexican Salsa and let's not forget the importance of a buttery avocado in the Guacamole or in the Venezuelan Guasacaca.
Vegetables such as cabbage, onion, and carrots are the main ingredients in the "curtidos" of Central American cooking. Then you have the exotic ones such as the chayote, a refreshing pear-shaped squash, used in salads, stuffed with beef, and baked with cheese. Eggplant, is also a surprising find in many recipes from "abuela" and is used in stews, salads, and even fried tempura-style.

Here are three simple recipes using vegetables the Latino way. The Eggplant Antipasto can be prepared ahead of time and is extremely versatile. Served cold as a side-salad or with crackers for a vegan appetizer, use it as stuffing for a vegetarian empanada, or over rice for a vegetarian picadillo.
The Chayote, Avocado, and Tomato Salad is refreshing and colorful. Top it off with the Red Onion Curtido for an extra zing to this or any salad. Good on tacos too. I would not call this a vegetable revolution but part of our culinary fiesta!
Chayote, Tomato and Avocado Salad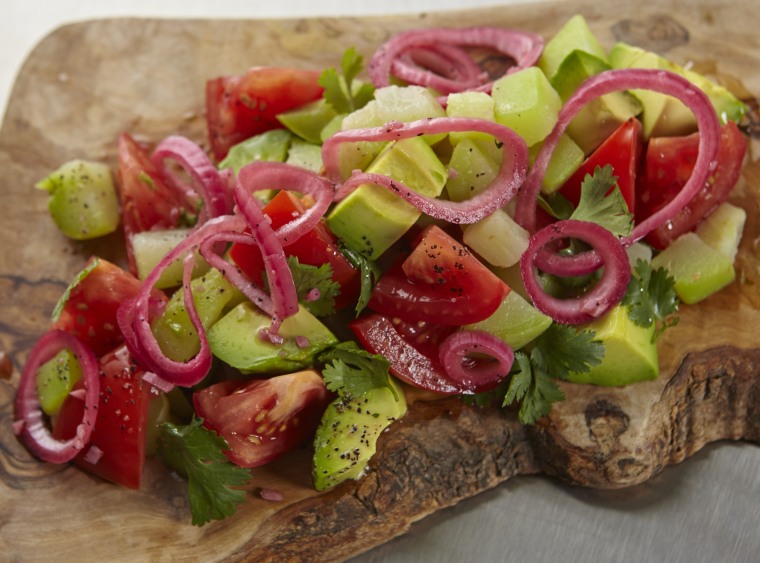 Ingredients:
2 chayotes (christophene pear)
2 tomatoes, cut in 1-inch cubes
2 avocadoes, ripe but firm
¼ cup fresh cilantro leaves, whole
Salt and pepper, to taste
4 oz. Red Onion Curtido
Directions:
Peel outer layer of skin from the chayotes with a vegetable peeler. Cut chayote in half lengthwise and remove inner pit. Cut in 1 "cubes and cook in boiling salted water until barely tender. Drain and set aside to cool. Refrigerate until ready to use.
Cut avocadoes in large chunks or cubes and place in a bowl. Add cubed tomatoes and chayotes, cilantro leaves and season with salt and pepper. Toss carefully and place in a serving platter. Top with Red Onion Curtido or drizzle with your favorite olive oil and vinegar.
Serves: 6 side portions
Chayotes can be substituted with raw jicama or blanched parsnips cut in cubes.
Eggplant Antipasto
Ingredients: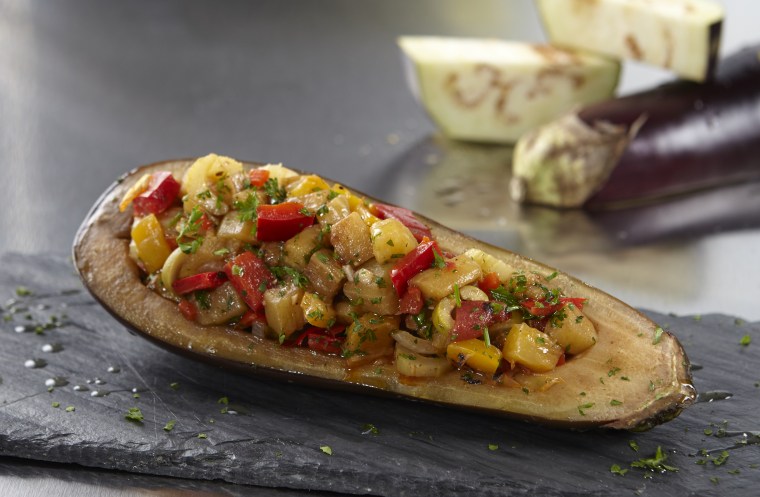 2 medium eggplants
½ cup olive oil
1 yellow onion
1 red bell pepper
1 green bell pepper
2 tomatoes
2 celery stalks
2 cloves of garlic, chopped
¼ cup green olives stuffed with pimento, sliced
¼ cup water
1 teaspoon dried oregano
2 Tablespoons cider vinegar
Salt and pepper to taste
¼ cup chopped parsley or cilantro
Directions:
Peel and cut the eggplants in ½" cubes.
Dice onion, red and green peppers, tomatoes, and celery.
Heat olive oil in a saucepan under medium heat and sauté the eggplant until slightly golden in color. Add onions, peppers, tomatoes, celery and garlic and continue to cook for a few minutes. Add olives, water, vinegar, oregano, and salt and pepper to taste.
Cover and cook under medium -low heat for 15-20 minutes or until tender.
Sprinkle parsley or cilantro.
Serve warm as a side or a vegetarian dish, use as a filling for empanadas, or cold with crackers as an appetizer. Keeps up to 10 days in the refrigerator.
Serves 4
For a stunning presentation, you may serve the eggplant antipasto inside an eggplant shell which has been blanched in salted boiling water.
Red Onion "Curtido"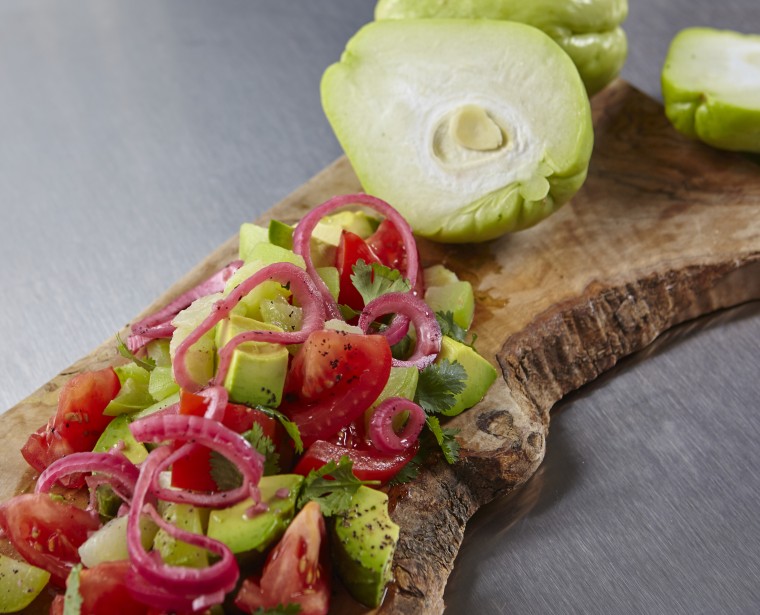 Ingredients:
2 Red Onions, peeled and thinly sliced
2 cups red wine vinegar
¼ cup water
2 teaspoons salt
½ teaspoon black pepper
1 bay leaf
¼ cup olive oil, optional
Directions:
Place red onion in a heat resistant glass jar or bowl.
Boil vinegar, water, salt, pepper and bay leaf in a sauce pan. Remove from heat and pour over the onions.
Allow onions to cool at room temperature, cover and refrigerate. Add olive oil if desired. Keeps for weeks in the refrigerator. Use as a condiment or toppings.