Grandmothers hold a special place in so many families — and specifically in Latino homes, the abuela is often the glue that holds households together, allowing her family members to chase the American dream while not forgetting where they came from.
On Tuesday on NBC's "TODAY" show, Tom Llamas caught up with women taking the lessons their grandmothers taught them to new heights, embarking on comedic adventures and culinary splendor all in honor of their abuelas.
One Cuban American woman who grew up in Miami uses her childhood experiences as the basis for an alter ego getting a lot of attention on social media. The character, Abuela, is the brainchild of actor and producer Jenny Lorenzo in homage to her real-life Cuban grandmother.
"It's funny, because when I would meet my friends' abuelas, I'm like, 'Y'all are the same. What is going on?'" Lorenzo told Tom. "A lot of it is just in the facial expressions. Especially her judgment stare. Like, you know, just pierce right through your soul."
Lorenzo's 232,000-plus YouTube subscribers and 261,000 Instagram followers have watched her take her Abuela character to relatable extremes, racking up millions of views. Viewers can laugh and empathize with her abuela as she rushes to administer flu remedies, enjoy a Thanksgiving meal and show what happens when you refuse an abuela's food.
Humor isn't the only way that abuelas are being honored in the digital age, either. Wanting to create a space where the techniques and recipes that their abuelas instilled in them could be shared with a wider audience, Abuela's Cuban Counter aims to do just that. 
Posting recipes on their website and on social media, chef Ani Mezerhane and lawyer Cristina Bustamante help their followers to learn to cook authentic Cuban food. 
"It comes from an idea we started working together (during) COVID, just passing recipes together, and just trying to keep alive all the traditions that we grew up with," Mezerhane told Tom. "I always sat on my grandmother's counter kind of just watching her cook, watching her bring all these recipes to life."
From Cuban-Style Black Beans to Croquetas de Jamón (Ham Croquettes), these foods connect Mezerhane and Bustamante to their childhood, their family and their abuelas, whose recipes are now being shared with the masses.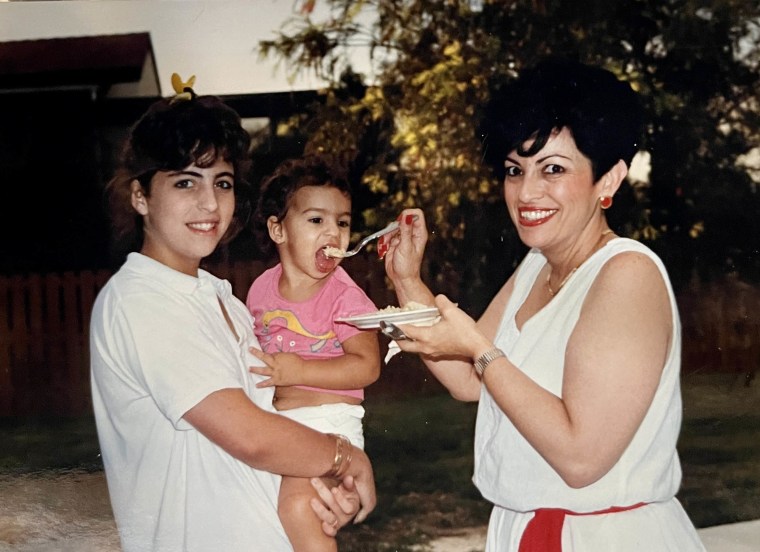 "There's so much tradition in the cooking, and I think we both connected with that," Bustamante told Tom. "We both felt like there was more of a community to discover that would resonate with more than just us."
"Every time I cook now I just feel like a little piece of her is with me and I can pass that on to my kids," Bustamante continued. "And I think that that's always what she wanted."
To celebrate all this love for grandmothers, Lorenzo — as Abuela — met Mezerhane and Bustamante to try out some Abuela's Counter dishes.
"I know those girls' grandmothers taught them how to cook," Lorenzo as Abuela said in Spanish. She also approved of the ladies' black beans, taking a bite and exclaiming, "¡Qué rico!" ("How Delicious!")
In the spirit of honoring abuelas then and now, Tom invited his own mother, Lisette, now an abuela herself to Tom's three kids, Malena, Juliette and Thomas.
"Do you feel the responsibility of the keeper of the family legend … all of the history of Cuba up to now?" Tom asked his mother.
"Definitely," she said. "I start instilling the love of Cuba and the love of this country that has opened all its doors … to respect your country above all and never forget where you come from."
An earlier version this story was first published on Today.com.