People in Honduras and around the world were expressing grief and shock after a leading environmentalist was murdered in the early hours Thursday morning.
Honduran Indigenous environmentalist leader Berta Cáceres, who won the 2015 Goldman Environmental Prize for her role in fighting a dam project, was murdered in her home early Thursday.
Cáceres, a mother of four, led opposition to a proposed dam on the Gualcarque river, considered sacred by the Lencas. Many of the project's backers have largely abandoned building plans.
A Lenca Indian activist, Cáceres had previously complained of receiving death threats from police, soldiers and local landowners because of her work.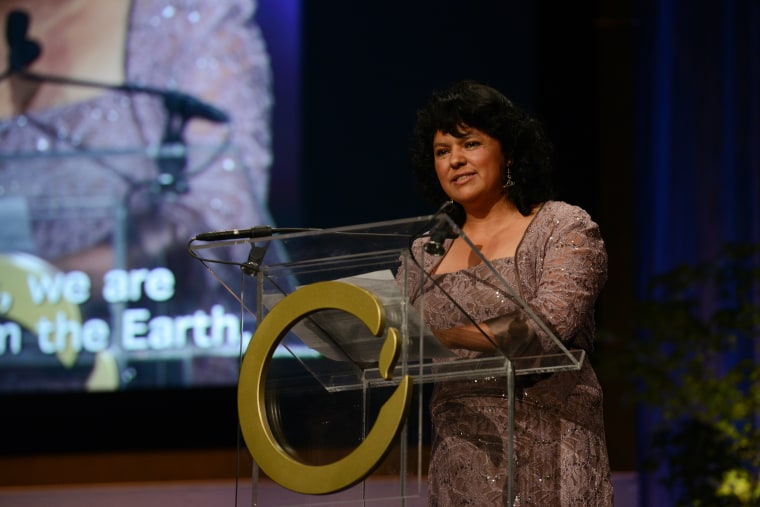 Thursday afternoon, the Goldman Environmental Foundation issued a statement on Cáceres' death. "We mourn the loss of an inspirational leader, and will honor her life's work by continuing to highlight the courageous work of Goldman Prize winners like Berta," said its president John Goldman. "She built an incredible community of grassroots activists in Honduras, who will carry on the campaign she fought and died for."
Goldman added she was a "fearless" environmental hero. "She understood the risks that came with her work, but continued to lead her community with amazing strength and conviction."
The statement also said the organization is working with Global Witness and other partners to make a series of demands to the Honduran government, including immediate protection for Cáceres' family and other activists in Honduras. According to a 2015 report from Global Witness, Honduras is the most dangerous country to be an environmental defender.
The website of the Goldman Environmental Prize said Cáceres "waged a grassroots campaign that successfully pressured the world's largest dam builder to pull out of the Agua Zarca Dam," which "would cut off the supply of water, food and medicine for hundreds of Lenca people and violate their right to sustainably manage and live off their land."
Tomás Membreño, a member of the Indian Council of People's Organizations of Honduras - an organization led by Cáceres - said at least two assailants broke into a home and shot her to death early Thursday in the town of La Esperanza.
"Honduras has lost a brave and committed social activist," Membreño said in a statement.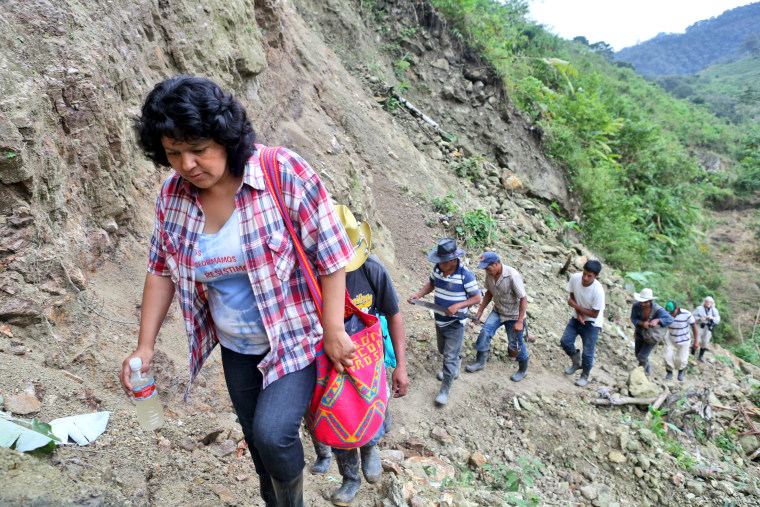 President Juan Orlando Hernández's chief of staff, Jorge Hernández Alcerro, said Cáceres was supposed to be receiving special protection because of the death threats, but did not explain why there were no police protecting her when she was killed.
"The president has instructed all government security forces to use all means to find the killers," Alcerro said.
The official Twitter account of the Honduran Presidency tweeted that the president: "The pain of Berta's family is the pain of all Hondurans". The account also tweeted that any information about Cáceres's death can be called in and will be properly processed by officials.
On his personal account, President Hernández wrote: "The death of Berta Cáceres is an attack on Honduras, it must be investigated and, those responsible, put to the order of justice. That's our demand."
Many have taken to social media to express their shock over Cáceres' murder.
Twitter user Jorge Reyes wrote: "We hope that the reasons for which Berta Cáceres fought not be forgotten and that the fight continues."
Twitter user Andrei H. wrote: "The sacrifice of leaders is an example and reason to fight harder in defense of our natural resources and human rights."
María Silvana tweeted a drawing of Berta Cáceres that included the message "The Lenca people resist for our land and our water." She also wrote: "Her death will continue to inspire mobilization and makes her memory and struggle reach more places."
The Associated Press contributed to this report.