Your playlist might look like this: perhaps a sprinkling of Oro Solido merengue mixed with the romantic Mexican band Camila along with Drake and Ariana Grande.
Just like we love listening to a bilingual, bicultural playlist, songwriters and musicians are increasingly blending their heritage into their distinctive new sounds.
Take the group La Santa Cecilia. The band, based in Los Angeles, is comprised of members who grew up bilingual and bicultural, in a working-class immigrant background. They blend different genres of music such as boleros, cumbia and bossa nova and sing in Spanish and English.
Marisoul, the lead singer of the band, tells NBC News Latino she would listen to Juan Gabriel and Mariachi music in her household, then she would listen to The Beatles and Operation Ivy with friends from school, giving her a taste of two different music genres and music worlds.
"Being bicultural has definitely inspired the music that we make in La Santa Cecilia. Growing up you feel like you have this divided life. At home we would listen to traditional music and music in Spanish and at school I would listen to rock," she says.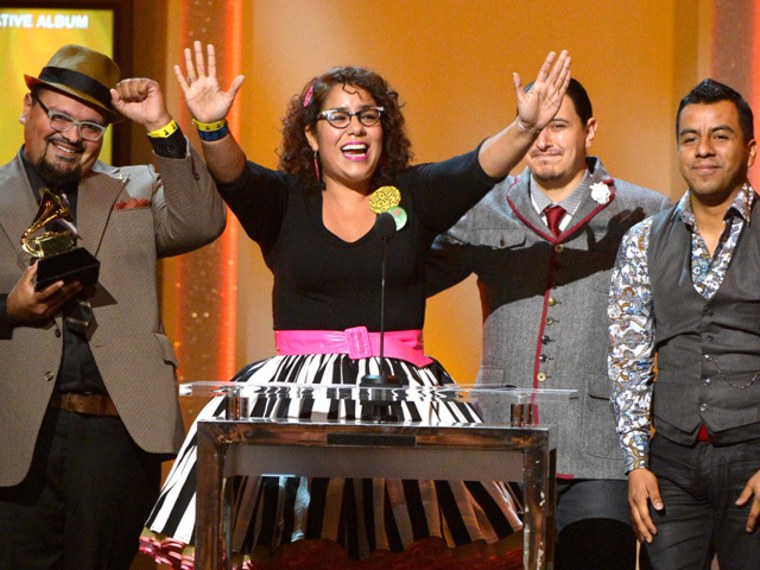 Related: La Santa Cecilia dedicates Grammy to 11 million undocumented
"In La Santa Cecilia we were able to merge these two lives together and really celebrate that we like all kinds of stuff and that we listen to English and Spanish music," she adds. "If you listen to our band's music, we jump from a cumbia to a bossa nova to an English song, and then to a Spanish song."
Showcasing their bilingualism and bicultural lives has earned the Grammy-winning band scores of fans. Their hits like "Ice el Hielo," - a play on words, since ICE also refers in the song to Immigration and Customs Enforcement - are sung in both languages with a unique blend of rhythms.
According to Leila Cobo, executive director of Latin Content and Programming for Billboard, blending languages in songs and bringing two cultures together in music has been talked about for the last decade. But we're seeing it frequently since there is a critical mass for it.
One of the catalysts in all this is Pitbull, says Cobo. "He sings in English and says certain things in Spanish in his songs. Certain words he says like "Dale!" might seem unimportant to us because we're Latino and understand it, but most people don't know what that means," said Cobo. "It's not a common word for them but they hear it on the radio and are fine with it." (Dale in this case loosely translates to "go for it.")
Romeo Santos, who is of Dominican heritage and grew up in the Bronx, New York, embraces those two heritages in his music. He has modernized Dominican bachata, making the music not only appealing to Dominicans but to other Latinos of different generations as well as non-Latinos.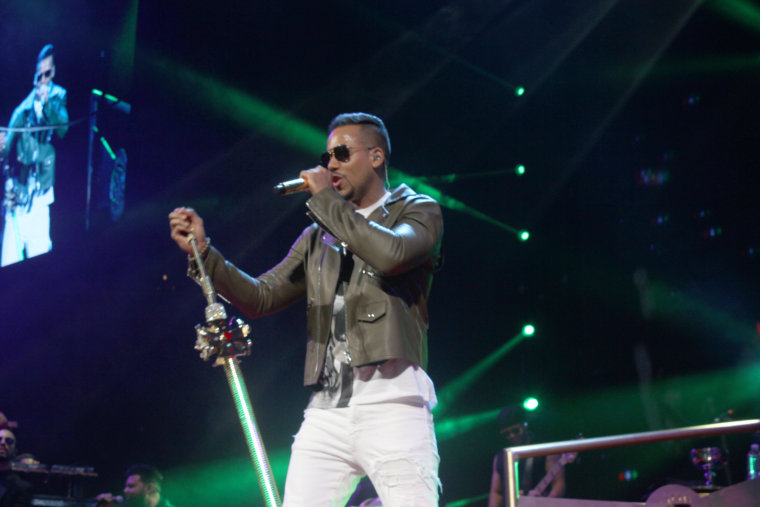 Santos has collaborated with Lil Wayne, Nicki Minaj, Usher and Drake, giving him an opening to the Hip Hop, R&B and Rap audience. His collaborations with Camila, Tego Calderon and Marc Anthony have also opened him to new genres in Spanish-language music.
In an interview with Rolling Stone, Romeo Santos names 10 very diverse songs and artists that he says made him who he is. Some of those include artists Jay Z, Marc Anthony, Beyoncé, The Beatles, Michael Bublé and Dominican icon Juan Luis Guerra - from American hip hop to merengue to romantic ballads in two languages.
Artists like Santos and La Santa Cecilia mirror the way the growing Latino population consumes music in the U.S.
Krystal Montalvo, 23, grew with an Italian mother and Puerto Rican father. She can remember listening to salsa and merengue starting a very young age. Recently, her iPod consists of hip-hop, R&B and reggaeton. She credits her eclectic iPod with her bicultural upbringing.
"I used to dance merengue with my dad at family parties and that's how I learned to dance," says Montalvo. Like many other young Americans of Latino heritage, she does not speak Spanish, but enjoys listening to songs in her father's family's native language.
Related: 10 Great Latino Albums of 2014
Growing up in a Spanish-speaking household does not necessarily mean that one listens to Spanish music on their own time.
"My youngest brother and I were brought up in the same household, by the same parents blasting Spanish music every Saturday morning," says Leslie Duran, 24. Yet Leslie listens to bachata, merengue, salsa, rap and pop, while her brother does not have any Spanish music on his iPod.
Both siblings grew up around the influence of Spanish music, but each prefers different music now.
About 36 percent of Hispanic adults are bilingual, according to Pew Research, giving them a chance to understand music in two languages. Even for those non-Spanish speaking Latinos like Montalvo, Latin rhythms are something they grew up listening to and influences their music taste.
Crossover stars often had to sing in English or translate their songs to reach a broader audience. Now, Spanish-language artists do not have to take this route anymore.
"They can do what comes to them naturally and are able to reach a broader audience and a bigger bilingual audience," said John Reilly, music publicist to many Latino Stars such as Maná, Romeo Santos, J Balvin and Juanes.
Related: Can Spanish-Only Music Stars Achieve Crossover Success?
Artists like Marc Anthony, Ricky Martin, Jennifer Lopez and Enrique Iglesias grew up bilingual and often sing in both languages. Even younger artists such as Prince Royce can switch from "Darte Un Beso," to "Back It Up," and sing music in two languages; a reflection of their biculturalism.
Cobo said there are more and more tracks that are mixing Spanish and English. The English version of Enrique Iglesias's "Bailando" starts with the singer's English-language lyrics mixed with Gente De Zona's Spanish verse. This song is played in both Spanish and English language stations around the nation.
This blending of languages in songs works especially well for dance tracks, where people listen to the rhythm and beats even more than the lyrics, says Cobo.
Even for Spanish-dominant Latin American musicians who did not grow up in the U.S. - like Colombian singer Juanes - inspiration takes a bilingual form. Though Juanes sings primarily in Spanish, he told NPR that he sometimes uses English words when he is writing music.
"You know, always when I write my music, I take my guitar and I improvise always with a melody, you know, lyrics in Spanish. But sometimes I use some words in English. I don't know why. Maybe because I listen to a lot of music in English," he said.
In the U.S., the growing number households blending languages and cultures is being reflected more and more by songwriters and musicians - and ending up on our playlists.
"I think music is becoming more elastic," said Billboard's Cobo.