The 1950's in America: Families would gather around the television every night, and young people sang and danced to the rock and roll of Elvis Presley and Chuck Berry. For a short time, there was also a teen sensation from Pacoima, California, who made teen girls go wild.
His name was Ritchie Valens, and he was only 16 when his songs, "La Bamba" and "Donna" became Billboard hits. A year later, in 1959, his life came to an abrupt end in a plane crash, along with fellow rock stars Buddy Holly and the Big Bopper.
Few knew then that the singer's real name was Richard Valenzuela and that he was Mexican American. At first, even award-winning Chicano writer and director Luis Valdez thought he was Italian, like other known singers of the time, Frank Sinatra and Dean Martin.
However, little did Valdez know then that in 1987 he'd be bringing the talented Valens back to life by writing the screenplay and directing the iconic film based on his short life. "La Bamba," which made it to the top 5 in the box office on opening weekend and was nominated for a Golden Globe, turned 30 on July 24. In many ways, the movie redefined Latino roles in Hollywood and showed that a Latino teen who became a rock and roll star was as American as anyone else.
"It was significant, even more so then," Valdez told NBC News, about the importance of a Chicano writer in the 1980s writing about a fellow Mexican American who became a music legend. "Latinos were traditionally cast as the villain roles, and I was able to tell the story of a rock and roll pioneer."
Before entering the film industry, Valdez was already establishing himself as "the father of Chicano theater." He won many accolades for his play about racism in 1940's Los Angeles, "Zoot Suit," and he founded El Teatro Campesino in 1965 in San Juan Bautista, California. Originally, it was meant as a cultural distraction for the tired, overworked farmworkers of Cesar Chavez' United Farm Workers. However, it has since expanded to bring the arts to many communities, and all ages, for the past 50 years - ultimately earning him the prestigious Presidential Medal of Freedom in 2016.
"One of the first things about writing is, you write about what you know," Valdez said. "Ritchie was born in 1941, and I was born a year before that. We traveled very similar paths. Once I got to know his family, and where he lived, and where he grew up, I could see vast similarities."
In the summer of 1958, Valdez said he remembers seeing Valens at 16 working in the crops picking apricots.
"It was only a couple of miles from where I lived," said Valdez, who also grew up as a farmworker. "All of that rang very true to me...He was a diamond in the rough. He was his own composer. He learned how to play guitar from his uncles...I think all Latinos acknowledged the fact that he verified our presence in the world with the same tastes and interests."
When Valdez was in college, he said he remembers vividly going to parties with his friend who would play guitar, and Valdez would sing, "La Bamba," a Mexican folk song later adapted for rock and roll by Valens. The same song would have a strong significance later in Valdez' life as well.
Valdez's inspiration to make the movie took place 1979, decades after Valens' death. Valdez was now a respected playwright, and it was the opening night of "Zoot Suit" on Broadway. Valdez, the first Chicano director to have a play presented on Broadway, said he and his brother were looking out of the theater onto the street, discussing what the next project should be.
"We were sitting up there pretty full of ourselves," Valdez said, laughing heartily at the memory. "We heard mariachi, all of a sudden, in the heart of New York City - on the street. They were playing outside of my brother's dressing room. The mariachi was sent by the president of Mexico for our opening night."
The song that happened to be playing was, "La Bamba."
"My brother and I looked at each other and and said [in unison], 'La Bamba!'," recalled Valdez. "As a matter of fact, "La Bamba" became our obsession for the next five years."
Valdez and his brother started making contacts and looking for the late Valens' relatives, the Valenzuelas, in Los Angeles. They ended up finding Valens' brother, Bob Morales, at a bar in their local San Juan Bautista, up north. Through Bob, they met Valens' mother, sisters, extended family, and even his high school girlfriend and song's namesake, Donna.
"I have to give the credit to Bob," said Valdez, about the film's authenticity.
"When I interviewed him, I told him to be honest," recalled Valdez. "He said, 'I was a drunk and a womanizer and all of that -- just tell the truth.' So I did."
Valdez credits the long-lasting success of the film to the talent of the cast, which were mostly Latino and not well-known at the time.
Lou Diamond Phillips played Valens.
"He was very shy. But once on camera, he was right on," remembered Valdez. "He was so sensitive, and the camera loved him - he couldn't play the guitar, but he could lip sync. We put him on training for the guitar before we started the movie."
Together with the late Elizabeth Peña, who played Bob's girlfriend, and Rosanna DeSoto, who played Ritchie's mom, Valdez is still pleased with his cast three decades later.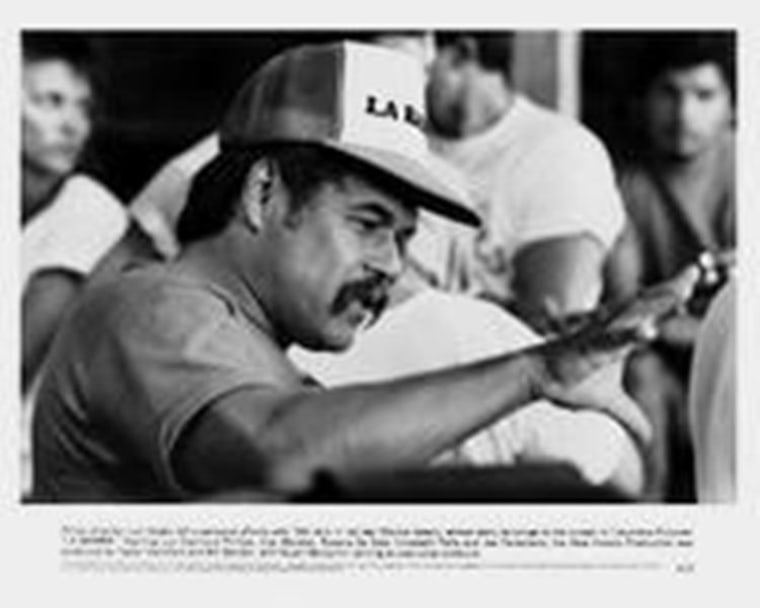 Actor Esai Morales, who is now busy playing a lead role in the Netflix series, "Ozark," and running for president of the SAG/AFTRA union, played Valens' brother Bob, a memorable character whom he understood.
"I realized I had a lot more in common with Bob that resonated - I too grew up without the presence of my biological father, and I've always felt like an overlooked talent," Morales said. "I think that explains a lot of the pain of Bob's character -- it's always about Ritchie."
"I view Bob and Ritchie as two parts of the same force," said Morales. "I view Ritchie as the treble and the melody, and Bob as the bottom, the depths."
Morales was only 23 when he scored the role of Bob. At the time, he knew it could be a very special project with a potential to be a classic. Three decades later, he is very proud of the movie's significance.
"I feel honored and blessed to have been part of a truly representative and historic piece where we as Latinos are portrayed in a more complete light and manner that Hollywood usually affords us," Morales said. "We are not the side dish, we are not the problem. We are the American dreamers embodied by Ritchie."
The film's two main actors, Phillips and Morales, are not Mexican American; Morales is Puerto Rican and from the Bronx, and Lou Diamond Phillips is of mixed - mostly Filipino - ancestry. But the struggles of life as a minority in America was a shared experience that transcended the actors' different cultural origins.
"We were a real family. We were real close," Morales recalled. "I owe a lot of my performance and what I was able to absorb from Bob - that Chicano pride nod -- he gave me that. It's something that I don't think I'd be able to come up with on my own."
Morales is still broken-hearted at the loss of his co-star Elizabeth Peña, who passed away three years ago, at the age 55.
"I still miss her," said Morales, after an emotional pause. "She added another dimension. She gave the female energy of the film." Peña and Morales were classmates in New York's prestigious High School of Performing Arts, and he had a crush on her since he was 14; his role in "La Bamba" was a dream come true in more ways than one.
"I got to make out with her," said Morales. "She had a way with words and was quick to laugh and make a joke. We just loved making each other laugh. I didn't know we'd have such a short time with her."
Morales wants to see more roles like these for Latinos in Hollywood, which is part of the reason he has thrown himself in the ring to be president of SAG/AFTRA, the union that represents actors, announcers and broadcast journalists, among others.
"We [Latinos] have so many good stories but so little support," he said. "I think the time has come that our community demands to see more of who we are - so we can get to know each other better," said Morales. "We tell certain stories over and over again, yet other stories are completely neglected, and I'd like to see a balance of the Latino American experience. We are also American and just as American as others. If you don't know your history, you don't know your value."
RELATED: These 2 Young Latino Stars Shine On Broadway's 'On Your Feet'
For Valdez, it was a privilege to be able to tell this part of the Latino American experience which shaped an entire generation in the U.S.
"To take the 1950's of my youth and turn it into a movie - the whole process of making art is it allows you to look at your life from the highest perspective." said Valdez. "You're able to see that you're absolutely connected to everyone else. It helps you to deal with your past resentments, and I was able to look at my migrant farmworker life with affection...It's backed up by a lot of heart. That's what determines the success or failure of a film."