SACRAMENTO, Calif. - It was a bus route past a community college campus that got Anthony Rendon thinking there was perhaps a bigger world out there for him. For Kevin de León, an anti-immigrant ballot initiative, Proposition 187 drove him to go beyond the world he knew in his Logan Heights neighborhood in San Diego.
Today, Rendon and de León are the Latinos in charge at the California Legislature. Rendon, 48, is speaker of the California Assembly and de León is the Senate President Pro-Tem.
With them in their respective positions, for the first time in California history the state Senate and Assembly are headed by Mexican Americans. California is in the midst of its legislative session, which convened in December 2014 and ends in August.
Latinos in California now make up about 39 percent of the state's population with nearly 15 million people outnumbering whites according to the U.S Census Bureau.
For many Californians, it is no surprise that both top legislators are now Latinos. After all, the legislators' life stories mirror the diversity of California.
"It speaks to California's recognition that Latinos are really the mainstream in not just California, but for the rest of the country. We're so thrilled to have leadership at the very top of California government, and they're very much aware of the needs for our community and the aspirations we have," said Aida Alvarez, chair of the Latino Community Foundation board, a philanthropy and Latino community advocacy organization.
Both of the legislators' policies and advocacy throughout their careers — as well as their strategies for moving through the ranks — have been shaped by their Latino experience.
At the top of the list of concerns for the policy makers are the economy, specifically raising wages to $15 an hour, as well as education, the environment and water policy. The two spoke about these issues at the Latino Equity Summit hosted by the Latino Community Foundation in late March in Sacramento.
For Rendon, 48, the spotlight from his new position comes as a surprise. He explains that as a young man he didn't really aim high or even know what a college education was about. He graduated high school with a failing grade.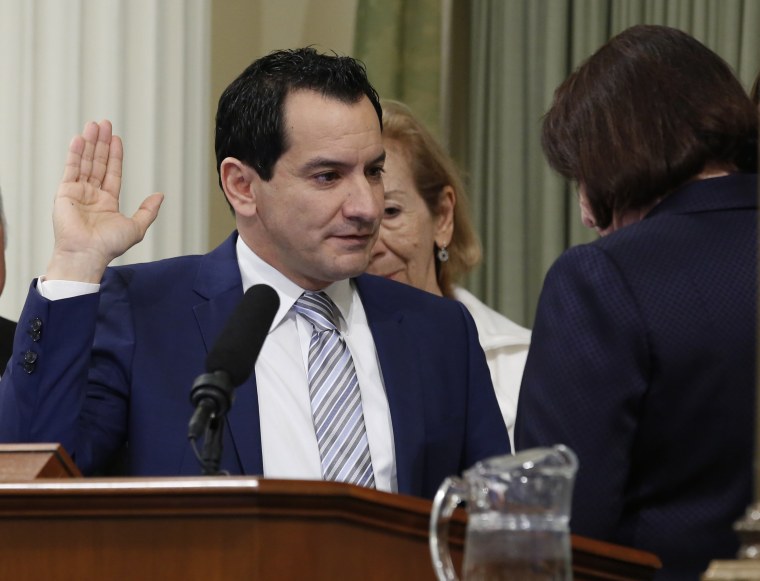 It wasn't until after he noticed the students his age getting off at the bus stop at El Cerrito Community College while he was headed to work in factories and warehouses that he began to think about education beyond high school. One day he decided to get off the bus and explore the campus and ultimately decided to enroll at the school.
Rendon eventually went to Cal State Fullerton, graduating with a Bachelor's and Master's and ultimately receiving a Ph.D. in political science from the University of California, Riverside.
The Democrat from Paramount, a city that is part of the larger Los Angeles area, was confirmed as Speaker on March 7th at the state Capitol.
"Since I was sworn in I have been talking about adopting an aggressive strategy towards dealing with poverty. Raising the minimum wage has been one of the strategies proven in other locales to be effective at reducing income inequality and poverty," Rendon said in an interview with NBC News Latino.
As for de León, growing up in the Logan Heights district of San Diego meant that he lived in what he calls "El tercer mundo" or the Third World.
It was a world in between the nice houses that his single mother and him would go clean in the upscale San Diego neighborhood of La Jolla, which he called the "First World", and the "Second World" in Mexico where he traveled often to visit friends and family. There, he wasn't as Mexican sometimes because of his American roots.
Living in his neighborhood were a mix of more established Mexican Americans who were not always welcoming of newer Mexican immigrant families.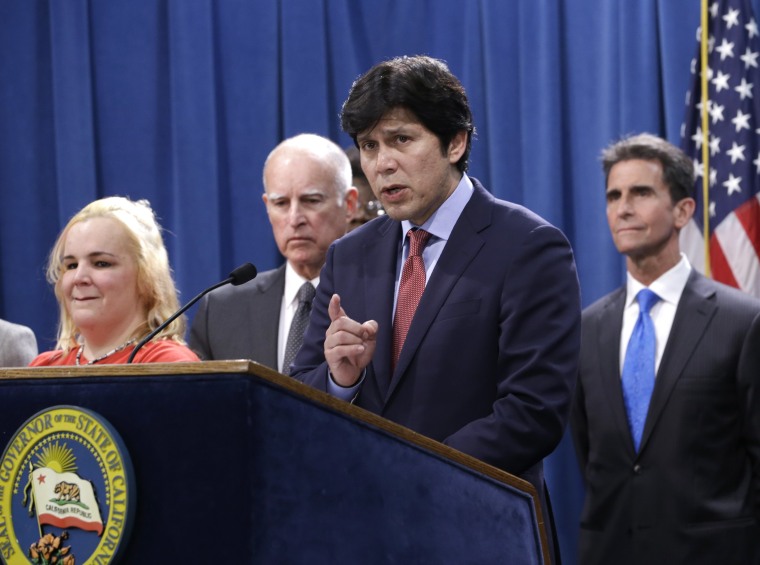 For de León his work and activism during his college years against the anti-immigrant legislation Prop 187 propelled him to seek leadership positions at the Department of Education in Washington D.C., and eventually to the highest office in the California State Senate.
Speaking at a rally supporting the $15 dollar "Raise the Wage" campaign legislation, de León emphasized in Spanish the importance of such legislation for him. In California, 38 percent of the population speaks Spanish; in areas like Los Angeles and Orange County the percentages are much larger.
"I can still remember all the times my mother had to struggle working two jobs to provide food and basic necessities. Even after working several jobs, we still didn't have enough and continued to struggle," he said, flanked by California Gov. Jerry Brown.
The Legislature passed the Raise the Wage legislation and Brown signed the bill in early April. The law brings the minimum wage to $15 dollar's an hour by 2022, with yearly increases each year until then. About 6 million Californians earn minimum wage.
Rendon, a self-described progressive liberal, had concerns about the lack of educational resources for poor and immigrant families while he was the executive director of Plaza de La Raza Child Development Center, a non-profit. That led him in 2012 to seek public office, so he could advocate on behalf of low-income children.
"Their stories are now a microcosm of the diversity of California and what other parts of the nation, like Arizona, Texas and New York will look like," said Jacqueline Martinez Garcel, CEO of the Latino Community Foundation.
As their leadership and representation grows, California's Latinos are still are at a disadvantage in many aspects, especially when it comes to education and economic attainment.
Latinos make up more than 52 percent of the K-12 population in the state. But at four-year universities they continue to be a minority with 18 percent of them enrolled. Statistics show Latinos often have struggles in attending two- and four-year universities and getting high paying jobs in STEM fields.
Related: California Takes a Step Further Toward Immigrant Integration
"It is great and all that there are Latinos in the highest office, but Latinos are still struggling," said Rudy Acuña, professor emeritus at California State University, Northridge.
"If they (Latino elected officials) want to make a difference in the lives of students, have them come down and talk to faculty and teachers, not just the administration. No other leaders have come down to speak to us on how to change our struggling statistics," he said.
Despite the recent legislative milestone,Latinos in leadership positions lag and some wonder when are California's Latinos poised to have a Latino senator or governor?
"After all, California is the microcosm of the world, where children born from immigrant parents can grow up to lead a legislature speaking Spanish fluently," Martinez Garcel.
"Maybe one day that oath will be taken by some other Californian, who, right now, is riding home on a bus or picking fruit in a field," Rendon said, "someone who will benefit from the work we do to enable them, believe in them, and invest in them."