Richard Conde was 3 years old when his father, Staff Sgt. Felix Conde-Falcon, died in Vietnam. Almost half a century later, and the younger Conde will be the one receiving his late father's Medal of Honor — the top honor awarded for bravery in combat — at a ceremony Tuesday at the White House.
"It's something our family has been waiting for many years," said the 48-year-old Texas resident. He is one of several family members who sat down with Telemundo White House correspondent Lori Montenegro to talk of the ceremony awarding 24 Latino and Jewish veterans the Medal of Honor. Only three of the recipients are still living; the others will be honored posthumously.
Conde said he grew up hearing stories about his Puerto Rican father's bravery, but he did not really get a sense of his father's actions until one of his father's platoon "brothers" finally tracked down the family, 20 years after promising himself he would.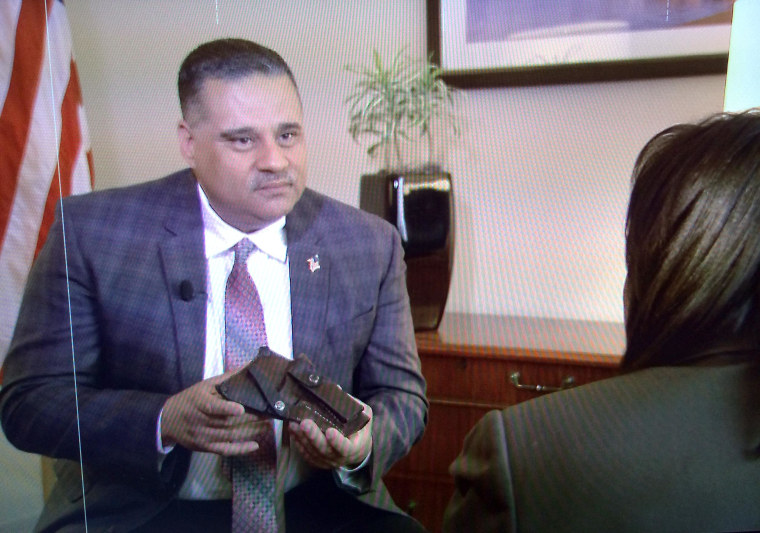 "He told me his last words were 'God don't let me die, take care of my wife and two kids,'" said Conde as he held his late father's gun holster, given to him by his father's soldier buddy.
According to the military citation, Conde-Falcon "single-handedly assaulted the nearest enemy position, killing the fighters inside before running out of ammunition. He picked up an M-16 rifle but was shot by an unseen assailant and soon died of his wounds."
In 2002, Congress called for a review to ensure soldiers, especially those of Hispanic and Jewish descent, were not overlooked and denied honors because of bias.
Maggie Rivas-Rodriguez, an associate journalism professor at the University of Texas at Austin, has spent years coordinating and gathering the histories of Latino veterans. She said stories of discrimination are not uncommon among the veterans interviewed for the oral history project she has spearheaded.
"Over and over again in some of the interviews we've done … often people will say, 'I did the same thing as such and such, but I didn't get the same recognition,'" Rivas-Rodriguez said. "The recognition (Tuesday) is a public way of acknowledging the heroics of these men, so it's a wonderful thing."
"Today we have many Hispanics serving with the Army, Marines, Navy and Air Force, and it's important that they know that what they do today can be recognized 50 years from now"
Rivas-Rodriguez said that in some cases Latino veterans were awarded military decorations or honors decades ago, but they still faced discrimination. Marcario Garcia, the first Mexican-American to receive the Medal of Honor in 1945 for his valor during World War II, was denied service in a Texas restaurant because he was Hispanic. He argued with the restaurant owner, and police arrested him.
The late Dr. Hector P. Garcia founded the American GI Forum in 1948, in Corpus Christi, Texas, after seeing the treatment Mexican-American and other minority veterans endured when they returned from WWII.
"I think this is just a wonderful thing; I just praise President Obama for what he is doing. These American heroes were not recognized for their sacrifices for this country," said Cecilia Garcia-Akers, Garcia's daughter. "My father would be so happy if he were here. This is what he was fighting for for 50 years."

Garcia set up a medical practice when he returned from WWII and had a contract with what was then the Veterans Administration to treat Latino, black and other minority veterans for $3 apiece.
"The beds in the hospital, they had Mexican wards and white wards and if the Mexican wards filled up and they couldn't get you a bed, they would leave you out in the hallway," said Garcia-Akers, who now runs a foundation in her father's name. Garcia used his credentials to demand beds for Hispanic veterans, she said.
The belated Medal of Honor awards are "a reflection of what he fought for," she said.
Jose Ramon Rodriguez will be at the White House on Tuesday in honor of his late uncle, Pfc. Miguel Armando Vera, a native of Puerto Rico who fought in Korea. According to his citation, his unit came under intense cross-fire, and he "remained behind to cover the withdrawal and poured crippling fire into enemy emplacements. During this action, he lost his life."
His nephew said his uncle did receive the Distinguished Service Cross, the nation's second highest military honor, while he was alive, so he did not see the ceremony as a sad occasion.
What was important, he said, is what the belated honor signifies for all the men and women currently serving.
"Today we have many Hispanics serving with the Army, Marines, Navy and Air Force, and it's important that they know that what they do today can be recognized 50 years from now," said Rodriguez. "Maybe right now there is no one stretching out a hand saying you did a nice job, but it will happen."
Iris Nereida Negron will be at the White House to commemorate her father, Sgt. Juan E. Negron. His citation reads:
"As hostile troops approached his position, Negron hit them with hand grenades and stopped their attack. He held the position all night, while an allied counter attack was organized and launched. After the enemy was repulsed, 15 of them were found a few feet from Negron's position."
Negron said if his father were alive to receive his Medal of Honor, he would have been calling friends, organizing a party and saying with pride he was a soldier.
"I am so proud and happy to be his daughter."
--Reporting by Telemundo's Lori Montenegro and NBC News' Suzanne Gamboa.