SAN MARCOS, TX. – The growing movement to reflect the lives of Mexican American children and young adults through the power of words has come a long way.
Just ask new U.S. Poet Laureate Juan Felipe Herrera, who over the weekend told a rapt audience of writers, illustrators and multicultural children's book advocates at Texas State University, "This is our breakout moment."
The first Mexican American to hold the position, Herrera spoke at the 2015 Tomás Rivera Mexican American Children's Book Award, which celebrated its 20th anniversary. Herrera spoke excitedly about mounting positive bellwethers – more Latino authors, more interest from Hollywood and from corporate America, "more global interest, more global writers and voices."
Indeed, there was plenty to rejoice in at the awards, actually a daylong event followed the next day by a festive Children's Literature Fair, where hundreds of schoolkids mingled with children's book authors and illustrators from across the country, including 14 past recipients of the Rivera book award.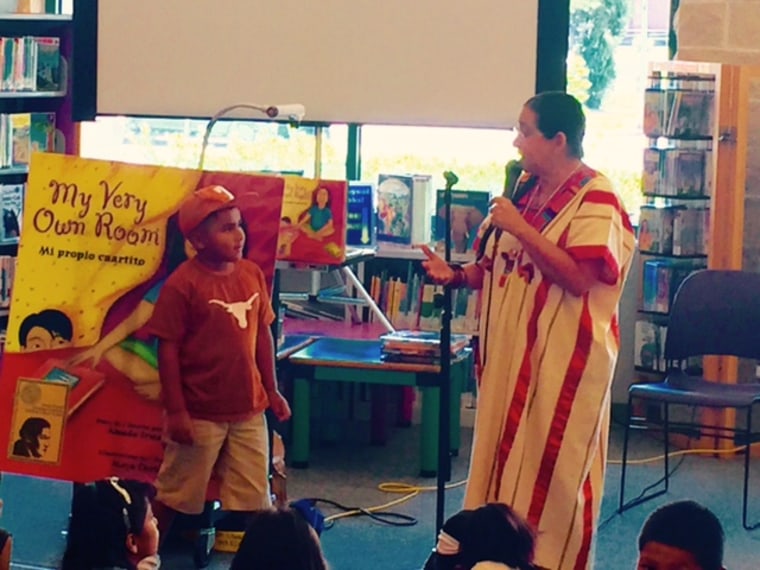 But 20 years is as good a time as any to take stock, and many at this two day event did.
"There's still more that needs to be done, especially as you hear about the attacks on minority communities," said Norma Martinez, an assistant elementary school principal in nearby Austin, where her students are predominantly Mexican American.
"Our culture is never talked about and if it is, it's always these preconceived notions and it's always about us lacking a certain degree of intelligence," Martinez told NBC News. "So for young children to be able to see themselves in these stories and to see they can transcend as well into higher education and other possibilities is very important."
Publishers think books about minority children aren't mainstream enough, lamented Amada Irma Perez of Ventura, Calif., a former Rivera Award winner for her 2000 book, "My Very Own Room/Mi propio cuartito".
RELATED: Duncan Toniatuh Wants Latino Children to See Themselves in Books
"But they are," said Perez. "They have multicultural themes. They have universal themes."
Moments earlier, Perez signed an autograph for 7-year-old Safira Silva of Austin.
"She told me that my dreams will become reality," Silva said proudly of her encounter with the author. She was accompanied by her mother, Dulce Hernandez, a Mexican immigrant who said her family values bilingual books. "So we can learn two languages and two cultures. That's very important," Hernandez said.
An alumnus of Texas State who died in 1984, Tomás Rivera was a university chancellor (University of California, Riverside), and acclaimed Chicano writer and author of the landmark novel, "y no se lo tragó la tierra" ("and the Earth did not devour him").
Out of 5,000 books reviewed in 2014, only 59 were written by Latino authors and 66 had content about HIspanics.
The award in his namesake was created to carry on Rivera's legacy and to encourage authors, illustrators and publishers to produce books that reflect the lives of Mexican American children and young adults, said Jesse Gainer, the award program's director and an assistant professor at Texas State.
In his youth a migrant farm worker who spoke Spanish at home, Rivera often lamented that books by Mexican American authors were not available during his childhood, and that he could not find his experience and his community depicted in books in a positive way, Gainer said.
"That's a tragic thing for a young kid who's developing their own identity," Gainer said. "Rivera talked quite a bit about the struggles that Mexican American kids in particular face when entering public education and feel that their culture, their families, their values are not valued in school. In fact it's almost seen as a negative thing."
When the award was created, major publishing houses were picking up very little by Mexican American authors, Gainer said. Though more books are being submitted and published, and more attention focused on the value of multicultural children's literature, the numbers are not good.
According to the Cooperative Children's Book Center at the University of Wisconsin-Madison, of the 5,000 books reviewed by the center in 2014, only 59 were written by Latino authors and 66 had content about Latinos.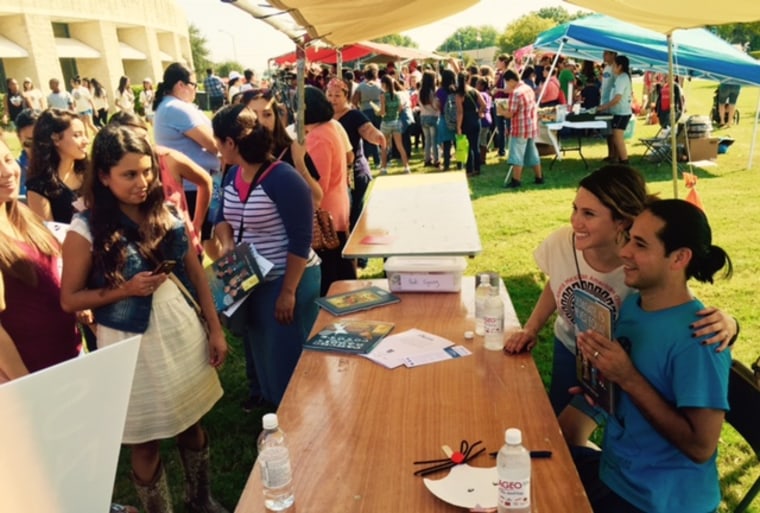 Boding well for the future of Mexican American children's literature, however, are growing national movements for multicultural children's literature and for dual language education, Gainer said. Ironically, he said, dual language instruction is increasingly popular among white, monolingual, English-speaking parents who recognize that Spanish will be an asset in their children's lives, Gainer said.
Authors Duncan Tonatiuh and Isabel Quintero, whose books explore themes of social justice and self-discovery, received this year's Tomás Rivera Mexican American Children's Book Award. Tonatiuh was recognized in the works for younger children category for "Separate is Never Equal: Sylvia Mendez and Her Family's Fight for Desegregation," and Quintero in the works for older children/young adult category with her book "Gabi: A Girl in Pieces."
Tonatiuh told NBC News that books about the Mexican American experience serve valuable purposes beyond merely helping Latino children realize that their stories and their voices are important.
"For other kids, for white children and for children of other groups, it gives them a window to see and to experience the lives of other children and hopefully, to create bridges and to create empathy," Tonatiuh said.