Latinas are just over 1 percent of the nation's more than 7,000 state senators and representatives, and just 2 percent of members of Congress. A coalition of Hispanic groups said that can't continue, particularly since 25 million Latinas live in the United States.
"For a nation that prides itself on inclusion, that's frankly unacceptable. Our very democracy is in question when our legislative bodies don't look like the diverse constituencies of our country," said Héctor Sánchez, executive director of the National Hispanic Leadership Agenda, a non-partisan coalition of national Latino groups. "We're in a pivotal moment in history when critical issues affecting all Americans are being debated. Our nation needs 100 percent of our talent to find solutions."
NHLA and other groups gathered Monday at the U.S. Capitol on the last week of Women's History Month to offer networking and training to boost the ranks of Hispanic women in the different levels of elected and appointed offices.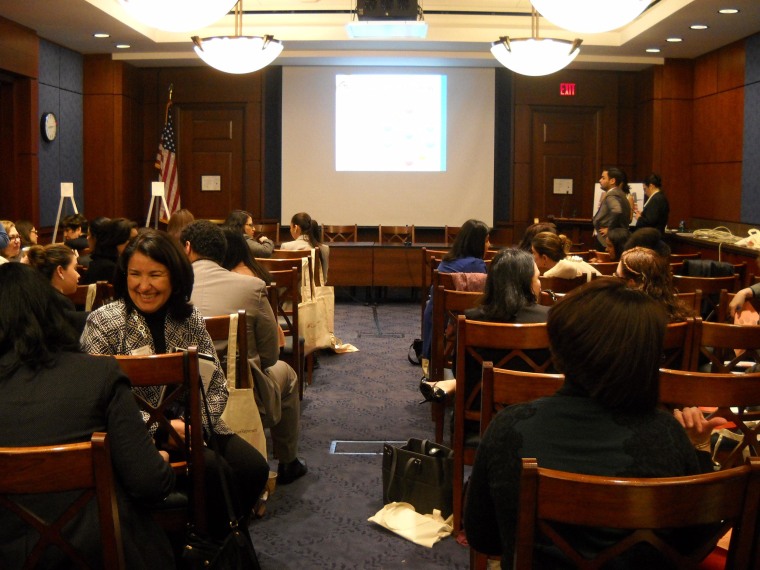 "We've been building up the list of current and former Latino appointees and looking at levels all across the country, and we're engaging the appointees to serve as mentors," said Melody González, director of NHLA's Latino Appointment Program, who added that mentoring was an important tool in building a pipeline. "This includes how to navigate through the process, including interview tips and résumé tips, and how to research where you want to work and see where you fit in," she added.
"The real challenge is lifting the veil and demystifying the process so that people understand how the system works, what they need to move forward and then building the network of support around them."
The real challenge, González said, was lifting the veil and demystifying the process so that people understand how the system works, what they need to move forward and how to build the network of support around them. The NHLA maintains an online talent bank at latinoappointments.org that accepts applicants on a rolling basis for a variety of positions which the NHLA then helps move through the process.
A recent report by the group Latinas Represent stated just 2 percent of Hispanic women are members of Congress (9 out of 435 House seats) and only 1.1 percent are state senators and representatives (78 out of 7,383 positions).
No Hispanic women have been elected to the U.S.Senate and only one has been elected governor, New Mexico's Susana Martinez. Latinas Represent is a partnership between the NHLA and the group Political Parity, which seeks to increase the number of women in elected office.
Leni González is a community activist in a Washington, D.C. suburb in Northern Virginia and president of Council 4609 of the League of United Latin American Citizens (LULAC).
"I think these types of gatherings are important - it gives us an opportunity to tap into these groups - and participate in our nation's political life and in public service," she said.
Participants broke into small groups to work on a variety of methods and strategies, including how to get noticed and who to contact.
"It's very important for us to collectively strategize. A lot of us are working in isolation," said Candy C. de Baca, a government administrator in Washington, D.C. "And it has to go beyond just voting. It has to go to putting Latinos and Latinas in leadership positions so that people naturally want to support the system and you don't have to drag them in - they'll see the benefit when they see themselves represented."
Israel Rodríguez was just one of a handful of men at the forum. "There aren't enough Latinos in general in public office, so this is an important issue for all of us," said the former political aide who added he was interested in running for office.
Zuraya Tapia, director of the Mexican American Leadership Initiative at the U.S. Mexico Foundation, said that many Latinas are capable and skilled, but need assistance in getting to the next level. "There are so are many additional requirements of networking, funding and strategic development of a campaign, for example, and these are skills that can be transferred to other areas in life. We really need to band together to build those additional skills," Tapia said.
Tapia added that both major political parties need to do more outreach in the Latino community.
"They certainly could do more to build a pipeline for leadership." But Tapia and others at the meeting said it was up to individuals themselves to be more proactive.
"It's in our hands to get out there more."