Priscila Trejo-Martinez just finished her sophomore year studying child development at San Francisco State University. Her life would have been quite different had she not found the support she needed at the College Connect program at Mission Graduates, a San Francisco nonprofit dedicated to helping students prepare for college, she said. Through the program, she could always talk to an adviser in person, through email or by phone.
"They give you the support you need," said Trejo-Martinez, adding that before participating, she had no idea what the college application process was like.
The nonprofit, which started over 40 years ago as part of St. John's Episcopal church in the city's Mission District, has turned its focus from after-school youth-oriented services such as tutoring and arts programs to getting students to college. In the shadow of enormous Silicon Valley wealth and growing income disparities, the San Francisco organization works to boost college enrollment, especially among Latino youth who are going to California schools in greater numbers, but still lag in graduation rates.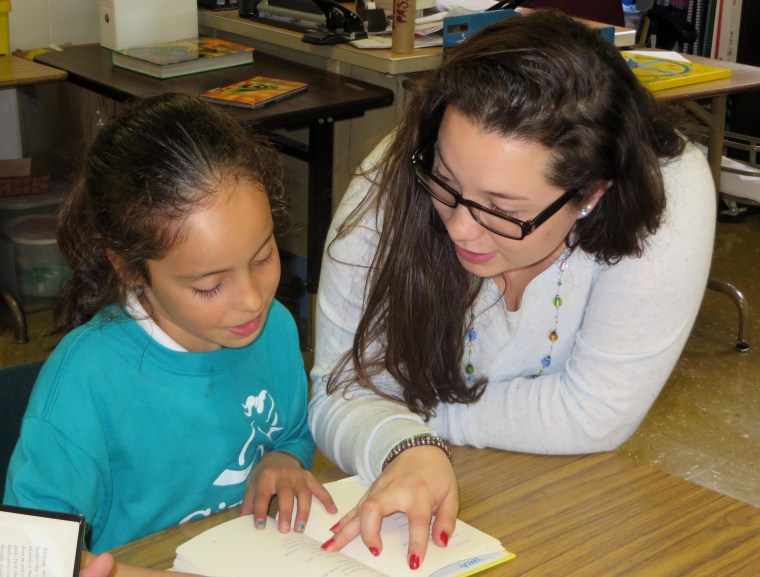 Earlier this year, Latinos became the largest racial/ethnic group in California, making up about 39 percent of the population. College enrollment among Hispanics has been improving; Latinos are now the second largest group behind Asian-Americans to attend the University of California university system in the fall of 2014.
According to preliminary numbers, 17,589 Latinos were accepted as freshmen at one of nine of the University of California colleges and universities, making up almost 29 percent of this fall's incoming freshmen class, up from 27.6 percent in 2013.
Yet there is still a long way to go. A recent report conducted by Excelencia in Education found that the college graduation rate for Latinos in California is at 42 percent compared to 52 percent for non-Latino whites. And when non-traditional students are counted, which includes those going to college part-time or to community colleges, the graduation rate for Latinos in California is 15 percent.
"One of the most important aspects of social justice is education justice," said Eric Cuentos, director of the Mission District's Parent Program, explaining why the organization decided to focus on college preparation."They have access to opportunities to thrive if they have access to go to college."
Educational disparities are closely tied to income disparities, and places like San Francisco are grappling with the recent upsurge in gentrification brought about by the tech sector. Its wealth has radically changed the landscape of the neighborhood, said Cuentos. Two years ago Twitter moved about seven blocks away from Mission Graduates and Mark Zuckerberg bought a house in the neighborhood last year.
Many Silicon Valley employees are choosing to live in San Francisco and commute to work by shuttles provided by their companies. This has increased rents and driven many Latino families out of the Mission District, or others have resorted to moving in with relatives or living in substandard housing.
"They're having a hard time doing well in school when they're literally being displaced," said Cuentos.
Mission Graduates acts as a cultural broker between families and the school system, educating parents about how to participate and guiding them through the college application process and what college life is like.
Despite families' financial hardships, Mission Graduates has a three-pronged approach for getting more Latino students to college: improving academic performance through after-school programs, increasing parental engagement, and teaching students all the ins and outs of college.
The College Connect program takes 25 college-bound high school juniors from throughout the neighborhood who would be the first in their family to attend college. The students must meet several qualifications such as living or going to school in the Mission District and qualifying or being part of the free/reduced-lunch program.
The multi-year program provides personalized college admissions support to students and their parents until graduation from high school. Just as important, the program continues to offer ongoing guidance during the students' college career.
The staff helps students with practical things, such as filling out their FAFSA applications, finding tutors at school and figuring out when to drop classes. They also partner with an organization called GLOW, which teaches students financial literacy and helps them save for college.
Engaging parents is crucial, said Cuentos. "A lot of parents don't know college is even an option," he said, especially Latino immigrants who are not in the country legally and are unaware of the resources available to them. Parents may not know, for instance, that the state allows public colleges to offer in-state tuition to undocumented students.
Language is a significant barrier for many immigrant Latinos, said Cuentos. Many of the parents don't speak English and many immigrant students don't speak it before starting school. This has certain repercussions - many parents are not comfortable advocating for their children in school, and many students are kept in ESL classes for too long by the schools.
Mission Graduates acts as a cultural broker between families and the school system, educating parents about how to participate and guiding them through the college application process and what college life is like. This includes reassuring parents their children will not abandon their culture and lose touch with their roots if they go away to college. "We're helping parents be okay with their children leaving the nest," Cuentos said.
Because Trejo-Martinez benefited so much from the program, the Latina first-generation college student decided to return as an employee to help her community. She now works part-time as the program assistant at Marshall Elementary Extended Day Program.
"I thought I could do the same thing for a child that is in need," Trejo-Martinez said. She feels rewarded by helping those in her community who are going through the same struggles she faced.