WASHINGTON –– While hopes of many were dashed by the Supreme Court's 4-4 tie on immigration, some in the Latino community found a sprinkling of hope in the court's affirmation of the University of Texas' consideration of race in its admissions process.
The Supreme Court's 4-3 ruling that the university may include race as part of efforts to diversify the student body came the same day the court deadlocked on the immigration case.
Writing for the majority in the education case, Justice Anthony Kennedy said the university considering race was "a factor of a factor of a factor" and met the court's interpretation of what is constitutionally acceptable."
"A university is in large part defined by those intangible 'qualities which are incapable of objective measurement but which make for greatness,'" he wrote. "Considerable deference is owed to a university in defining those intangible characteristics, like student body diversity, that are central to its identity and educational mission." Justice Sonia Sotomayor joined the majority opinion.
In the immigration case, the deadlock on the court - one seat on the nine-justice court has been empty since the February death of Justice Antonin Scalia - essentially continues a suspension of two Obama administration programs that would have helped millions of immigrants here illegally remain in the U.S. without fear of deportation and allow them to legally work.
Related: Supreme Court Upholds Affirmative Action In College Admissions
But while immigration and how it influences the votes of Latinos usually gets more attention, many in the community often put education and the promise of upward mobility among their top priorities.
"This is a really great decision. It's bittersweet today because immigrant families will have to continue waiting. But on the other hand, immigrant families will be able to send their children to college," said Maríaelena Hincapié, executive director of the National Immigration Law Center in Washington, D.C.
"This will definitely benefit Latinos and all communities of color. It's a wonderful decision and we're very excited for our youth who will have expanded access to education," Hincapié said.
The ruling comes at a time when Latino enrollment numbers at higher education institutions are increasing, although Latinos still lag behind whites. Also, they fall far behind their white counterparts in finishing and earning college degrees.
Janet Murguía, president of the National Council of La Raza, hailed the court's decision, saying it will ensure more talented students from all backgrounds "will get a fair shot at the school of their choice."
"This is a victory for equity, for enriching the college experience for all students and for our country's future prosperity," Murguía said. "Sixty-five percent of all jobs in the next four years will require some type of postsecondary degree or credential, yet minority students are still facing obstacles to reaching or achieving success in college because of systemic inequities in our society."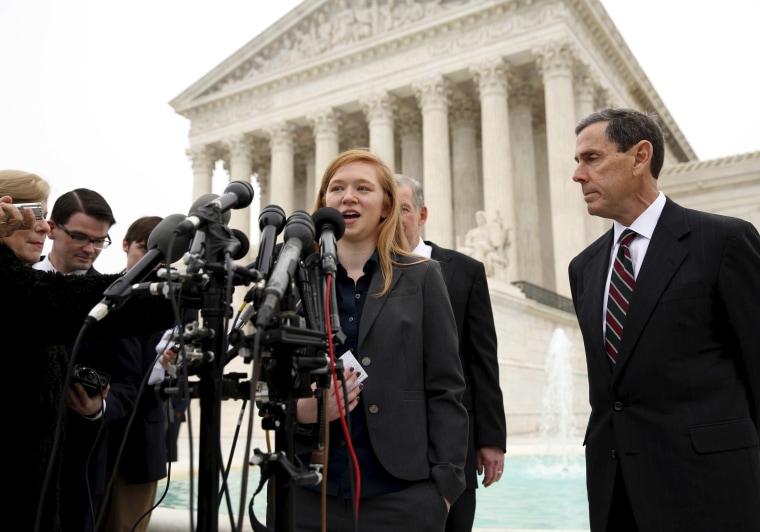 RELATED: Latino Lawyer Putting Human Face on Immigration Case in SCOTUS Debut
Affirmative action advocates have long argued that the benefits of diversity do not infringe on the constitutional guarantee of equal protection regardless of race.
"Collegiate diversity isn't simply an aspirational goal; it is critical to the success of our nation's economy and our democracy," said Robert Maldonado, president of the Hispanic National Bar Association. "We are pleased the Supreme Court agreed that diversity in higher education continues to be a compelling national interest, and worthy of race-conscious remedies.
The Mexican American Legal Defense and Educational Fund, MALDEF and the Puerto Rican Legal Defense and Edcucational Fund, PRLDEF, had filed supportive arguments in the case backing the consideration of race in admissions.
"Our nation's journey toward equal educational opportunity is an ongoing, arduous, and lengthy one that is far from over," said MALDEF's president and general counsel Thomas Saenz. On that journey, we should at the very least avoid going backwards ... Today's decision should deter further attempts to use the law to try to go backwards by challenging those policies, such as affirmative action, that move us forward in reaching our shared goal of equal educational opportunity."
Related: Think Millennials When You Think of Latinos? Think Younger.
The country's Latino population - which the latest Census Bureau data show numbers about 56.6 million – that once was fueled by immigration is now due in large part to births, a shift that has been happening for about a decade.
That has added up to a Latino population that is significantly younger than the general U.S. population.
About one third of the Latino population is younger than 18, according to Pew Research Center. With about one in four children in the U.S. being Latino, the persistence of the gap in enrollments and graduation from colleges and universities for Latinos is considered one that will be detrimental to the nation's future workforce and the prosperity of the community for years to come.
Writing for the minority, Justice Samuel Alito penned a lengthy 51-page dissent that he read from the bench, saying, "The university has still not identified with any degree of specificity the interests that its use of race and ethnicity is supposed to serve. This is affirmative action gone beserk."
The reach of the affirmative action case, known as Fisher v. Texas, is uncertain because it related to a specific Texas program, known as the Top Ten Percent Rule. The nearly two-decade-old law guarantees admission to publicly-funded universities to Texas high school graduates who finish in the top 10 percent of their class. To fill the remaining slots, the school considers several other factors, including an applicant's race.
The population in Texas is 39 percent Latino. The 10.8 million people living in the state makes the population the second largest in the country, behind California.
In the immigration case, justices reached the tie in the case that sought to throw out President Barack Obama's executive action that sought to protect as many as 5 million undocumented immigrants from being deported.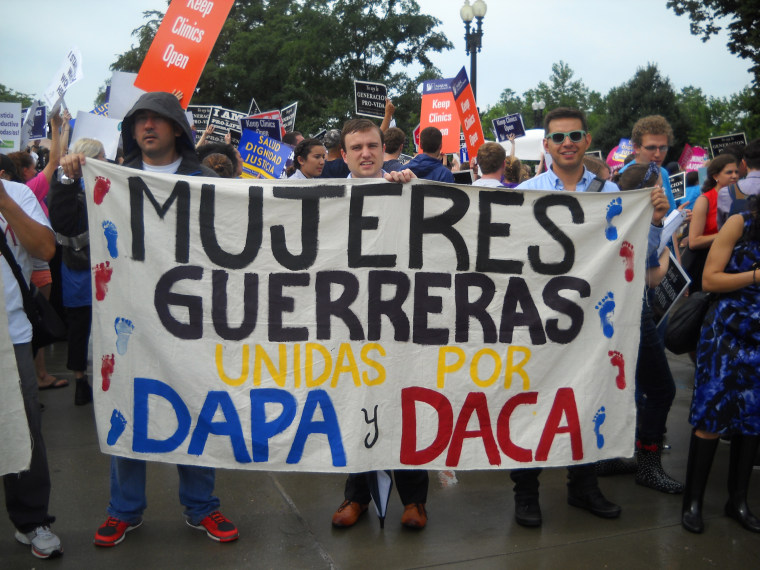 The Deferred Action for Parents of Americans and Lawful Permanent Residents, or DAPA, was implemented in 2014 by Obama who said he was frustrated by congressional inaction on immigration reform legislation. But a coalition of 26 states, led by Texas, successfully challenged the presidential order in court, and a Supreme Court tie means that the lower court ruling stands.
Immigration advocates who had been at the Supreme Court since dawn said they were shocked and disappointed, and several openly cried. Some spoke defiantly that this is "just the beginning," shouting "we will remember in November," and vowed to continue to fight for immigration reform.
RELATED: 'They Really Let Us Down': Latino Immigrants React to Supreme Court Decision
"This (decision) means that we can't give up. We will never give up! We're going to come back when there is a ninth justice on the court. It's a total shame. We may have lost the battle, but we will win the war," said Julieta Garibay, an immigrant from El Salvador. The DREAM Act was not challenged and therefore remains in place.
Additional reporting by NBC Latino's Suzanne Gamboa.