The Texas State Board of Education, in a preliminary, but key vote, unanimously rejected a highly-criticized Mexican-American studies textbook that contained numerous errors and material that many saw as racist.
The book, titled "Mexican American Heritage," was considered by the Texas State Board of Education for Mexican-American studies classes that the state recently allowed as elective courses. The board rejected the textbook 14-0 on Wednesday in Austin, Texas.
Since its submission, the book had been blasted for passages that painted Mexican Americans as undocumented immigrants and claimed that illegal immigration has "caused a number of economic and security problems in the United States," including "poverty, non-assimilation, drugs, crime, and exploitation." The book also said Mexican laborers "were not reared to put in a full day's work so vigorously" and that they had a culture of "mañana."
Related: Texas Textbook 'Dripping With Racism' Opposed at Hearing, Awaits Vote
Tony Díaz, a Houston-based educator, community activist and author who spearheaded the Librotraficante movement, said in an interview with NBC Latino that the preliminary vote typically projects the official vote, which is scheduled for Friday.
"Today is a very good day. We are very pleased with the results," Díaz said.
"The unanimous vote by the board today is an amazing victory for everyone who showed how inaccurate the book was," University of Texas at Austin professor Emilio Zamora told the Texas Tribune. He was on a committee that submitted a list of more than 140 corrections to the textbook, the Tribune reported.
The vote came after a hearing Wednesday that allowed members of the public to voice their concerns. Díaz said people came in from other parts of the state to participate.
"We are making history because we filled a bus with 50 people and drove from Houston to push for more culturally relevant books in our classrooms statewide," Díaz said before the hearing.
RELATED: Texas Latinos Mobilize Against Controversial Mexican-American Textbook
According to media reports, one board member, David Bradley, did not attend the meeting or vote.
Earlier emails he wrote and that were obtained by Texas Freedom Network showed Bradley hoped to deny the critics a victory. In one email he said, "A lack of a quorum on ... would be nice. Deny the Hispanics a record vote. The book still fails."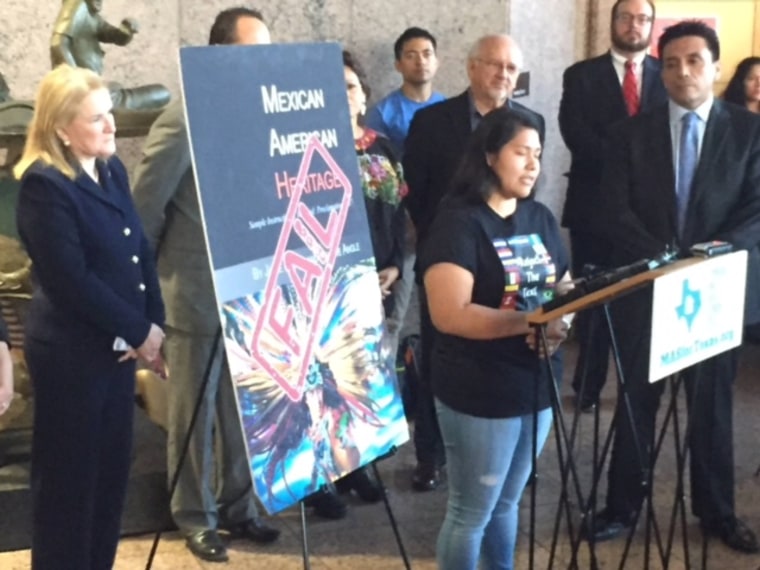 RELATED: UT-Austin Creates Major In Mexican American and Latino Studies
Díaz said the the authors of the book, Jaime Riddle and Valarie Angle, are not known in the field of Mexican-American studies. The publisher is a former Republican conservative member of the education board.
A final rejection of the textbook by the board on Friday will not prevent the publisher from selling the book to Texas public school districts, but the book won't be board approved or on the recommended textbook list.