Virginia Vasquez, 16, only started learning English five years ago when she and her family left Venezuela for a better life in the U.S.
Like generations of immigrant teens before her, Virginia has become a crucial lifeline for her family as she translates invoices and bills and other information for her Spanish-speaking parents, who left behind careers as an elementary school teacher and a horse trainer and now clean offices in the Tampa, Florida, area.
"In Venezuela, my parents had the jobs they wanted," Virginia says in the film. "They studied, they went to a university, they got their degrees. But here, you start over. ... They don't get English classes like I do. They are at work, doing everything they can for me and my brother."
She's one of three young immigrant teens — the others are Densel, 11, and Harye, 13 — featured in the short film "Translators," which has drawn wide praise for its moving depiction of their families' daily lives as they translate medical visits, parent-teacher conferences, emails and work instructions for their Spanish-speaking parents and younger siblings.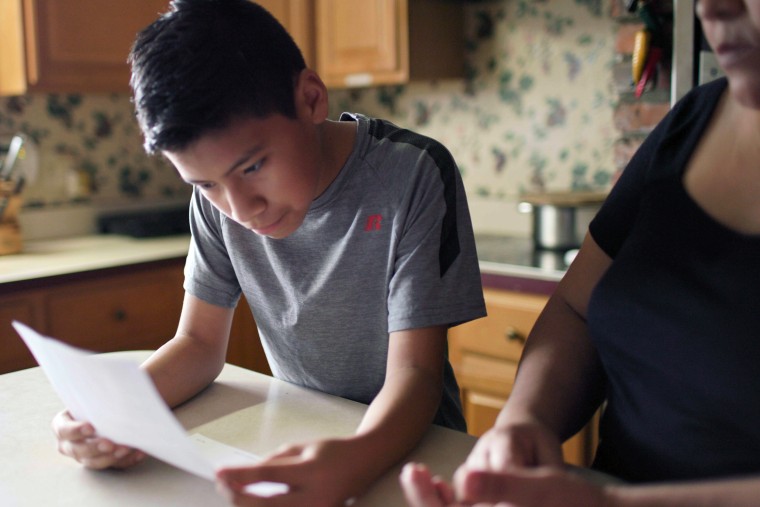 The 20-minute documentary has been shown at the Tribeca Film Festival after making its debut at the Los Angeles Latino International Film Festival in June; it's also available online.
Virginia said she's been changed by people's response to the film.
"At school, people have come up to me telling me their stories, saying they do the same exact thing. I see this with all languages, and people feel heard," Virginia told NBC News in an interview. "Many adults, not just kids, have spoken with me about the film, how they didn't realize until they watched the film, how hard and important this is."
The film was directed by Rudy Valdez, an Emmy-winner who grew up in Lansing, Michigan, where his Mexican American parents owned a small grocery store.
Though Valdez himself did not have to translate since his parents spoke English, he witnessed it all around him, recounting how his mom and dad would help translate for Spanish-speaking neighbors and customers, sometimes bringing Valdez along when they had to close the store to accompany someone who needed language assistance at a doctor's appointment, a school meeting or a courthouse.
"I would see firsthand what my mother was able to do, the access she was able to give strictly through language — it immediately brought me back to that," Valdez said, explaining what drew him to take on the project.
The film has received an outpouring of support from people around the country who share similar experiences as the film's three Latino families. Valdez said he was shocked at the response from the audience in L.A.
"After we had our first screening, we did a Q&A and when the house lights came on, just this long line of people started to join," Valdez said. "Person after person started coming up and saying, 'Thank you, I feel so heard, this is my story.' This has happened after every screening we've had." 
An estimated 11 million U.S. children translate for their parents, according to Valdez.
"As we started to talk to kids across the country about the story and why we were doing it, so many of them sat back and thought, 'Wow, what I'm doing is important,'" the director said. "They were for the first time realizing how important what they do is, since this is something they do in their everyday lives."  
The film has been praised for its touching details, such as when Densel, a serious student who excels at math, is translating for his mother recommendations from teachers on ways for him to improve his English. "You can help me by making sure I read 30 minutes each day," he tells his mom in Spanish, who had asked Densel to ask his teachers how she can help.
In another scene, Harye worries about translating medical instructions correctly before her younger sister's ear surgery. "No, my love, you won't make a mistake," her mom reassures her in Spanish.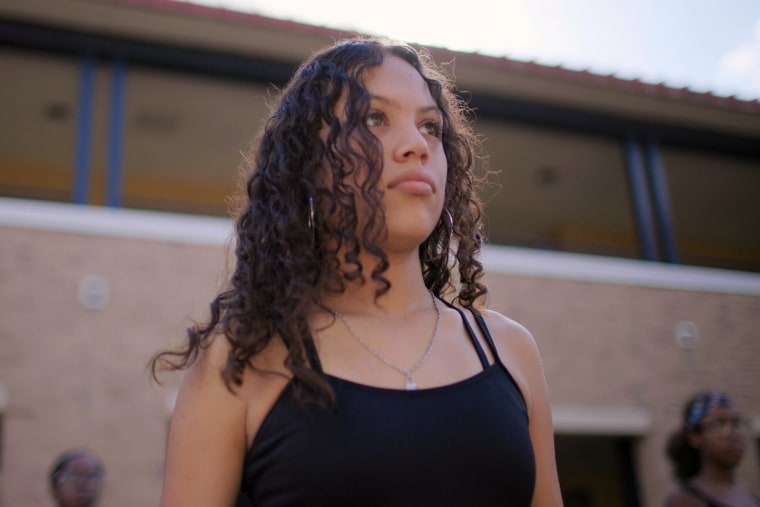 At the Tribeca Film Festival discussion, Valdez talked about how too few storylines on the immigrant and Latino experience revolve around joy and family and ordinary life. In the film, the teens and their parents share laughs and chat as they make dinner, look over emails and go on appointments.
"I try to tell human stories that are grounded and stories that make us all understand we can relate to each other's lives, even if it seems that we're very distant in where we come from," said Valdez.
The film was co-produced by U.S. Bank. Greg Cunningham, the company's chief diversity officer, said there's a recognition that language is access, as the bank looked at the experiences of customers who don't speak English as a first language. "The importance of telling this story became clear because of how common this experience truly is," he said via email.
"The reception to the film has been incredible," Cunningham said. "I think the biggest takeaway is that this is an American story, it's a human story and it's one that we should all be able to relate to."
Wendy Vasquez, Virginia's mother, was tearful as she told NBC News it was difficult to go from being independent to having to rely on her child.
"It hit hard when I had to make the decision to move to a different country with a completely different culture from mine," Vasquez said in Spanish. "With the language barrier, I have to slowly try and learn the language, but Virginia has been our backbone."
As for the future, Virginia said there are so many things she can't wait to do with all the opportunities she now has.
"I'd love to attend Florida State University and study criminal justice and psychology," the teen said. "I also am in a leadership club, which I love to do, because there are so many kids from different locations and backgrounds. I like social careers — helping people is what I like to do."
Virginia's mom said she has been clinging to words that have become especially meaningful.
"I knew this wasn't going to be easy, but I said one day, this is going to end," Wendy Vasquez said about the experience of migrating and starting over. "I started saying a slogan, which makes me emotional because I didn't know whether we would make it: 'Sin miedo al éxito, triunfando en America,'" she said.
It means: "Without fearing success, and triumphing in America."