Good morning, NBC News readers.
New Hampshire kicks off the first primary of the 2020 election, the coronavirus death toll in China hits a new high, and who will be the top dog at the Westminster Kennel Club dog show?
Here's what we're watching this Tuesday morning.
---
For Democrats, New Hampshire is make-or-break time
Iowa was a mess. Democrats are hoping New Hampshire will provide more clarity.
A number of once-leading candidates — like former Vice President Joe Biden — are teetering on the brink of oblivion. While others who have been struggling to gain traction, like Sen. Amy Klobuchar, D-Minn., may finally be gaining steam.
Here are five things to watch as voters cast the first primary votes in the Granite State.
And a refresher on how the New Hampshire primary actually works.
Meantime, President Donald Trump wasn't ready to concede center stage to the Democrats and held his own rally in New Hampshire night.
---
Coronavirus death toll tops 1,000 in China as nations race to contain outbreak
As the death toll from the coronavirus outbreak topped 1,000 in China Tuesday, President Xi Jinping vowed to win the "people's war" against the epidemic.
In a bid to boost morale, Xi, who had not been seen in public in recent days, visited a community health center in Beijing on Monday wearing a mask. He had his temperature taken and expressed thanks to health workers on behalf of the party and government.
Meanwhile, the mandatory 14-day quarantine will be lifted for the 195 American citizens and their families who were evacuated from Wuhan, China, the center of the outbreak. None of the passengers has tested positive for the virus.
Get the the latest updates on outbreak here.
---
China spent years collecting Americans' personal information. The U.S. just called it out.
When Attorney General William Barr announced Monday that the U.S. had charged four Chinese military hackers in the giant Equifax hack of 2017, he also confirmed something that cybersecurity experts had long suspected: China was also behind the hack of the information of 500 million Marriott hotel guests in 2018.
Barr also mentioned the hack of the Office of Personnel Management in 2015, another major breach that included sensitive information from about 21.5 million Americans who had done work for the federal government.
In doing so, Barr publicly confirmed that China has been collecting troves of personal data on U.S. citizens for years.
And in a new report released Monday, U.S. counterintelligence warned of the ongoing threat from foreign hackers who want to "undermine confidence in our democratic institutions and processes" and "sow divisions in our society."
---
How moms are quietly passing gun safety policy through school boards
In the face of inaction by Congress, parent activists have found success in a new approach to convincing people to lock up their guns at home.
Their strategy? Push school boards to send information about safe firearm storage directly to parents.
Experts say that if it works, simply locking up guns that people already own could prevent a majority of school shootings.
"This is a really good example of something a school can do without needing any act of Congress," said one criminal justice expert.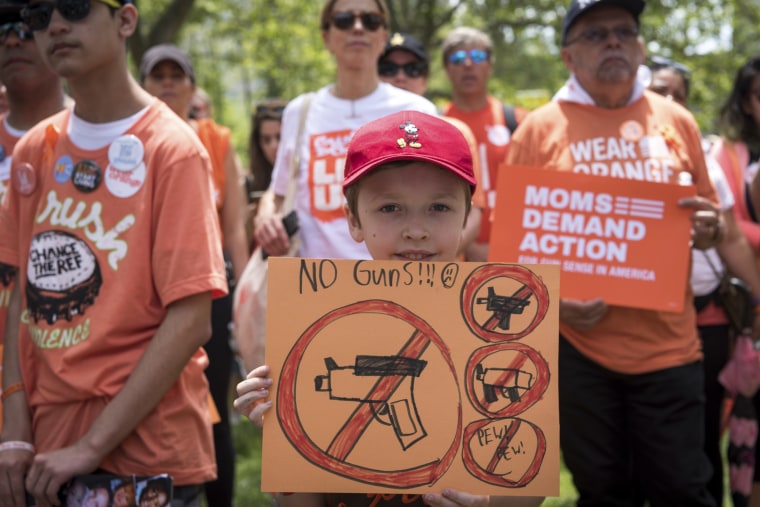 ---
Want to receive the Morning Rundown in your inbox? Sign up here.
---
Plus
---
THINK about it
Evelyn Yang's courage shines a light on how hospitals silence victims of sexual assault, Dr. Esther Choo and Dr. Reshma Jagsi write in an opinion piece.
---
Shopping
How to listen to audiobooks: A beginner's guide.
---
One fun thing
The country's top dogs are getting primped and pampered ahead of the annual Westminster Kennel Club dog show's final showdown tonight.
See how pooches prep for the "Best in Show" competition.
---
Thanks for reading the Morning Rundown.
If you have any comments — likes, dislikes — drop me an email at: petra@nbcuni.com
If you'd like to receive this newsletter in your inbox Monday to Friday, please sign up here.
Thanks, Petra