Good morning, NBC News readers.
It turns out Secretary of State Mike Pompeo was on President Donald Trump's now famous July phone call with Ukraine's leader. Violent protests in Hong Kong spoiled China's big birthday bash. And could a new bill in California change college sports as we know it?
Here's what we're watching this Tuesday morning.
---
Trump pressed Australian leader to help 'investigate the investigators'
President Donald Trump asked the Australian prime minister during a recent phone call to help Attorney General Barr gather information for his investigation into the origins of former special counsel Robert Mueller's Russia investigation.
In May, Barr appointed John Durham, the U.S. attorney in Connecticut, to lead an inquiry into whether the FBI's investigation into the 2016 Trump campaign was properly predicated.
An administration official described Trump's call with Australia's Prime Minister Scott Morrison as a routine conversation that occurs when a head of state seeks the assistance of another country's law enforcement agencies.
The Justice Department spokesperson said Barr asked Trump to make the call to seek Australia's help.
It raises additional questions about Barr's relationship with Trump since the Justice Department has long maintained its independence from the presidency.
The news of the call also comes on the heels of the White House release of notes on the July 25 phone call between Trump and Ukraine's President Volodymyr Zelenskiy and the related whistleblower complaint, both of which are now at the center of House Democrats' impeachment inquiry.
---
Pompeo was on the Trump-Ukraine call
Secretary of State Mike Pompeo was on the July phone call where Trump asked his Ukrainian counterpart to investigate Joe Biden and his son, a senior State Department official told NBC News.
It's not unusual for the nation's top diplomat to be part of a president's conversation with a foreign leader, but Pompeo has not acknowledged his involvement in the July 25 exchange. He has dodged questions about it and about the complaint.
The House Foreign Affairs Committee subpoenaed Pompeo last week, demanding that he turn over documents related to the call.
In related news, the House Intelligence Committee subpoenaed Trump's personal lawyer Rudy Giuliani for Ukraine-related documents as part of the impeachment inquiry.
Meantime, Russia has made it clear that we won't be reading the transcripts of any of Trump's calls with President Vladimir Putin anytime soon.
The Kremlin said Monday that transcripts of conversations between Trump and Putin can only be published by mutual agreement.
---
Violent clashes in Hong Kong mar Chinese Communist Party 70th anniversary celebrations
Police in Hong Kong fired tear gas into crowds and demonstrators set fires across the city on Tuesday, overshadowing the Chinese Communist Party's 70th anniversary celebrations in Beijing.
Black-clad protesters urged the Chinese government to "return power to the people" as the police force shared images of burned and bleeding officers who they say were hit by "corrosive fluid."
City streets were turned into a battleground as security forces fired tear gas and water cannon at the crowds of protesters hurling bricks and Molotov cocktails. Police confirmed with NBC News that they had fired live ammunition during the protests.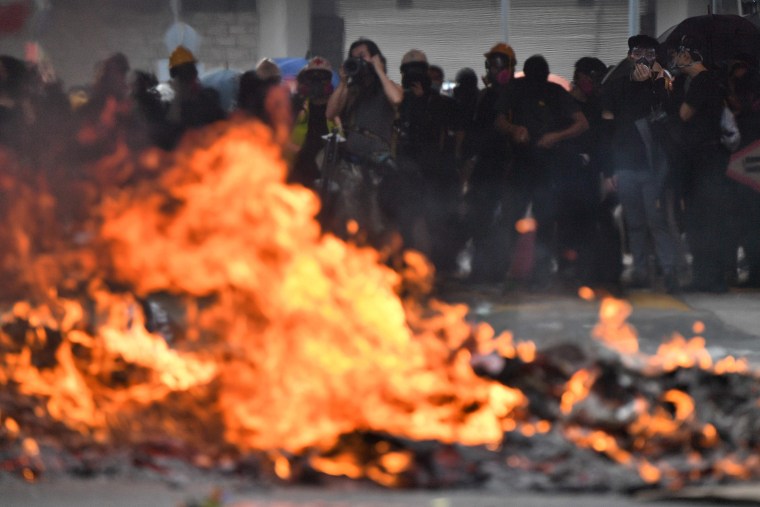 ---
California's college sports pay law could change NCAA as we know it
The National Collegiate Athletic Association, or NCAA, has been plunged into what sports law experts say is its worst crisis in over a century after California Gov. Gavin Newsom signed a first-in-the-nation bill Monday that clears the way for college players to be paid from endorsement deals.
The NCAA has always insisted that college athletes are amateurs who shouldn't profit financially from their talents.
Newsom called the forced amateurism of student-athletes "a bankrupt model" as he signed the bill.
But critics of the new bill say it is "the single biggest threat the NCAA has faced, maybe, in its history."
---
Want to receive the Morning Rundown in your inbox? Sign up here.
---
Plus
---
THINK about it
White House lawyers covered for Trump. America deserves to know their names, Leah Litman, assistant professor of law at the University of Michigan Law School, writes in an opinion piece.
---
Science + Tech = MACH
An ancient ape fossil yields surprising new insights about human evolution.
---
Live BETTER
How do I get my kids to exercise more?
---
One fun thing
Ukraine's President Zelenskiy may be a central character of the U.S. impeachment scandal, but this week the former comedian was back in his comfort zone as he met American actor Tom Cruise.
In a statement issued Tuesday, the president's press office said Cruise, who arrived in Kyiv on Zelenskiy's invitation, was interested in filming one of his new movies in the country.
"I am happy that Ukraine is starting to attract world-class stars," the president said on his Facebook page next to a photo with a smiling Cruise.
---
Thanks for reading the Morning Rundown.
If you have any comments — likes, dislikes — drop me an email at: petra@nbcuni.com
If you'd like to receive this newsletter in your inbox Monday to Friday, please sign up here.
Thanks, Petra