Good morning, NBC News readers.
As the death toll from coronavirus in the United States nears 10,000, a new report from an internal government watchdog confirms what media reports have been saying for weeks: America's hospitals are incredibly ill-prepared for the pandemic.
Here's what we're watching this Monday morning.
---
Government watchdog: Hospitals say staffs at risk due to gear shortages
Hospitals across the country face dire shortages of vital medical equipment amid the coronavirus outbreak — including testing kits and thermometers — and fear they can't ensure the safety of health care workers needed to treat patients with COVID-19, according to an internal government watchdog report released Monday.
The alarming findings, based on interviews conducted from March 23 to March 27, represent the first government assessment of how the country's hospitals are coping with the outbreak and confirm previous media reports and warnings from health workers that the medical system is under unprecedented strain.
Hospital administrators also said conflicting guidance from federal, state and local governments on how to use personal protective gear and other issues has led to "a greater sense of confusion, fear and distrust among staff that they can rely on hospital procedures to protect them," according to the report from the inspector general for the Department of Health and Human Services, or HHS, based on interviews with administrators from 324 hospitals and hospital networks of varying sizes.
The new report comes as the U.S. death toll from COVID-19 nears 10,000, and the country's top medical officials warn the worst is yet to come.
Here are some of the latest developments:
---
Falling through the cracks: Many Americans won't get coronavirus checks
For millions of Americans awaiting coronavirus cash, help is not on the way.
Although the $2 trillion stimulus bill passed last month includes payments of up to $1,200 for everyone who makes less than the limit, many Americans will fall through the cracks.
The list includes most college kids, immigrants without Social Security numbers and some disabled adults.
---
'Awful and beautiful': Saying goodbye to coronavirus victims without a funeral
Saying goodbye to a loved one is a ritual that transcends social and cultural differences. Even in secular societies, survivors participate in some combination of prayer and remembrance to honor the departed.
These traditions are being upended as governments across the globe impose strict social distancing orders, forcing people to find new ways to grieve.
For one recent funeral, mourners created a Zoom video chat room, but they described it as feeling both overwhelming and incomplete.
"It felt very strange and alienating to be bearing witness as a small square on a screen," said one mourner.
Meantime, crisis hotline counselors are reporting a surge in calls during a time that's challenging for them, too.
"Suddenly our counselors are experiencing some of the same crises that callers and chat visitors are," said the head of one mental health services hotline.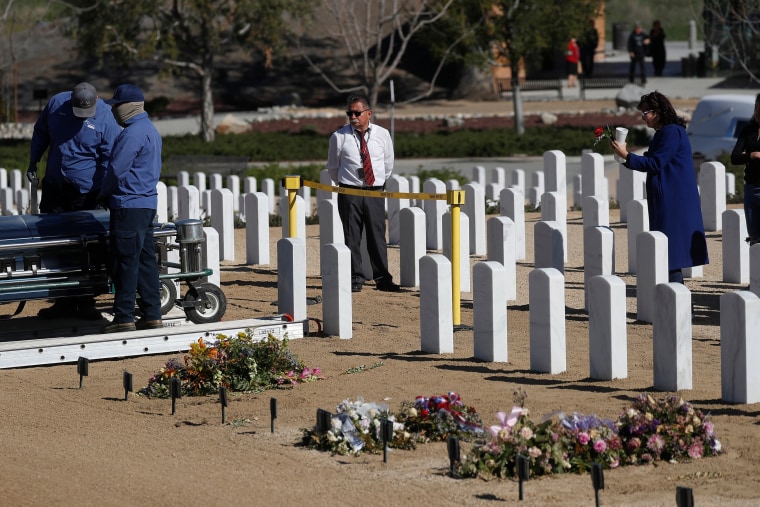 ---
Analysis: Two months in, Trump's coronavirus response creates more chaos
More than two months into what President Donald Trump calls a "war" against COVID-19, his administration's efforts to combat the deadly disease, along with its disastrous effects on the U.S. economy, are often creating more problems than they solve, NBC News' Jonathan Allen writes in a news analysis.
Bidding wars for lifesaving equipment, a power struggle between Trump's son-in-law and the vice president, political gamesmanship, the centralization of authority and decentralization of accountability, and the creation of new government programs while standing bureaucracies are ignored have all contributed to chaos within the political, economic and health care systems.
Allen's analysis, based on more than a dozen interviews NBC News conducted in recent days with people involved in various aspects of the crisis, adds up to a sense that no one is really in charge in the midst of the most daunting crisis the nation has faced in generations.
---
Want to receive the Morning Rundown in your inbox? Sign up here.
---
Plus
The inspector general fired by Trump defended his handling of a whistleblower complaint that led to Trump's impeachment.
We haven't seen the last of "Tiger King." Netflix is releasing an extra episode next week, according to zoo owner Jeff Lowe from the show.
Porch portraits: In a sign of the times, families pose for photos at a safe distance during the pandemic.
---
THINK about it
Jared Kushner's shadowy coronavirus task force reveals thetrue danger of nepotism, Jordan Libowitz, communications director for Citizens for Responsibility and Ethics in Washington, writes in an opinion piece.
---
Live BETTER
Making bread at home for the first time? Here's what you need to know.
---
Quote of the day
"So just buckle down, continue to mitigate, continue to do the physical separation, because we've got to get through this week that's coming up, because it is going to be a bad week."
— Dr. Anthony Fauci, the nation's top infectious diseases expert, on Sunday.
---
One fun thing
As part of her new web series "Goodnight with Dolly," legendary musician Dolly Parton is reading bedtime stories to kids stuck at home during the pandemic.
It's the latest chapter for her "Imagination Library," a program started in 1995 that mails free books to kids each month. To date, the organization has mailed over 133 million books to kids all over the world, earning Parton the nickname, "the book lady."
---
Thanks for reading the Morning Rundown.
I hope you were able to get a little bit of rest over the weekend as we dive into what will likely be another tough week.
If you have any questions or comments about the Morning Rundown, please email me at: petra@nbcuni.com
And if you'd like to receive the Rundown in your inbox Monday to Friday, please sign-up here.
Be safe and stay healthy, Petra Cahill