When most black men see themselves portrayed in the media today, it is often in the form of a mugshot or a hashtag.
These dominant and pervasive images provoke an inescapable infection on the nation's psyche; an imprint that distills the identity of black men to nothing more than "dangerous" and "uneducated."
With that in mind, a hundred black men in Hartford, Connecticut decided to reform this perception by pushing forward a new image — not only for themselves, but for the younger generation to follow.
On August 25, a group of black men organized by Pastor AJ Johnson and Attorney DeVaughn Ward dressed for work and anxiously awaited the arrival of students at Martin Luther King Elementary School on their first day.
Among the men present were lawyers, judges, CEOs, dentists and doctors; a sea of suits, with a few men in scrubs and police uniforms.
Johnson donned a navy blue suit, pink shirt with navy and pink bow tie, while Ward rocked a monochromatic palate: a navy suit and light blue shirt with dark blue tie.
Growing up, Johnson said his mother instilled in him the importance of looking his best. Like so many other mothers of black youth, Johnson's mother told him that he would be judged by his appearance.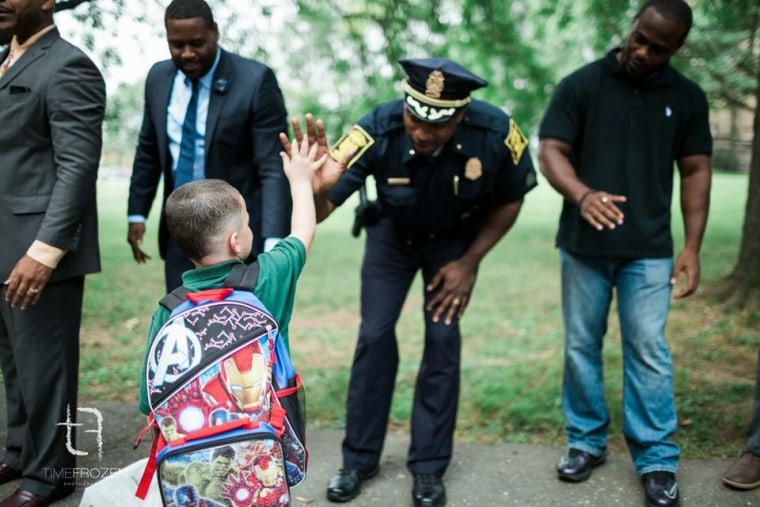 For Ward, it was important for the students to see the men in their professional attire. "We wanted the youth to see us as professionals in whatever capacity that's in," Ward said. "We wanted to give them something to aspire to."
That morning, students at MLK Elementary and other community schools in Hartford received a hearty welcome from these black male professionals.
"We cheered like it was the Superbowl game," Johnson gushed.
Ward said the highlight was seeing "the twinkle in their eyes and the smiles on their faces."
The parents, too, were overjoyed. Johnson told A Plus that one of the mothers had tears in her eyes after dropping her daughter off.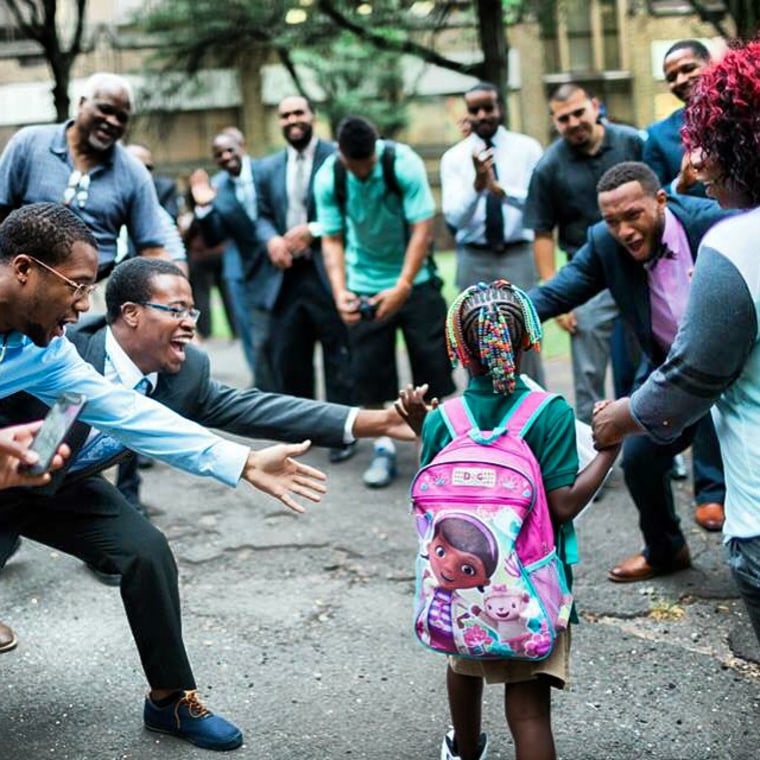 MLK Elementary is located in what most locals deems as the poorest zip code in the state and what most local media refer to as the most deadly city in the region of New England.
Earlier this week, the city had its 24th homicide of the year with the death of 32-year-old Desmond Wright.
In light of the recent events to shake the neighborhood, the city is in desperate need of hope to uplift its residents, especially its younger ones.
"We can't wait for somebody to come and help us. Nobody is going to ride in on a white horse to change the hood. We have to do it."
"All these kids see is homicide after homicide," Johnson, who is a community organizer and pastor at Urban Hope Refuge Church, said. "These kids need to see something a little better than what they're getting. At that school that morning, these kids got the opportunity to see what the rest of their lives can be — not on TV, not on the Internet, but right there in front of them."
While the image of a hundred black professional men seems bizarre or out of place, Ward says this is their normal. In fact, a lot of the men at MLK Elementary's first day are already friends, often getting together to play fantasy football or other activities.
"We do see each other on a regular basis," Ward said. "Maybe the media doesn't see us, but we see each other."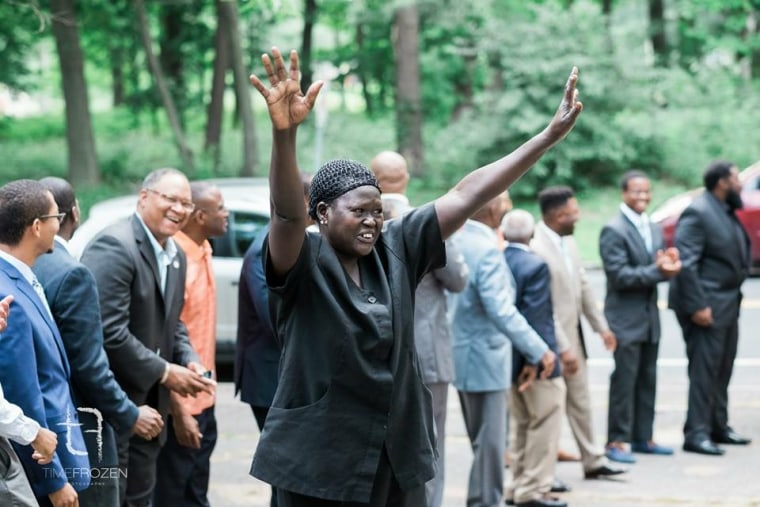 While the first day of school is over for these students, Ward and Johnson insist that they are not finished. They are discussing ways they can continue to be involved in the children's lives through mentorship and other leadership initiatives.
Johnson said he is pleased in the ripple effect that these positive images are having in other communities because the community has to produce their own change agents.
"I hope it sparks something within us to take our own community back," he said.
"We can't wait for somebody to come and help us. Nobody is going to ride in on a white horse to change the hood. We have to do it."