For almost 30 years, Cedric The Entertainer's talents have led him to having one of the most fulfilling careers on the big screen and in television. You name it, he's done it: From making the rounds at "Def Comedy Jam" and "Showtime at the Apollo" to playing in Box Office hits like "Johnson Family Vacation" and hosting last season of "Who Wants to Be a Millionaire", Cedric's comedic stylings have lit up every screen imaginable.
This Wednesday Cedric wraps up Season 4 of "The Soul Man," his TV sitcom series on TV Land. The original King of Comedy is also gearing up for The Black & Brown Comedy Get Down, a star studded exclusive comedy tour alongside fellow vets George Lopez, Mike Epps, Eddie Griffin, D.L. Hughley and Charlie Murphy. Cedric recently gave NBCBLK the scoop on current and upcoming projects in between breaks on the set of "Barbershop 3" in Atlanta.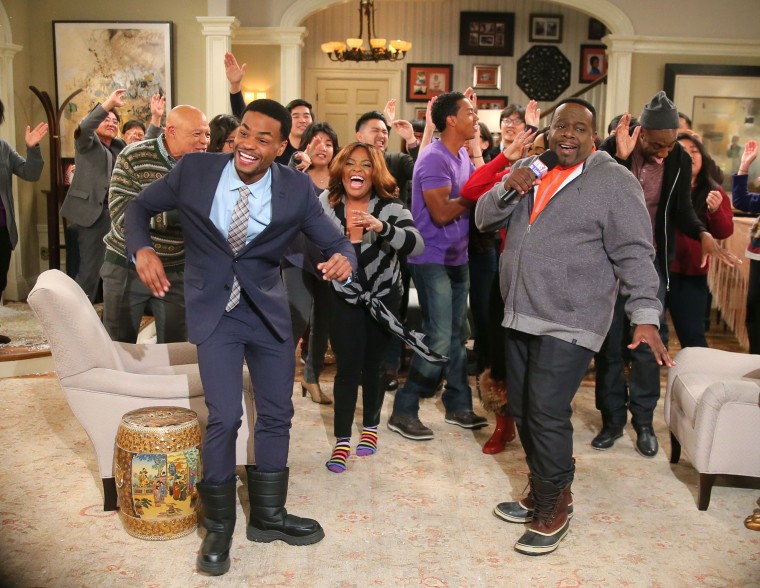 Congrats on the success on "The Soul Man"! We'll all be tuning into the season finale this Wednesday on TV Land at 10:30P. You and Niecy Nash have great chemistry and are a match made in heaven. How has your experience been working with her?
Cedric: She is a phenomenal actress and it was great comedic timing. When I was scoping out different actresses for the role to play my wife, I wanted someone that embodied comedic talent and someone that I can put an abundance of trust in to elevate to certain levels because this is a show about transitioning--where folks were one thing and now they have to be something else. We did a small scene in "Code Name: The Cleaner" and I remembered that.
While the casting process was beginning, I remember thinking that Niecy has that personality. She's that actress that you don't really see a whole lot of, but she's funny as hell and most importantly, she can deliver. Coincidentally enough, it just so happened that the plot aligned with her real life. She was married to an R&B singer turned Pastor so she knew this world pretty well and was able to [draw] from her experiences.
As an Executive Producer, did you have to take a sensitive approach in developing a storyline with that being a touchy topic of conversation in the church community?
Cedric: We approached it a couple of different ways. We didn't want to offend real church people, yet we wanted to be able to tell the truth of a person who's evolved and wants to do something else. We did get a lot of backlash with Niecy Nash's character, Lolli, because I was the one who got the calling from God, but she didn't. They pointed out the way she dressed a certain way, they said that she didn't act the typical churchy-like first lady. We did an episode with the supporting premise around of her trying to prove to her college friends, The Chocolate Sisters that she can still hang and keep up with them as they all did in college.
Since season 1, you've had an eclectic group of guest stars appear on the show. We've seen everyone from Tamar Braxton, Anthony Anderson to Cee-Lo Green and David Alan Grier. Who did you have the most fun with?
Cedric: What's most interesting is that this particular season we added Sherri Shepherd on. She came in and did 10 episodes as a recurring character. I was most surprised by her impact on the show. She plays our cousin who has been facilitating the finances of the church. We ended up having some really fun episodes and it was a space where she had to grow because she was used to the routine of doing daytime television. And the fact that we got to have the chance of build upon characters while developing and stretching the show was really great.
You're on set filming "Barbershop 3" as we speak. What can we expect?
Cedric: The core of this film is about all the violence that's transpiring in Chicago and how it distracts our young people from prospering to their greatest potential. As we know from the previous installments, "Calvin", Ice Cube's character, is a hard-working man and does a lot for his community. Calvin's son is now coming of age and unfortunately he's being lured into the streets. He's missing school, hanging out with the wrong crowd, getting into fights and ultimately not taking care of his responsibilities as a young adult. The people of the shop are forced to come to together and influence a positive perspective. Often as we as adults allow the youth to run free and do they please instead of willingly engaging ourselves with them and teaching by example. It's that kind of conversation and it's a message that needs to be heard. That's the backdrop of the film for the most part.
Are all the actors from the original cast back this time around?
Cedric: Yes, Ice Cube is back. The whole gang is back except for Michael Ealy and Queen Latifah. She was in "Barbershop 2." But we added Common, Nicki Minaj and Regina Hall. It's a great balance and dynamic.
You went from starring in "Barbershop" to now having Cedric's "Barber Battle" on The CW. That's not too far of a stretch.
Cedric: Of course with my association with "Barbershop", it was destined to happen (laughs). I started developing with my partner Mark Efman. Whenever you go to the barber, you always hear them playfully arguing, "I'm the best, nobody can cut like I can." There always a subtle friendly competition amongst barbers and it's quite entertaining to witness them talking trash and challenge each other. So we decided to capture the essence of barbershops in cities like Los Angeles, Queens, Harlem and Austin. It's a natural space where each week in every barbershop goes head to head in creating unique hair designs. Each week I give away $15,000 to a winner and they receive a huge prize package. It's a great show and I'm ecstatic that the CW believed in the same vision I did.