WASHINGTON — As a teenager in 1963, Ann Breedlove rode in a caravan of buses and cars from Albany, Georgia, to the March on Washington. It took more than a day, she said, but the journey proved to be pivotal. 
It was then that she learned of the power of fighting for justice, a cause she has taken up for the last six decades.
On Saturday, Breedlove was back in the shadow of the Lincoln Memorial for the 60th anniversary of the March on Washington. Her feelings about being there were mixed.
"I see many little children and young people walking around here, and they will remember this day as a day that they were present for something that mattered," said Breedlove, who lives in Atlanta. "That's what it was like for me. I wasn't into social justice as a teenager. But coming to the march changed me. And that's what this can do for these children here."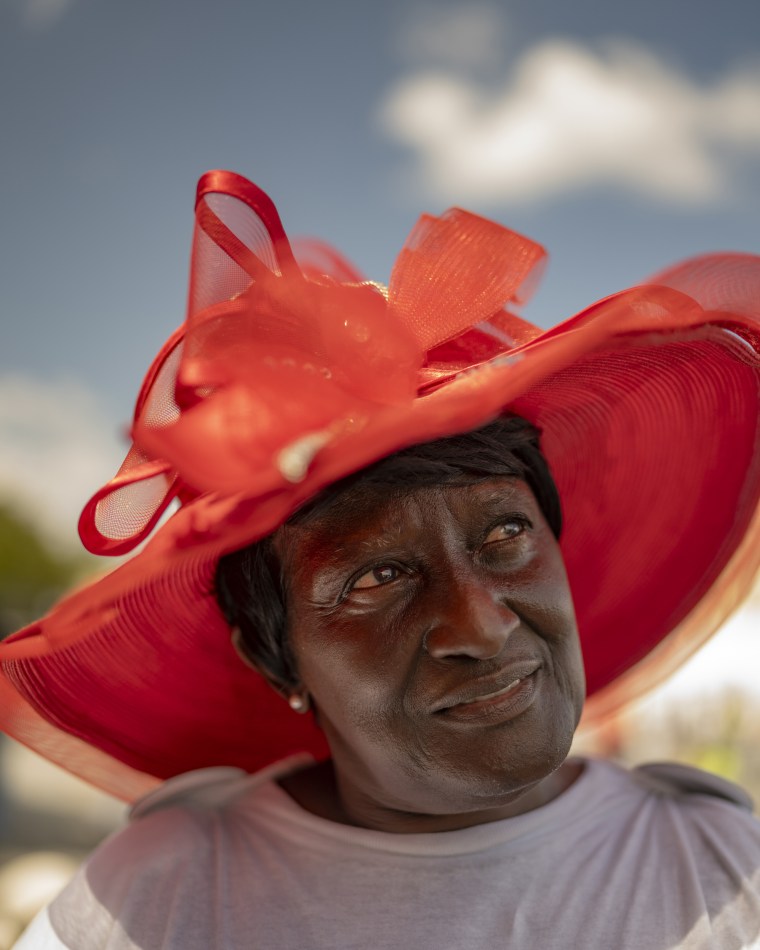 The parade of dozens of speakers addressed many of the same concerns of the Aug. 28, 1963, March on Washington for Jobs and Freedom, speaking about the progress yet to be made. The emphasis then was multipronged: end segregation, strengthen voting rights, improve public education, ensure fair wages and civil rights. It was a watershed moment in the Civil Rights Movement, marked by the Rev. Martin Luther King Jr.'s "I Have a Dream" speech, the most famous of the dynamic orator's addresses. 
Saturday was billed as a "continuation, not a commemoration," hosted by a number of organizations, including the Rev. Al Sharpton's National Action Network and the Drum Major Institute, which is modeled after King's principles. The speakers addressed some of the same issues, along with the added concerns over Black history's being scrubbed from K-12 education, the chipping away of abortion access, the Supreme Court's abolishing race-conscious college admissions and reversals on LGBTQ rights. (Sharpton is the host of MSNBC's "PoliticsNation.")
"It's a shift, a change that has taken place," Breedlove said. "It's too bad we are still talking about these issues. But our leaders and Black people are speaking louder. We're tired — sick and tired — of asking for justice. It's time to fight back. I'm a great-grandmother who remembers the Ku Klux Klan raiding our house and us having to get under the bed when they came on their horses. Today is different. That's not happening. But we still are getting it in different ways." 
"Our voices are going to be louder than the politicians," she added, "who are not doing what they need to do to help us."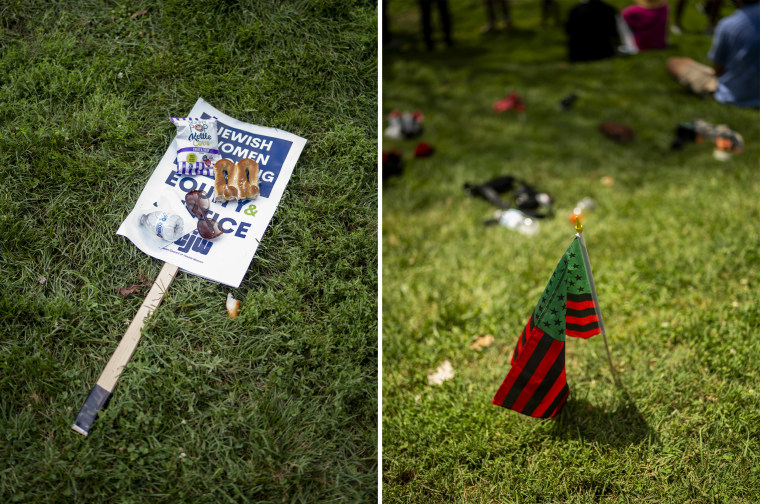 Sharpton, the rambunctious minister who has been a civil rights leader for decades, ended the four-hour event under a pale blue sky mixed with billowy clouds in typical Sharpton fashion: With the vigor of a pastor. 
"Today was a day to show our strength — thousands of you, 60 years later, are here to say that we are the continuation of a movement," he said. 
"Sixty years ago, Martin Luther King talked about a dream. Sixty years later, we're dreamers. The problem is we're facing the schemers," he said, invoking Donald Trump. "The dreamers are fighting for voting rights. The schemers are changing border regulations. The dreamers are standing up for a woman's right to choose. The schemers are arguing whether they will make you stop at six weeks or 50 weeks.
"The dreamers are saying that if you're LGBTQ or trans, you have a right to your life. The schemers are saying we're going to make you look like you're something that should not be tolerated in human society ... The schemers are being booked in Atlanta, Georgia, in the Fulton County jail. The dreamers will win. The dreamers will march. The dreamers will stand up. Black, white, Jewish, LGBTQ. We are the dreamers. We are the children of the dream."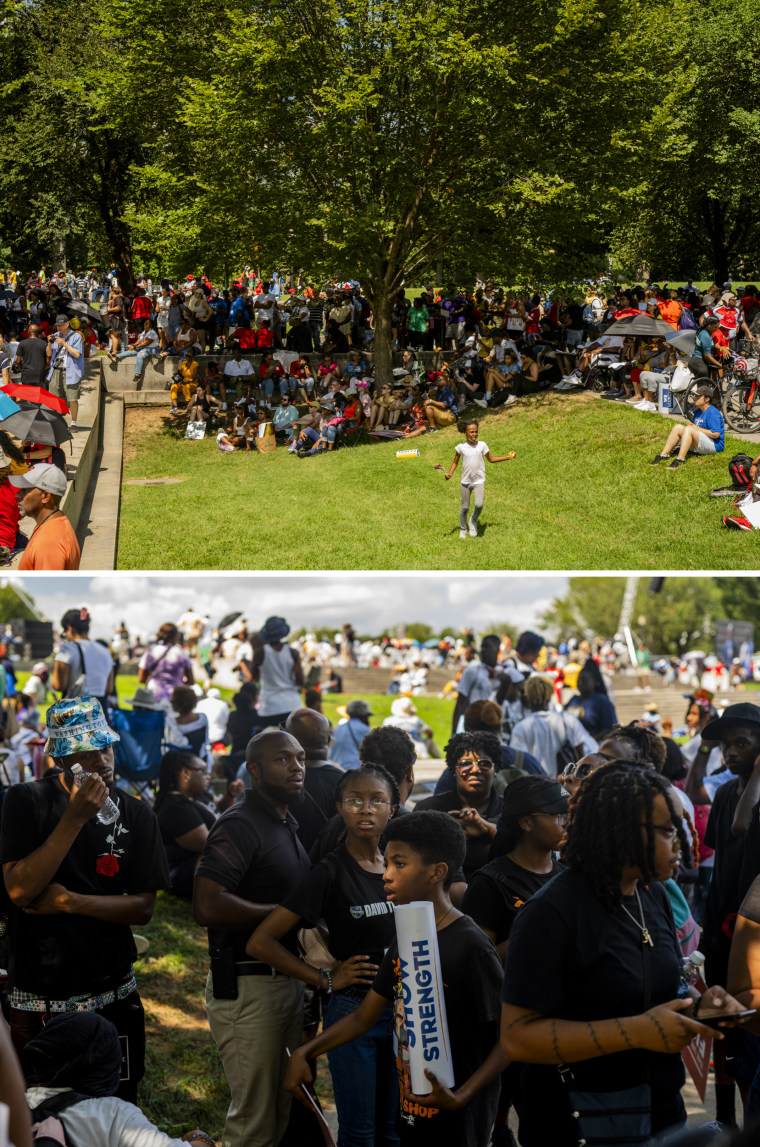 Sharpton, Martin Luther King III and others then led supporters on a march in the 90-degree heat from the Lincoln Memorial to the King Memorial. For Karim Martin, 18, of Cleveland, the march was an affirmation. 
"I came here because I see racism in my school, in my city, on the news," Martin said. "The one thing I learned is that what I'm going through is not just where I live. There are the same problems all over the country. This can't be all right. We all have to do something. Plus, it's pretty cool to be where Martin Luther King was. It's inspiring." 
Jon Rather, a government worker near Fort Worth, Texas, said he came with anger but left feeling hopeful. "We are still talking about the same stuff from 60 years ago," said Rather, 53. "That's crazy. It's disappointing. After all this time, after a Black president, after so much progress, we still have to get together and talk about voter suppression and our history being taught in schools? About police brutality?"
But he said the speech by Andrew Young, the civil rights figure and former U.N. ambassador, which partly centered on focusing on the progress over the concerns, settled him.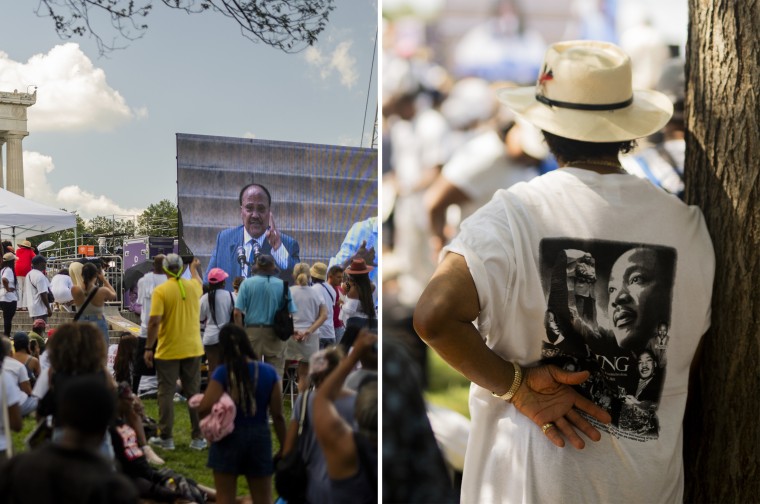 "I respect the man so much," Rather said. "So I let go of my frustration, and I feel better. Being around people who care — you have to care to come to D.C. for this — is uplifting."
King projected on what his iconic father would think about the plight of today's Black people.
"Dad would probably say, 'Now is the time,'" King said. "We must preserve, protect and expand democracy. We must ensure the voting rights are protected for all. We must ensure that our women and children are treated fairly. ... Then maybe one day we will be a great nation. We are not certified greatness right now."
Around the Reflecting Pool, which was packed with marchers in 1963, there was much space for Terrence Young and his wife, Sandra, to stretch out with folding chairs. They drove to Washington from central New Jersey as "a sort of symbolic gesture to support," said Terrance Young, 43. 
"If you want change, you have to support change," he said. "It makes no sense to not attend. So much is happening to us; so much is not happening for us. Just think about it: 60 years ago, this place was packed with people fighting for basic rights. And we are still fighting for basic rights like voting and abortion and education. It's hard to not be disappointed as a Black person or a caring person."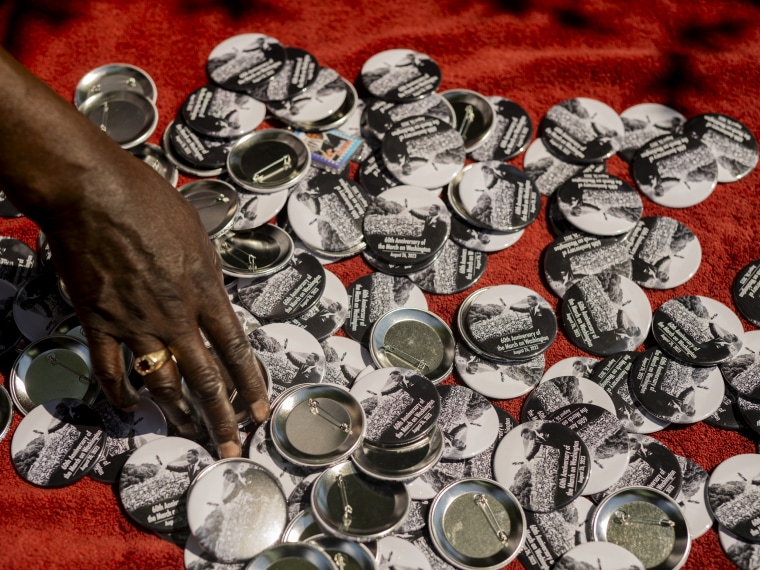 The crowd was mixed with various generations, races and sexual preferences, braving 90-degree heat. "I'm glad to see that," said Sanderia Archie, a transgender woman from Chicago. She held a sign that read, "Trans Power."
 "We are all fighting, still, for our rights under the law," Archie said. "This is like 1963, but different. There are even more causes to address."