Black Women Bear the Burdens of Incarceration for their Families
Not only does incarceration break families apart, but it also inhibits their ability to meet their basic needs, a burden that often falls on Black women, according to a report released today.
"Who Pays? The True Cost of Incarceration on Families," a collaborative research effort by Forward Together, Ella Baker Center, Research Action Design and 20 community-organizations, found that 1 in 2 Black women are related to someone behind bars and that fact comes with huge financial, emotional, and physical costs.
"This study confirms what society has ignored for too long — that already vulnerable families and the women who sustain them are being plummeted into greater poverty, stress, and strain when their loved ones are incarcerated," said Alicia Walters, Movement Building Director at Forward Together, in a press release by the organization. "Decades of bad policy have torn families apart, typically leaving mothers to make up the difference and bear the brunt of these costs."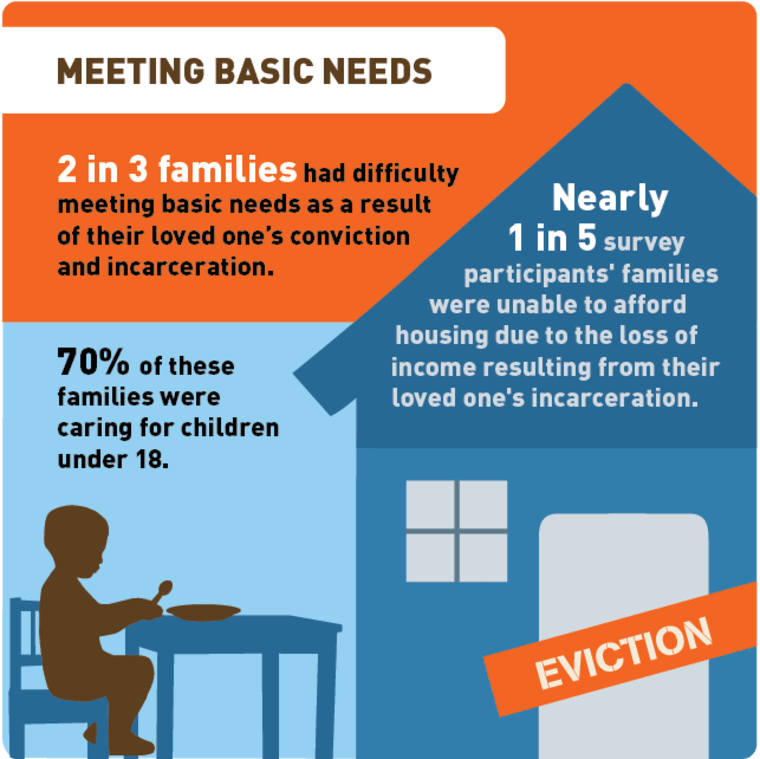 Some key research findings from the report include:
Family members of the incarcerated are bogged down by fines and debt. Of the 63 percent of family members who were solely responsible for an inmate's court costs associated with conviction, 83 percent of them were women.
Incarceration damages familial relationships due to the high cost of maintaining contact: 1 in 3 of the surveyed families is in debt because of the visits and phone calls.
1 in 2 family members experienced negative mental and physical health impacts, including PTSD and depression. These impacts hit women of color and their families hardest.
Incarceration in poverty stricken neighborhoods perpetuates cycles of trauma and poverty that keep families and communities from thriving.
Shamika Wilson knows many of these issues all too well. Her husband is serving a life sentence in a San Diego prison after recently being transferred from a prison much closer to home. The facility doesn't allow for overnight family visits.
"Financially it's hard all around. Before, he was no more than an hour or two away from home, but now it can be close to a ten hour drive at times," said Wilson. "It can cost over $1,000 to go see him. This is about cycles and these cycles are going to continue. They don't think he needs time with his kids to teach them not to go down the same path he did? Their regulations keep families apart."
Wilson also suffers from diagnosed depression due to the stress. She said the situation is taking a toll on the entire family.
"It affects my kids because they wake up crying asking for their dad. 15 minutes [on the phone] is not enough time to read them a bed time story or see how their school day went. We have to decide between things like using $50 dollars for a [pre-paid phone card] or saving it so that we can eventually go visit him," Wilson explained.
The foundations involved in the report are advocating for policy changes to help families like Wilson's, recommending changes such as: restructuring sentences to focus more on accountability and safety instead of punishment, removing barriers so people with past convictions can still obtain economic opportunities and housing upon release, and providing assets like job training and subsidized employment services.
Azadeh Zohrabi, National Campaigner at the Ella Baker Center for Human Rights said in a press release that "shrinking the criminal justice system through sentencing reforms is not enough."
Read the full ""Who Pays? The True Cost of Incarceration on Families" report here.