The resentment that black social justice activists have been feeling towards Bill and Hillary Clinton's 1994 crime bill reached its apex at a Philadelphia campaign rally Thursday in which Bill Clinton was heckled and faced down signs like "CLINTON Crime Bill Destroyed Our Communities."
In February, Michelle Alexander, law professor and author of "The New Jim Crow: Mass Incarceration in the Age of Colorblindness" penned an essay titled, "Hillary Clinton doesn't deserve the Black vote."
The Violent Crime Control and Law Enforcement Act of 1994 contained an expansion of the federal death penalty to include drug offenses, the "Three Strikes, You're Out" rule, and billions in funding for police, prisons, and states that made it harder for people to get parole (though Mr. Clinton neglected to mention this when he mentioned that most prisoners are incarcerated by the state).
But if Bill and Hillary Clinton were the pot, black politicians, activists, and pastors were the kettle. Their support of punitive measures actually paved the way for Clinton. It began with the man Ebony Magazine called the "front-line general in the war on drugs."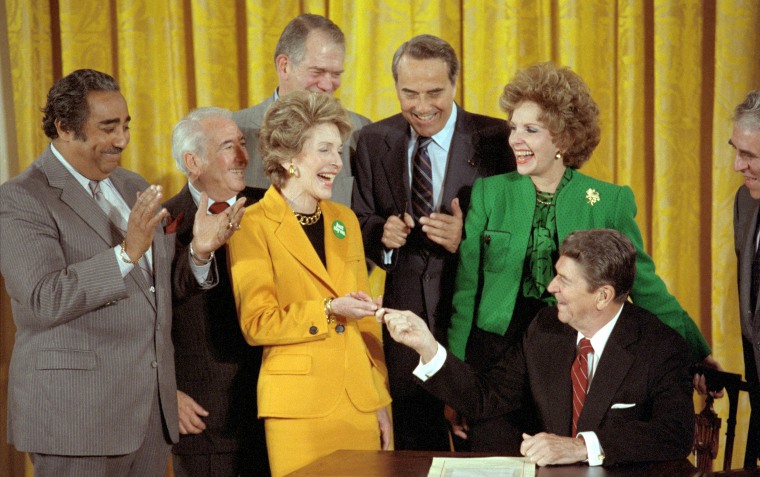 On tapes secretly recorded by former president Richard Nixon, Congressman Charles Rangel can be heard in closed door meetings urging Nixon to be more aggressive on the "War on Drugs."
RELATED: Analysis: Did Nancy Reagan's War on Drugs Backfire?
"Public enemy number one in the United States is drug abuse. In order to fight and defeat this enemy, it is necessary to wage a new, all-out offensive," the Harlem Democrat can be heard saying in words that Nixon would later mimic.
Rangel opposed drug legalization and embraced police militarization. He stood proudly by Nancy as President Ronald Reagan signed another drug-war law.
But if Bill and Hillary Clinton were the pot, black politicians, activists, and pastors were the kettle.
Curiously, Rangel was among the 11 Congressional Black Caucus members who voted against Clinton's Crime Bill, which did not lack of black support. In addition to the dozens of pastors who signed a letter in support of the bill, it also had the support of black mayors. Kurt Schmoke, the first elected black mayor of Baltimore, was a vigorous supporter.
Even then U.S. Representative Kweisi Mfume, then chairman of the Congressional Black Caucus (CBC) who understood the bill was a means to "find better ways to incarcerate people" eventually buckled, not only supporting the bill, but was ultimately responsible for its passage by rallying a majority of CBC members to vote for it after the bill was nearly derailed on a procedural issue.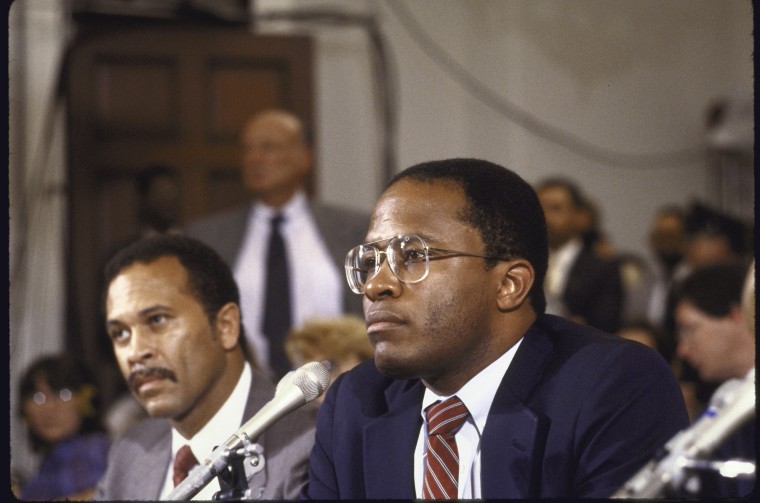 The Clintons quite likely were motivated by political expediency -- appealing to white voters with "tough on crime" measures; however it is clear black leaders were simply desperate to rid communities of the gang violence terrorizing their communities. The crime wave was real with rapes, assaults, and murders at never before seen levels, especially in inner-cities.
They didn't have the benefit of knowing what we do now: that the death penalty would be disproportionately administered to black defendants; that many imprisoned didn't pose a serious threat; that many of the "criminals" had actually been victims of childhood lead poisoning which studies show link to "impulsivity, behavioral problems, hyperactivity, and impaired cognition, all of which are associated with crime."