The best athletes in the world compete every four years in the Olympic games. All of the athletes invited to the games work extremely hard to even compete for the chance at a gold medal. However, there is a unique class of athletes that continues to break barriers, shatter stereotypes, and advocate for others.
As we enter day three of the summer games, let's take a look at some of the standout black athletes competing in Rio—some even the first African Americans represented at the Olympics in their sport.
Gabrielle Douglas, Simone Biles, Women's Gymnastics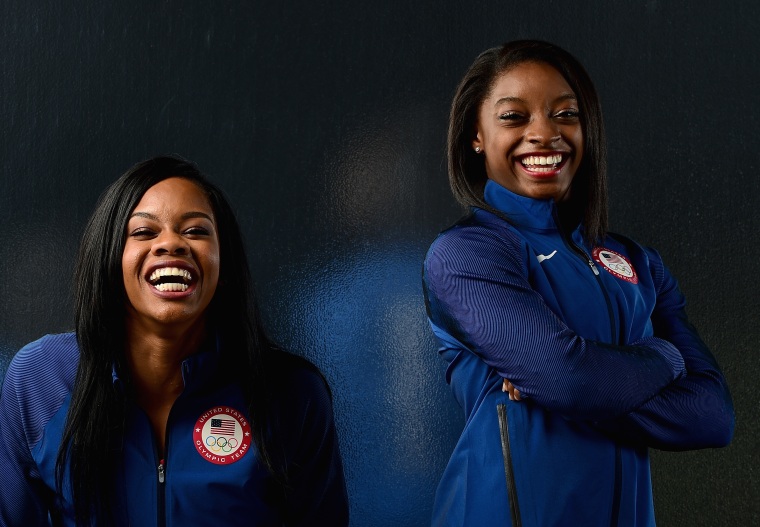 Gabrielle Douglas became the first African-American gymnast to take home the gold for the individual all-around event in 2012. Since her Olympic debut in 2012, she starred in a reality television show about her life, Douglas Family Gold, she became a Barbie "shero" when they modeled a doll after her, and she suffered a knee injury the day before leaving for the world championships last October--she has since recovered.
RELATED: #Winning: Gabby Douglas Qualifies for Olympics, Gets Brand New Barbie
Douglas will compete with Simone Biles, who is known to be nearly perfect in gymnastic competitions. However, her life has not always been as seamless as her floor routines. At three years old, she and her sister went to live with her maternal grandfather and his wife when their mother was no longer able to take care of them due to struggles with drug addiction.
Sixteen years later, Simone Biles,19, has become such a talented gymnast that there's a move named after her. It's called the "Biles," and she's the only woman in the world who does it. It's comprised of two back flips followed by a half twist in a laid out, or straight, body position, followed by a blind landing.
According to NBC Olympics, Biles is the first woman ever to be the all-round word champion three years in a row, and, with fourteen world championship medals, she has won the most of any other American woman, period. There hasn't been another female gymnast to win four consecutive all-around titles at U.S. national championships since 1974.
Get ready to cheer on these unstoppable, history makers.
Lia Neal and Simone Manuel, Women's Swimming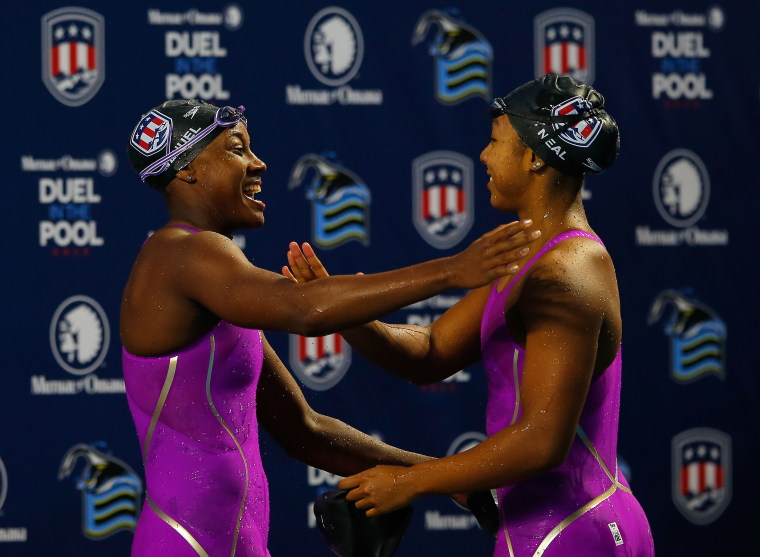 Simone Manuel (left) hails from Sugar Land, Texas and she has already snagged her first Olympic medal— a silver in the 400-meeter freestyle relay in Rio.
She redshirted this past year at Stanford, spending her sophomore year taking classes and being coached for the Olympics instead of competing for Stanford. This came after a standout season her freshman year—she was named Scholar All-America first team, Four-time national champion (50 free, 100 free, 400 free relay, 400 medley relay), and Seven-time All-American.
Lia Neal (right) is a Brooklyn native who became the first African American woman to swim for the U.S. in a relay final at the 2012 Olympics. She won a bronze medal at the 2012 London Olympics with the 400-meter freestyle relay team. Swimming in a qualifying round for the 400-meter freestyle relay in Rio earned her a silver medal as well.
Neal and Manuel are teammates at Stanford University. The pair finished first and second in 100-yard freestyle final at the 2015 NCAA Championship, completing a history-making sweep of three African-American swimmers atop the podium with the University of Florida's Natalie Hinds.
Carmelo Anthony, Men's Basketball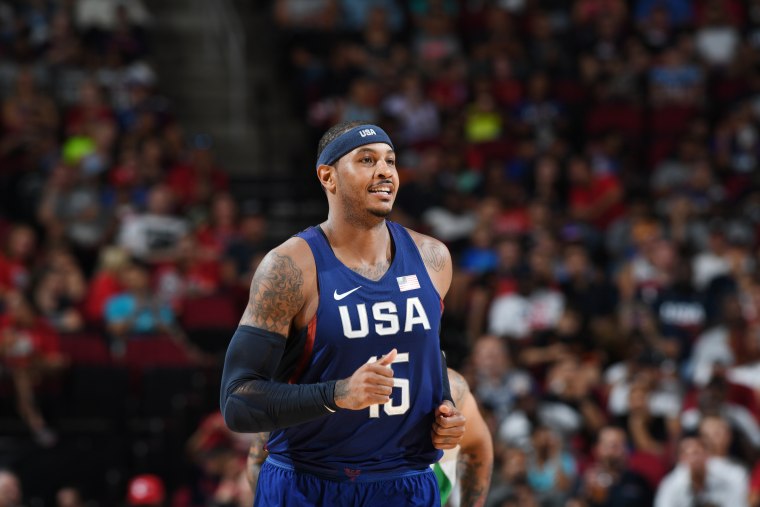 This is Carmelo Anthony's fourth trip to the Olympics. Though this veteran to the world's biggest athletic competition is used to the routine of preparing for the Olympics, he's been spending a lot of his time demanding change. Anthony, 32, wants the nation imprinted on his basketball jersey to actually become united.
After the deaths of Philando Castile and Alton Sterling, he penned a call to action on his personal website, encouraging other athletes to use their influence to enact change.
"We need each other," he wrote. "I'm calling for all my fellow ATHLETES to step up and take charge. Go to your local officials, leaders, congressman, assemblymen/assemblywoman and demand change."
He urged people to let the need for change weigh heavier than endorsements that people could lose in the process of speaking up for what's right.
Tina Charles, Women's Basketball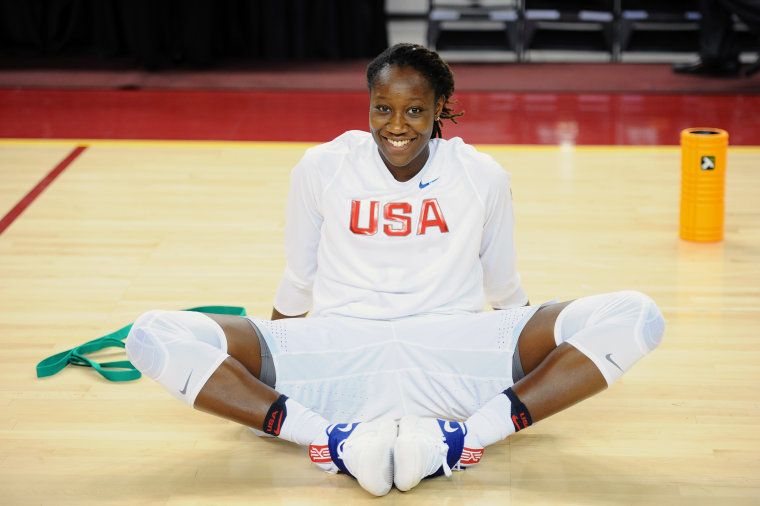 Like Anthony, Tina Charles, 27, has been keen to use her platform to seek justice for black people. The New York Liberty center joined her teammates and other WNBA players of the Indiana Fever and Phoenix Mercury in wearing black t-shirts that supported the Black Lives Matter movement. The Liberty and Fever refused to take postgame questions about anything other than the Black Lives Matter Movement.
Charles also mentioned on her Instagram that since the majority of the WNBA players are African American women, she would continue to stand with her teammates to use their platform to raise awareness for the Black Lives Matter Movement, "until the WNBA gives its support as it does for Breast Cancer Awareness, Pride and other subject matters."
The WNBA fined the players but later rescinded those sanctions.
RELATED: Black Lives Matter Has Shifted National Debate, Despite Controversial Reputation
The four-time WNBA all-star, New York native will participate in her second Olympics in Rio.
Claressa Shields, Women's Boxing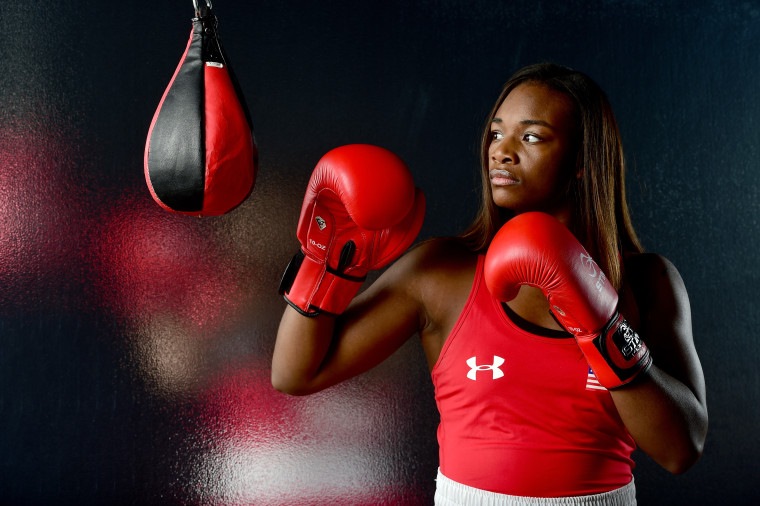 At the 2012 London Olympic Games, the first games to include women's boxing, Claressa Shields became the first American woman to win a gold medal in the sport—she was only 17 at the time. Shields, now 21, hasn't lost since. Her only career loss came at the 2012 World Championships; she boasts a 74-1 career record.
RELATED: Athletes Share Insecurities and Inspiration in ESPN Body Issue
Shields told NBC Olympics that she always knew how to street fight, but learning to box taught her how to channel her anger issue into focusing on becoming a great boxer. Shields believes that "a lot of diamonds in the rough come out of Flint."
She now lives in Colorado Springs at the training facility full-time and is fully dedicated to enduring the type of pressure that makes diamonds shine.
Shakur Stevenson, Men's Boxing
Though only 19, Shakur Stevenson is predicted to become a breakout star this Olympic season. He is undefeated in international competition but still feels as though he won't really prove his worth until he competes in Rio.
"I don't feel I've really proved myself yet," Stevenson told NBC New York. "I'd rather go to Rio first and win a gold medal, and then everybody can talk about me. When it comes down to it, it doesn't matter what anybody else thinks. I don't focus on everybody hyping me up. It's just me getting in that ring and fighting."
Though he could skip the Olympics and begin his professional career, this he wants to complete a goal of following in the footsteps of his favorite boxer Andrew Ward, who won gold in the 2004 Athens Olympics.
"The main thing I'm looking forward to after Rio is getting off the plane and going to Newark," he told NBC New York. "Seeing all the people and how they feel about me coming back with a gold medal, I can't wait for that moment."
Morolake Akinosun, Women's Track and Field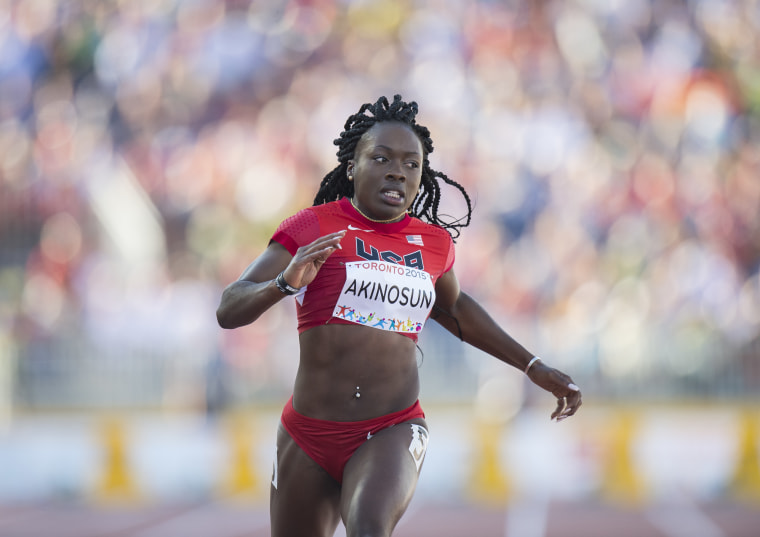 Morolake Akinosun finished fourth in the Olympic Trials 100m, securing her a spot in Rio.
According to NBC Sports, Akinosun's time after finishing her final college track season was 11.07 seconds—but she would need to achieve 11 seconds flat to make the Olympic 4x100m relay team.
At Trials, Akinosun broke 11 seconds for the first time when it mattered in the first-round heat, and in the matches leading up to the finals.
This track star made headlines when she drew attention to her tweet from 2011 forecasting that she would become an Olympic athlete by the time of the 2016 Olympics.
Paige McPherson, Women's TaeKwonDo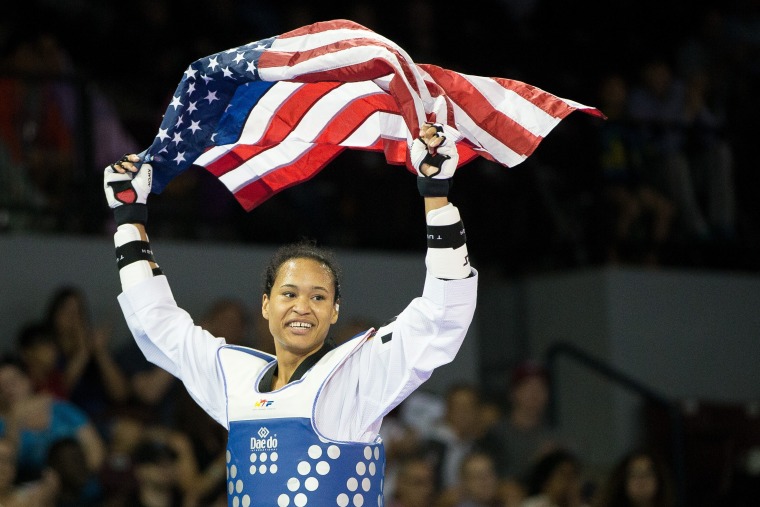 Paige McPherson, 26, is known as "McFierce." She won a bronze medal in London and will return to the Olympics in Rio with gold medal dreams.
McPherson is half-African American and half-Filipino. She is one of five diverse children her parents adopted in South Dakota. In her melting pot of a household, McPherson and her sister were the only African Americans.
"Me and my sister were actually the only two African Americans there, in the whole area," McPherson said to NBC Miami. "We definitely had our looks, but we had such a loving family, we didn't understand or notice it."
Her older brother, who is Korean, did Taekwondo, and McPherson ultimately quit dance to follow in his footsteps. According to NBC Miami, she is the only South Dakotan to ever win a summer Olympics medal. McPherson later moved to Miami after being recruited by her coach and former Olympian Juan Moreno.
Sloane Stephens, Women's Tennis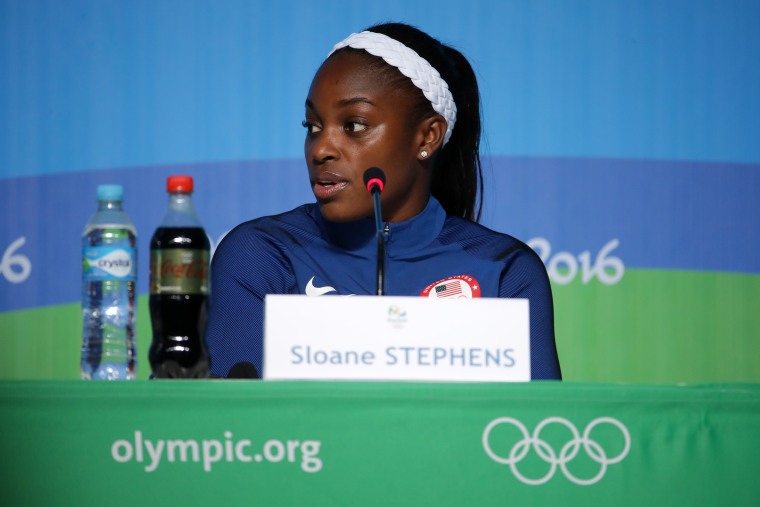 Sloane Stephens emerged as a potential contender to continue the legacy of African American dominance in women's tennis when she beat Serena Williams in the Australian Open quarterfinals in 2013.
The 23-year-old Florida native is now entering her first Olympic games hoping to add a medal to her trophy count, which increased by three titles this year alone.
RELATED: NBCBLK28: Sloane Stephens: Slaying On and Off The Court
Stephens has been playing tennis since the age of nine, and perhaps was destined to be an athlete based on her gene pool—her mother swam at Boston University and became the first black woman to earn All-America honors in Division I history, and her father was an NFL player.
Ashleigh Johnson, Women's Water Polo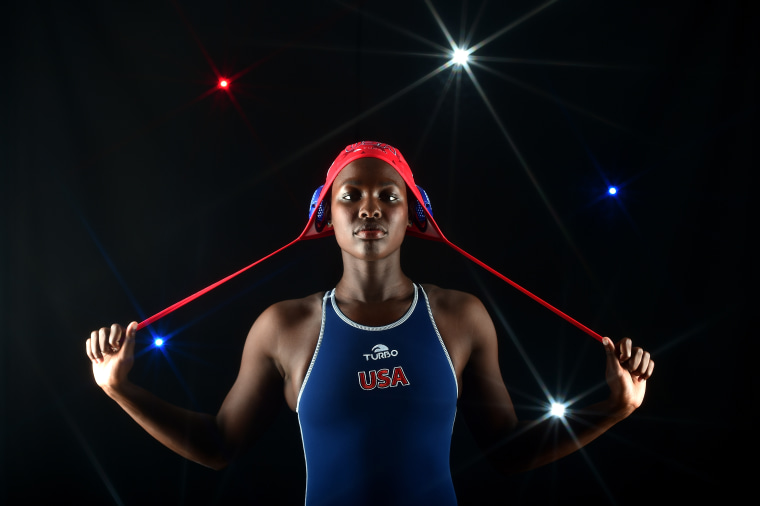 Ashleigh Johnson, 21, is making an impact that sends waves far beyond the water polo pool.
"I think Ashleigh Johnson's the future of our sport in the U.S.," USA Water Polo CEO Christopher Ramsey told the Associated Press. "She's an out-of-California athlete who grew up in Florida. She went to Princeton, a high academic achiever from a different background than a lot of traditional water polo families are from."
Johnson will be the first black woman to play on the U.S. Olympic water polo team. Her build makes her perfect for the sport—she stands at 6'1 with a wingspan that makes her an excellent goalkeeper. Her sister Chelsea also plays water polo at Princeton University.
Johnson began swimming because her mother wanted her children to be safe around the pool in their Miami home, as her mother Donna Johnson told the AP. Now the Olympic-bound athlete will embark on a historic bid for gold in Rio.
Jenny Arthur, Women's Weightlifting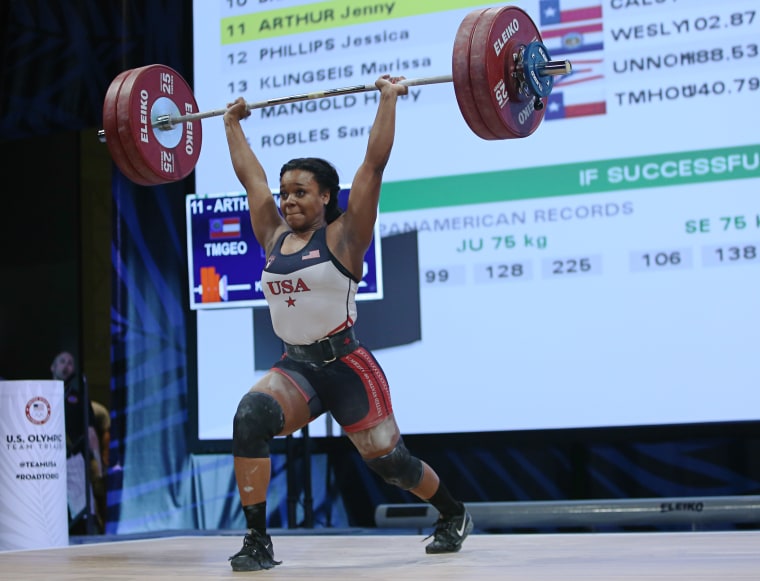 The 22-year-old weightlifter was the first American to qualify for the Olympics in her sport in January.
"It was so surreal hearing the words, 'You will be heading to Rio this summer to compete in the Olympics,'" Jenny Arthur said to NBC Sports.
Arthur hails from Gainesville, Georgia, where she grew up in a large, athletic family. Arthur was the fifth of eight children. Every Sunday after church, the family would play sports together, and she credits her family's support to her passion for philanthropy.
In 2009, she got into weightlifting as a way to better prepare for other sports. She hopes to inspire other women to compete, regardless of age or size because she believes strength is universal.
Kendrick Farris, Men's Weightlifting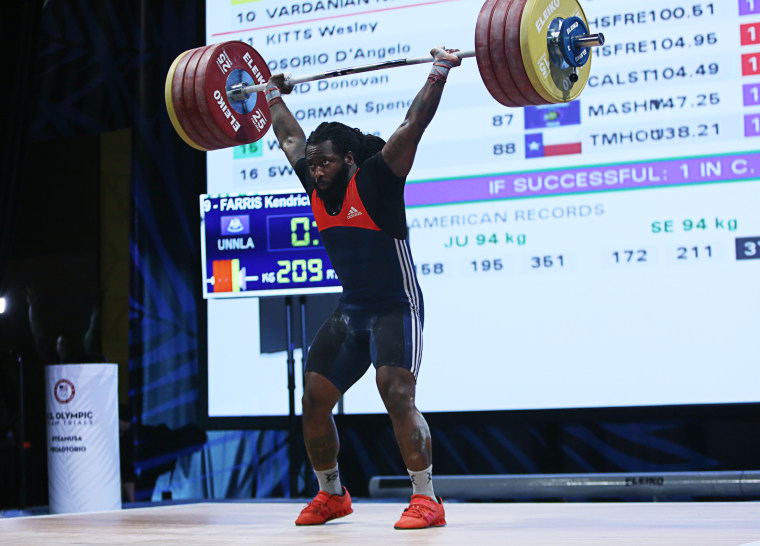 Kendrick Farris is the United States' only male weightlifter to earn a spot at the Rio Olympics. Farris competed at the Beijing 2008 Games and the London 2012 Games. Though he does not yet have any medals, he has more Olympic experience than any other weightlifter, as NBC Sports points out.
Farris began weightlifting at age 11, after seeing an ad in the newspaper about a weightlifting center for young athletes in his hometown of Shreveport, Louisiana. By 16, weightlifting became his full-time focus, as NBC Olympics reports.
According to NBC Olympics, when Farris was working in a restaurant during the 2004 Athens games, a co-worker brought the weightlifting competition on the television to Farris's attention and asked, "Isn't this what you do." That was his epiphany to become a professional in the field.
Farris is very religious and often meditates before competitions.
Bui Baravilala, Women's Rugby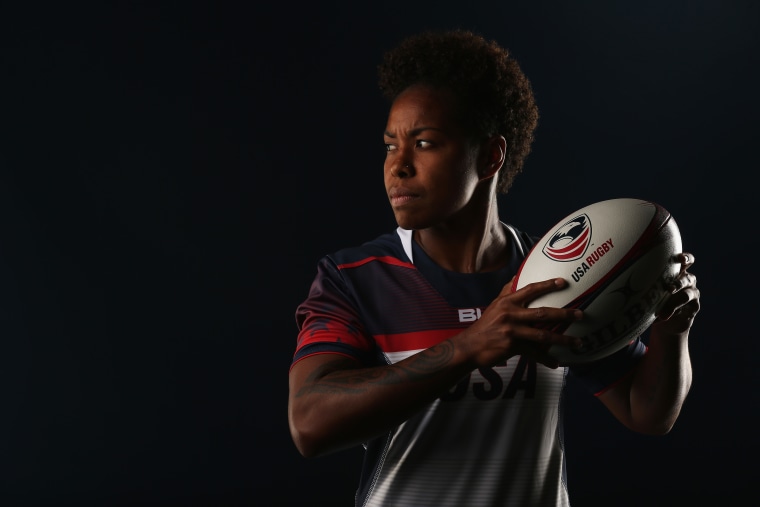 Bui Baravilala began residency at the Olympic Training Center in 2012 and was named Player of the Tournament at the 2012 Amsterdam Sevens and Guangzhou Zengcheng Women's Invitational in China. The Hawaii native played basketball and volleyball in high school.
This year marks the debut of Rugby sevens, a faster adaptation of the sport, at the Olympic games. This is the first time women's rugby will be featured in the Olympics in any form. Men's rugby appeared at the games between 1900 and 1924 in its traditional fifteen-player form.
Look out for Bui Baravilala, 25, as her team makes history.
Victoria Folayan, Women's Rugby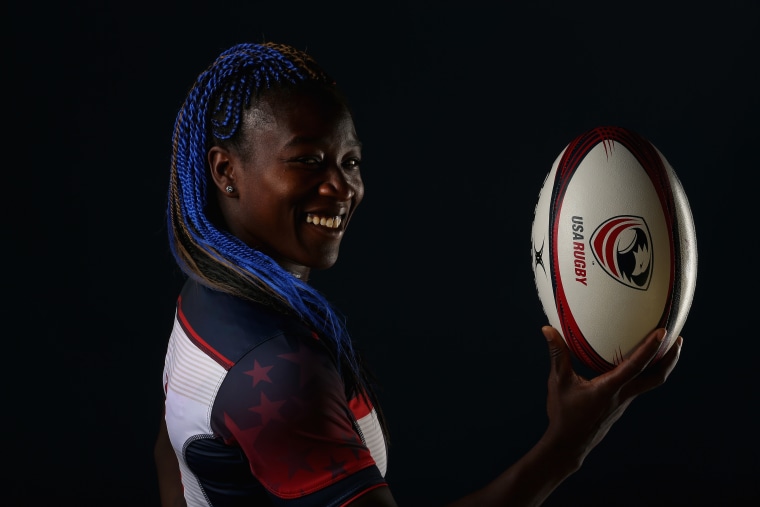 Victoria Folayan, 31, didn't begin her athletic career interested in rugby. She went to Stanford University to run track but switched after discovering rugby at new student orientation. She won two collegiate national championships.
Off the field, Folayan taught math and science for the Oakland Unified School District. She also graduated fourth in her class in high school.
Look out for her as she competes in the historic, first-time Olympic rugby sevens matches.
Carlin Isles and Perry Baker, Men's Rugby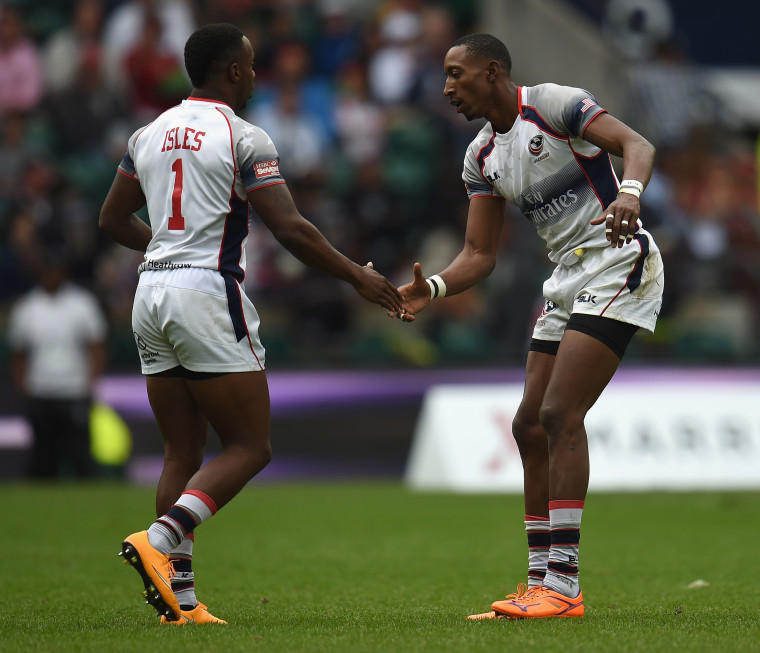 In rugby's return to the Olympics, Carlin Isles, 26, will be sprinting for gold. Isles is known as the "fastest man in rugby," and fittingly so, since he once played football and sprinted professionally. Internet videos of the sport lured Isles to transition to playing it in 2012. According to NBC Olympics, when he made his debut on the U.S. national in October of 2012, he scored a try in his first minute on the pitch. The Ohio native also has a twin sister.
Perry Baker used to play football too, and like Isles, his speed has propelled him into rugby stardom. Baker made his debut on the rugby seven's team after he was invited to the Residency Program at the Olympic Training Center in 2014. Baker was shortlisted for the World Rugby's Rookie of the Year in 2014-15.
Trayvon Bromell, Men's Track and Field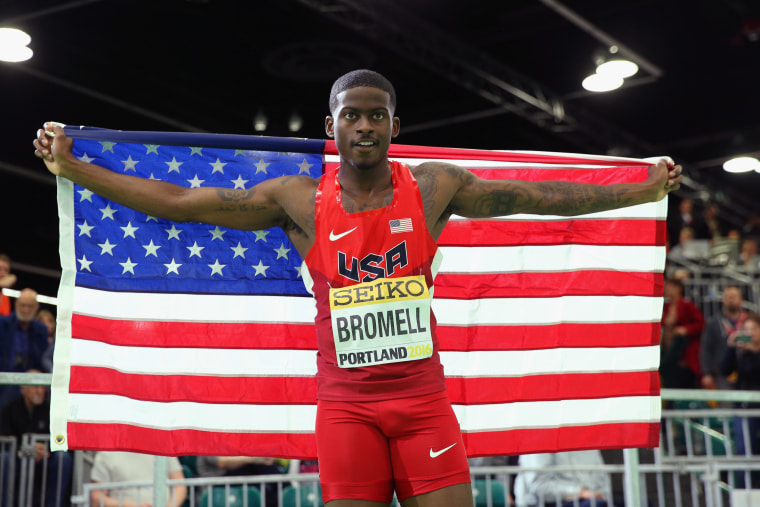 This 21-year-old will be one to watch if you can catch a glimpse of the extremely fast sprinter. In 2015 he tied with Andre De Grasse for the bronze medal in the 100m sprint behind Usain Bolt and Justin Gatlin.
Gatlin has become a mentor to Bromell and sees Bromell as a younger version of himself. Bromell grew up analyzing sprinters like Gatlin, and now he's running alongside them.
"It's like running with your heroes," Bromell said to NBC Olympics. "I never saw myself in this position when I was younger."
Bromell owns the 100m world junior record. He also owns the reputation for wearing short shorts in races instead of tights.
"It's a part of me now," Bromell said to NBC Olympics. "I can run without it, but if feels better when I do."
The Florida native studied film and digital media at Baylor University.
Francena McCorory, Women's Track and Field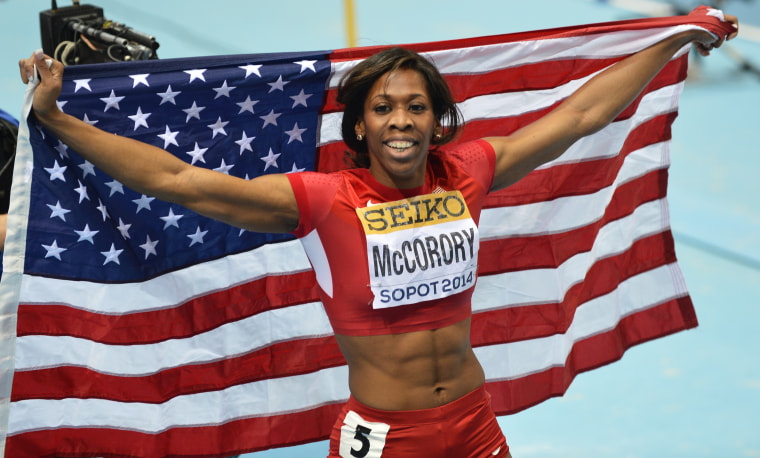 The 27-year-old will return to the Olympics as a part of the 400m x 4 relay team. She ran a leg of the 4x400m team that earned a gold medal at the 2012 London Olympics.
Francena McCorory won three NCAA championships at Hampton University. She has eight siblings, and aspires to become a mortician and own funeral homes someday.
McCorory is also proud member of Delta Sigma Theta Sorority, Incorporated.
The 2016 U.S. Fencing Team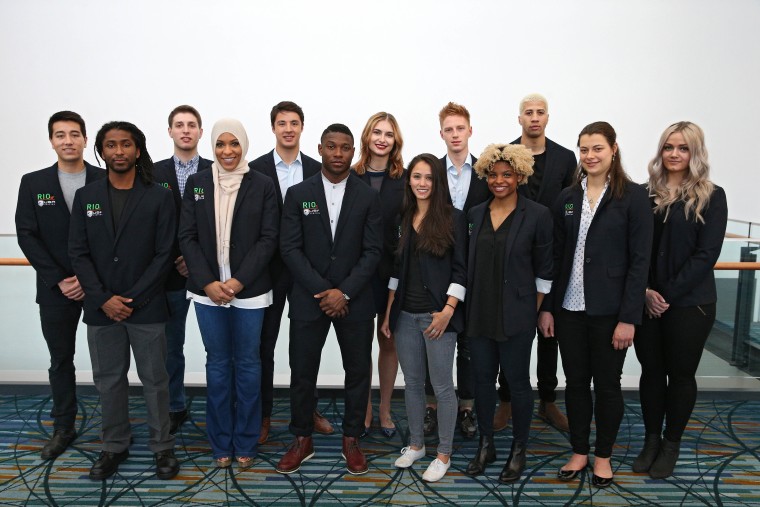 Stay tuned for upcoming coverage of this extremely diverse team featuring Nzingha Prescod, Jason Pryor, Daryl Homer, Ibtihaj Muhammad, and Miles Chamley-Watson.