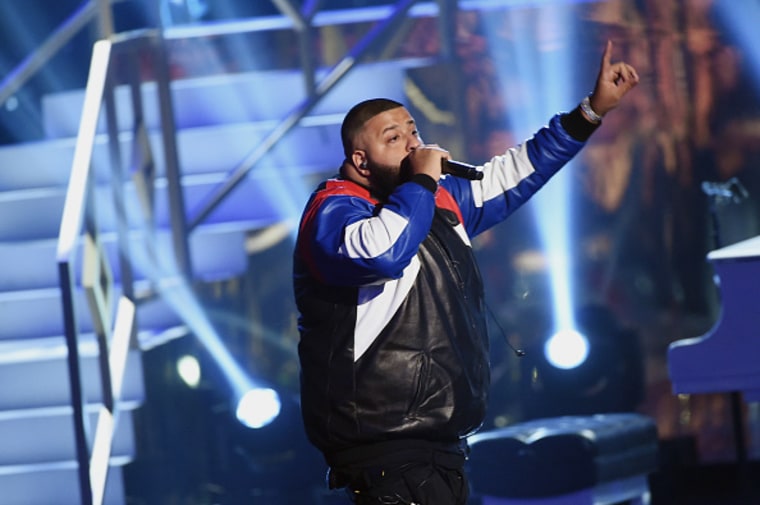 Now that 2016 is over, there are some MAJOR KEYS we all should have in 2017. Modern day philosopher and self-proclaimed King of Snapchat DJ Khaled recently teamed up with Huffington Post Founder Arianna Huffington to lecture media journalists and a group of students at Columbia University about rules of successful entrepreneurship outlined in his new book, "The Keys."
Modern day philosopher and self-proclaimed King of Snapchat DJ Khaled recently teamed up with Huffington Post Founder Arianna Huffington to lecture media journalists and a group of students at Columbia University about rules of successful entrepreneurship outlined in his new book, "The Keys."
"My parents raised me to be a hardworking person," Khaled told NBCBLK before taking the stage. "When they used to go to work, they used to bring me. They had so much going on all at once and were still able to maintain a great household. That rubbed off on me and that's why I'm able to juggle all of these different things going at the same time."
Little do people know, before the 41-year-old catapulted to worldwide success by creating We Da Best record label and producing chart smashing hits for Future, Rick Ross and Nicki Minaj, Khaled started out as a radio host in Miami. But now he's taken on his most important role yet: father. He and his fiancé Nicole gave birth to their beautiful son named, Asahd.
"I knew he was coming before we had him. I always planned on having a son as my first child and dreamt that he would look just like Asahd. I wake up and pray over him every morning. He's been nothing but a blessing to our family, fatherhood is the greatest feeling in the world," he beamed.
Khaled has even more to celebrate. His latest album, "Major Key" was just certified Gold and was nominated for "Best Rap Album" for the Grammy Awards. Although the competition is stiff, Khaled is appreciative of the nomination. "God is great. To get acknowledged like this was a complete shock. This is inspiring me to go even heard with everything I do in the future," he said.
Take a look at the following excerpts from DJ Khaled's "Keys" lecture with Arianna Huffington at Columbia University and stash these major keys for 2017.
DON'T LISTEN TO "THEY"
People will pull you to the point where you're ruining your own life. One day you have to wake up and start respecting yourself a lot more, caring and loving yourself a lot more. I've had people come to me and say Khaled, "You're going to be nothing but a local DJ. You're never going to be able to put albums out." Everything I accomplished "they" said I couldn't do.
Everything I accomplished "they" said I couldn't do.
I see several of them later on in life and hug those same people and I have no malice in my heart towards them. I tell them; by the way, I'm on my 10th album. I've had people tell me that I would never perform on the BET Awards and not only have I performed several times but I even hosted the Hip Hop Awards last year.
Don't fall for the trap of "they." I'm not saying everything is going to be easy and straight sunshine all the time. When you climb that mountaintop and weather those storms and you don't succumb to what they say, whenever those blessings come, they come in abundance.
Even when you fall down, always say "I got life; I can get up and keep going." Stop "they" before they come close. You're just putting a shield around yourself.
DON'T EVER PLAY YOURSELF
There are times when you play yourself and then you end up hurting yourself. To me, complaining is playing
To me, complaining is playing yourself. It's a setback at anything you're trying to accomplish. Why use that energy to create excuses for what you haven't done. It's not a solution. If you just using your energy to complain, it's wasting time.
But at the same time, sometimes you play yourself so that the next time, you don't do it. At least you're more knowledgeable and aware of how to operate differently
RESPECT THE CODE
Respecting the code is a big rule in my life especially when it pertains to friendship and relationships.
Trust is the hardest thing because when someone violates your trust, some of us can't go back and have those same respective feelings towards that person. You might end up losing the relationship because that trust was broken.
You have to have a code in your life that you build that represents you.
For instance, me and my best friend might have a conversation. With me, all my friends know when I usually talk on the phone or text, I say, "You know what we're talking about is 'off the record.'" Even if there was nothing important said even if it's not off the record. I just do that because that's the relationship we have. I don't want my friend to be talking out our conversation in public without my permission.
RELATED: Of Course DJ Khaled Captured His Son's Birth on Snapchat
You have to have a code in your life that you build that represents you. So it could be you and your lady or you and your family. And the code that you guys set in terms of different boundaries has to be respected. You can go so far with that person if the code is respected.
If it's a business situation it might bring you a lot of money or if their relationships of marriage, then you're marriage is going to last forever… If it's a bond amongst brotherhood, you and your brothers will be close forever.
GLORIFY YOUR SUCCESS
Something I learned coming up in the music industry was that I couldn't wait for someone to give me a pat on the back or to say I accomplished something that was great because it took me 25 years of blessings and tears to get where I'm at.
You can't expect for people to hype you up every time. You have to let them and the world know, you're great.
If you follow my career, you've heard me say on my records, "another one." And when I make another hit I say, "another one." I'm not going to wait for someone to say I have another one. You can't expect for people to hype you up every time. You have to let them and the world know, you're great. It's not about being cocky; it's all about being confident. I'm Grammy nominated and I'm very grateful. I've got tons of #1 records, thank you! (major laughs)
There have been times in my career where I have wanted something so bad where the person in charge of the situation to open that door for me will hear me give them my wins. I'm this, I'm that because I don't want them to make the mistake, 'cause I'll win regardless.
I'm just trying to give you game and say, "I'm right here, I'm ready to go."If they don't let you in, it's not a negative thing. But I promise they will remember and then later be like, "aall up, let's put him on the spot." If I would've been quiet someone else would've taken my spot.
Check out Khaled's new Christmas special, "Keys of Christmas" exclusively on YouTube Red. His book "The Keys" is available in stores everywhere.