George Foreman has won and lost everything that a boxer can dream of inside the ring. And, now, 26 years after officially hanging up his gloves, the two-time champion is taking his life story to the big screen.  
He was an Olympic gold medalist at age 19. He beat Joe Frazier for the heavyweight championship in just two rounds when he was 24. And then he lost the title to Muhammad Ali one year later. 
But many fans today remember him best as the ultimate comeback king — Foreman became heavyweight champion for a second time at 45, the oldest in boxing history.
Those fans will get an inside perspective on the man outside of the boxing ring in his new biopic "Big George Foreman: The Miraculous Story of the Once and Future Heavyweight Champion of the World," which is being released Friday in theaters nationwide. 

"Boy, anger and revenge fueled me to become heavyweight champ of the world for the first time," Foreman, now 74, told NBC News in a video interview. "And for 10 years I didn't box because I lost all my anger."
The film will take viewers on the roller-coaster journey of Foreman's personal life, from an impoverished childhood in Houston to the high and low points that shaped his boxing career.
"I have been literally rescued from the gutter. I was out hiding from the police," he said. "The next thing you know, I'm in the Job Corps program getting three meals in one day. They built me into what I've become."
Foreman credits the Job Corps, which bills itself as the nation's biggest residential career training program, with opening the door to his boxing career, and specifically his mentor and trainer Charles "Doc" Broadus, played by Forest Whitaker on screen, for teaching him how to box. 
In the film, Broadus coaches Foreman through several professional milestones, including the 1968 Olympics, where he won a gold medal.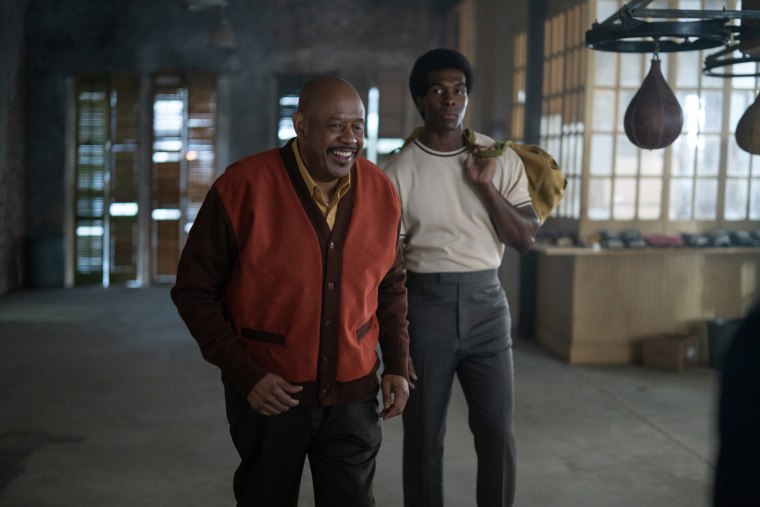 "I wanted to wave that flag so everybody knew where I was from," Foreman said. "I'll never forget that, the happiest day of my life as an athlete."  
But Foreman also recalled how divided the country was at the time, coming to terms with racial injustice.
At those Olympics in Mexico City, two American track-and-field stars — gold medalist Tommie Smith and bronze medalist John Carlos — raised their fists in black gloves during the National Anthem to show solidarity with oppressed Black people.
This made Foreman's homecoming difficult.
"I was even approached, 'George, how could you wave that flag when the brothers were doing their thing?'" he said. "And I was waving that flag because so many people had helped me, especially veterans."
 Foreman says that he was grateful to veterans in the U.S. Army and the Marines, and to Broadus, a former Air Force sergeant.
Looking back at a boxing career that spanned three decades with a final record of 76 wins (68 by knockout) and five losses, Foreman says that he won the heavyweight title a second time because he learned how to fight without anger.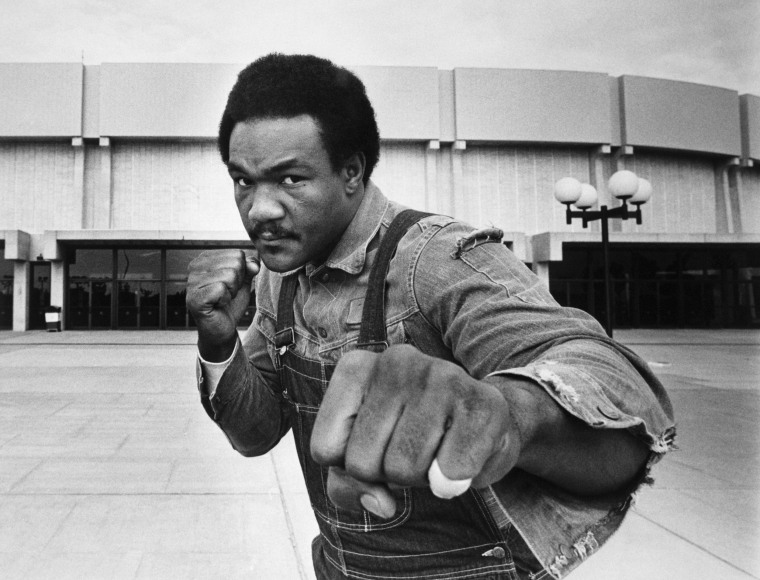 "I started working with kids to make certain they stay on the right road," he said, teaching them to never throw "a punch in anger. I taught it so much, I started to believe in it. I went back to boxing, became champ of the world, but I never had one ounce of anger in my life." 
When asked about boxing today, Foreman says that it's a tough sport but he still enjoys watching it. He likes following Deontay Wilder, Anthony Joshua and Tyson Fury. And he still looks at old movies of Mike Tyson. 
But even while boxing has a permanent place in his heart, Foreman prefers to endorse other parts of his personal life these days. 
"Being honest, I'm not a spokesman for boxing. I'm a spokesman for the George Foreman Grill. And I'm a minister full time at the Church of the Lord Jesus Christ" in Houston, he said with a friendly laugh.